A ChucksConnection Film Review
Zachary Gordon wears black high top Converse "Chuck Taylor" All Stars in the film.
Diary of a Wimpy Kid: Dog Days
by Hal Peterson
Greg Heffley's plans for the summer are to play video games and eat snacks.
Diary of a Wimpy Kid: Dog Days is the third installment of the series based on books by Jeff Kinney. The film starts at the beginning of summer vacation. Greg's main plan for the summer is to sit on the living room floor with snacks and soft drinks while playing video games. But Greg's father, Frank (Steve Zahn), has other plans. Frank thinks that Greg (Zachary Gordon) should spend his time outdoors, playing sports, and doing activities that will build up their father-son relationship. Also present in the story are Greg's older brother Rodrick (Devon Bostick), a true slacker with a punk rock band to match. Greg's somewhat eccentric best friend Rowley (Robert Capron) returns to the mix and we get to meet his equally clueless parents when they bring Greg along on a family vacation. The one shining light in Greg's life is his classmate from school, Holly Hills (Peyton List). Greg has a crush on her, and when he discovers that she spends a lot of time at an exclusive country club that Rowley's parents belong to, he conspires to spend as much time there as he can.
Greg and Rowley play their first tennis match.
There isn't much of a true story line. Most of the film is made up of episodic slapstick comedy, where Greg manages to get himself in embarrassing situations that work themselves into even more humiliating results. A typical example is when Greg loses his swim trunks at the country club swimming pool and a girl refuses to give them back. Instead of explaining what happened Greg gets himself into greater trouble, ending up high diving without them. Or when he and Rowley set up a tennis match with Holly and her friend, even though they have never played before. The two boys are lucky to survive the serves lobbed at them, but luckily this time Greg ends up getting some tennis tutoring from Holly.
Greg is going off for a weekend with Rowley and his parents.
Each of the vignettes that make up the film do have lessons in life for Greg. When he goes on a weekend trip with Rowley and Rowley's parents, he discovers that maybe his family life isn't so bad after all. Of course in the process, he gets into all kinds of trouble and even gets Rowley's dad accidentally arrested. Greg gets sent home early, now considered a bad influence on Rowley.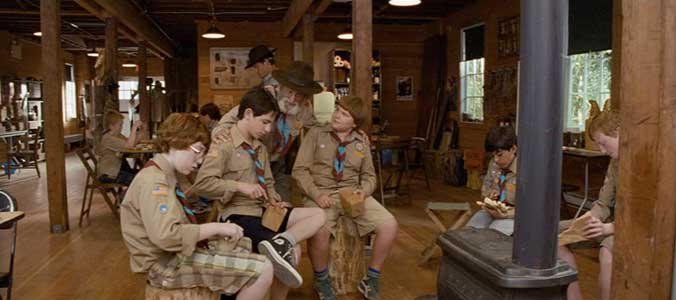 Greg and the other members of Scout Troop 42 at Camp Wilderness.
Several of the vignettes in the story have to do with interactions between Greg and his father. When his father arranges for Greg to have an internship with his company, Greg lies and says that he is an intern at the country club, so he can be near Holly. Eventually this is discovered, leading to more humiliation for Greg. Steve also takes Greg on trips. One is to a Civil War battle enactment, and Greg is forced to march down a muddy path with the troops. Later Greg goes to a scout camp where his troop is in competition with another troop, more experienced in the woods it would seem. But later it is discovered that the other troop leader is a phony, pretending to live off the land, but in actuality living with all kinds of amenities not found in the wild. As embarrassing as his life can be, occasionally Greg ends up on the winning end. This is especially true in the last part of the film when Rodrick's band, Löded Diper, performs at a snobby girl's birthday party.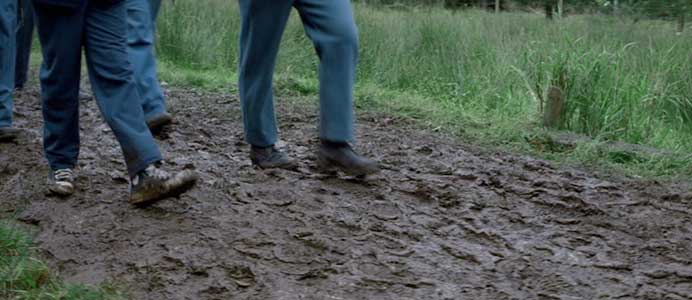 Greg is the first Union soldier to wear black high top chucks at a Civil War enactment.
Diary 3 overall doesn't have the same spark and humor as the first or even the second film in the series. For one thing, Greg is clearly a lot older, and you would think he would have learned from some of his past mistakes. "A kid screwing up in middle school" is a very common formula for these kind of family films, and it takes some special writing and acting to make a film on this topic stand out. Obviously it has appeal to the age group it was designed for, but the same old plot device of "kid gets into some sort of trouble or embarrassing situation, lies or goes out of his way to avoid things getting worse, but only succeeds in making things worse" is starting to wear thin in this series. There are definitely worse family films out there, but this film doesn't spark the same interest that its two predecessors in the series did.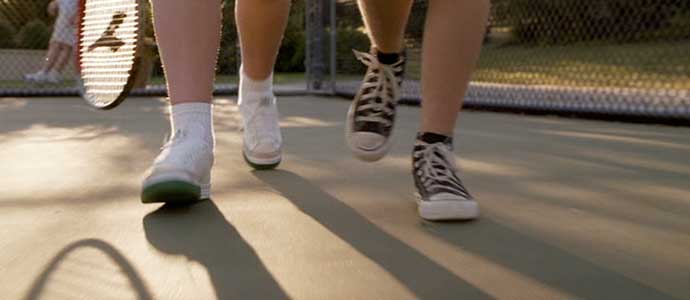 Rowley and Greg are walking to their tennis match.
Best Chucks Scene
Greg and Rowley playing a dance game.
This whole series merits reviews on this site because of the great chucks cinematography throughout the series. Zachary Gordon, in his role as Greg wears black high top throughout all three movies and they are prominently shown in all the scenes he is in. Through all of his troubles, missteps, and screw ups, they are the one cool thing Greg has going for him.
Greg and Rowley riding the Ferris wheel.
The best chucks scenes are when Greg and Rowley are off on their vacation with Rowley's parents. At the amusement park they are prominently featured when Greg and Rowley play a dance step game, and when the two boys ride the Cranium Shaker roller coaster. Another classic moment is when Greg's dad takes him along to a Civil War battle reenactment and we see Greg dressed as a Union soldier marching along in his black high top chucks.
Greg's chucks are getting dirty after all the summer action.
Diary of a Wimpy Kid: Dog Days. (2012) Zachary Gordon, Devon Bostick, Robert Capron, Peyton List, Steve Zahn.
Directed by Rob Turner. Categories: Comedy, Family.
ChucksConnection Rating:

2.5 Chucks for the film + .5 for the cinemaphotography. MPAA Rating: PG
Support the film industry by purchasing genuine DVD, Blue Ray, or streaming copies of these films. Illegal copies only help profiteers. Make sure your money goes to the producers and artists who actually create these films. Still images from the film are used here as teasers to get you to view an authorized copy. If you have information about a film where a main character wears chucks, contact us at films@chucksconnection.com.