A ChucksConnection Film Review
Matthew McConaughey wears black high top Converse "Chuck Taylor" All Stars in the film.
EDtv
by Hal Peterson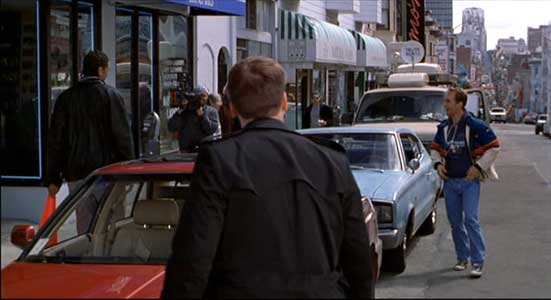 Ed Pekurny becomes a national celebrity when he agrees to appear on reality television.
Ed Pekurny (Matthew McConaughey) is just a very average guy with few ambitions. He works at a video store, plays pool with his brother and acquaintances, and hopes to find a girl friend. But suddenly his whole life dramatically changes when he wins a contest sponsored by a cable company and his life is suddenly broadcast unedited to the world, 24 hours a day. The cable show is the brain child of TV producer Cynthia (Ellen Degeneres) who has come up with this concept to help the desperate owners of the cable company. Nothing they have been broadcasting has gotten any attention of note, and currently they were fighting with the garden channel for last place.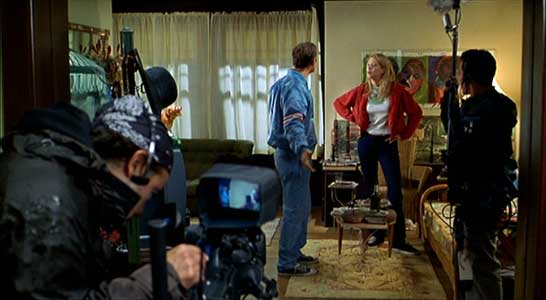 Ed and Shari have a romance watched by millions on EDtv.
Strangely, once EDtv goes on the air, it starts to catch on, slowly at first, but quickly building when a series of personal events unfold on the air. The first event of interest occurs when Ed finds himself romantically involved with his brother's girlfriend, Shari, (Jenna Elfman) and eventually she drops the older brother Ray (Woody Harrelson) for Ed. Their relationship soon because a national item, with polls about what they should do being published in USA Today and other media. Eventually Shari can't handle the attention, and leaves Ed and the area for a while. Meanwhile, a new girlfriend (Elizabeth Hurley) has her eye on Ed, and goes about trying to seduce Ed. When they have their first date at her house, ratings for the show fly through the roof and a huge crowd gathers to cheer them on. EDtv also has a dramatic impact on Ed's family life. As the EDtv show becomes more and more popular, details of the relationship between Ed's mom (Sally Kirkland), his step father (Martin Landau), and his real father (Dennis Hopper) begin to emerge, and Ed finds out that a number of things that he was told when his parents broke up weren't true. As all the pressures of being on television and becoming an instant celebrity catch up to Ed, how he deals with them and resolves things makes up the balance of the film.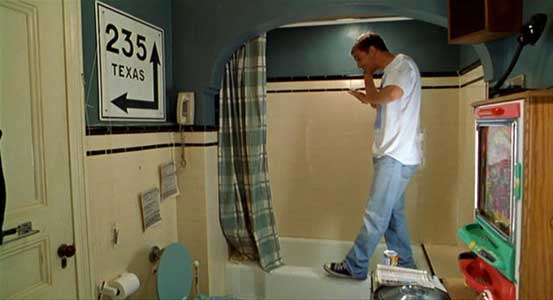 The cameras follow Ed everywhere, even into his bathroom.
Ron Howard has given us a film that has both sweetness and satire, comedy and some tragedy, pure fun and commentary on social issues all at the same time. This is the key to its success, because the elements feed off of each other, and keep things interesting from start to finish. The screenplay by Emile Gaudreault and Sylvie Bouchard is well conceived, and the characters show some unexpected complexity. One good feature is the multiple points of view that we continually see, including several sets of television viewers who become hooked on the show, all the members of Ed's family, and the various employees of the cable company from top management to the actual cameramen and remote broadcasting unit personnel. The film is very well cast, and the ensemble put together is very believable. Matthew MacConaughey is great as the somewhat naive good old boy who seems to naturally fall into the role of leading man as the result of being on camera all of the time. Woody Harrelson seems to be a perfect match as his older brother who wants to exploit the opportunity that he thinks EDtv will bring him. Martin Landau is great as Ed's wheelchair-bound stepfather, and Sally Kirkland is hilarious as his mom, on the one hand dressed to the teeth when she knows she is going to be on camera, and on the other shocked, when details about her relationships with Ed's real father become public. Jenna Elfman and Elizabeth Hurley are convincing as the two girl friends — Elfman likable but whiny and Hurley, seductive but with an agenda of her own. Ellen Degeneres is very good as the executive with a touch of conscience and Rob Reiner is suitably sleazy as the ruthless cable executive. This film is very successful in pointing out the powers and dangers of the media: It can give you instant fame and recognition, but ultimately it causes you to change your behavior, and you end up catering to the camera.
People all over America get hooked on watching Edtv, especially when he has a hot date.
Best Chucks Scene
The camera focuses on Ed's chucks in a bar.
Matthew MacConaughey in his role as Ed wears black high top chucks in most of the scenes he appears in the film. There are two brief close ups, one showing him playing "footsy" in a bar, and the other showing him dancing for joy.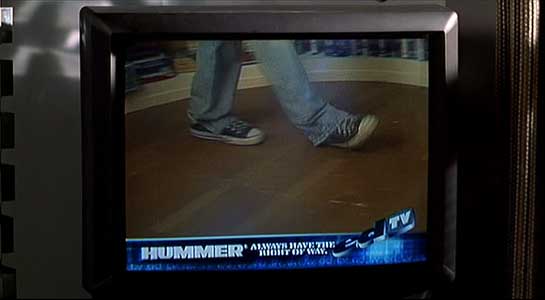 The camera shows Ed dancing around.
EDtv. (1999) Matthew McConaughey, Jenna Elfman, Rob Reiner, Ellen Degeneres, Woody Harrelson, Sally Kirkland, Martin Landau, Dennis Hopper, Elizabeth Hurley, Clint Howard.
Directed by Ron Howard. Categories: Comedy, Romance.
ChucksConnection Rating:
MPAA Rating: PG-13
Support the film industry by purchasing genuine DVD, Blue Ray, or streaming copies of these films. Illegal copies only help profiteers. Make sure your money goes to the producers and artists who actually create these films. Still images from the film are used here as teasers to get you to view an authorized copy. If you have information about a film where a main character wears chucks, contact us at films@chucksconnection.com.