A ChucksConnection Film Review
Edward Pritchard wears red high top Converse "Chuck Taylor" All Stars in the film.



Escape 2120

by Hal Peterson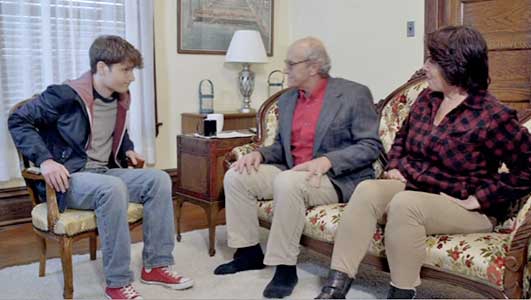 David with his new "employers" Doc and Sally.
As Escape 2120 begins, we see a couple of flashes from a nightmare scene of a car accident. Then an alarm goes off and we meet the main character of the film, David (Edward Pritchard), waking up. Quickly he is up, dressed, and heading out of the door of the rooming house where he lives. But before he can leave he is called on the carpet by the supervisor, Miss Winthrop (Sheila Ball), who pointedly asks David if he has gotten a job yet. When David responds in the negative, Miss Winthrop reminds him that he has promised to take care of that by Monday, and that he is not carrying his weight. David says he will and that he has a promising opportunity just ahead. We gradually learn that David is an older teenager, apparently without any other family, who was orphaned when his parents were killed in a car accident a couple of years ago, leaving his life in turmoil, and the reason why he is living by himself in a subsidized rooming house. There is a sadness in his eyes, and he seems to be pretty much a loner as he walks through his Midwestern city environment to his morning appointment. On the surface David is polite and reserved, who acts and dresses like any normal teenager would. The one thing that makes him stick out from the crowd is the pair of red high top chucks he always wears, something that is constantly emphasized in the cinematography.
David seated in the floor of the pet mausoleum.
David's morning appointment for a job turns out to be with an elderly professional couple Doc (Paul Kandarian) and Sally (Roe Pacheco), who enthusiastically welcome David to their apartment and tell him that he was the top candidate for the job they are offering. The actual job is nothing like Edward has ever heard of. Doc is an astrophysicist who has developed a method of time travel using suspended animation. They demonstrate how it works to David in a series of experiments that gradually expand the timeline that is traveled by the occupant of the travel box, with the ultimate goal of sending themselves off into the future. David's role is to assist with each experiment as it is tried, in case something goes wrong. Additionally David will be given their entire estate and made executor, which turns out to be a small fortune. Gradually, the viewer will figure out that David was chosen for this opportunity because he was very much like Doc and Sally who also don't have any other family. Finally the day arrives for Doc and Sally's departure from the present day. Edward drives them to the pet mausoleum where they will start their journey from (and a logical backup should anything go wrong). Everything seems to work correctly; now David is once again alone.
David walking front of the cemetery.
At first David has fun with the estate, paying off his debt at the rooming home, moving into Doc and Sally's apartment, and donating a large sum of money to a charity for children. Gradually he becomes obsessed with the idea of using Doc's theory to travel into the future himself, especially when he finds the prototype small machine that completes the process among Doc's things at the apartment. There is nothing in particular holding him back, no family or friend issues to deal with, so why not? David decides to send himself one hundred years into the future, but beyond that he has no plan. What are people like in 2220? How do they dress, what do they eat, and how has society evolved after one hundred years. Will it be easy or difficult to make new friends? These are all issues David must deal with once he makes the journey. And as always in time travel stories there are complications when someone from a different space/time continuum is introduced into another era. This is where the film becomes challenging to deal with as David naively charges into the 23rd century in a tee shirt, Levis, and a pair of red high top chucks. He is able to meet a beautiful girl Nalia (Samantha Ipema) who he is attracted to and looks after him, but discovers that everyone wears the same brown camouflage clothing and sandals, prefers to live simple and unsophisticated lives, and runs into an Orwellian brotherhood who considers him to be the Devil's Child. How David is able to deal with these and other elements makes up the balance of the story.
David laces up the red chucks after exchanging clothing with Nalia.
Escape 2120 is made by independent screen writer and director Brian K. Bennett. With a low budget and unknown actors in the lead roles, the story line and how it is presented become key. This is always difficult with time travel stories because even simple theoretical concepts are difficult to portray on screen, and it usually takes a couple of views to understand the complete story, especially when dealing with characters coming in and out of different time periods. The four principal actors were well cast with Samantha Ipema showing the most potential for future roles, while Edward Pritchard, Roe Pacheco, Paul Kandarian were convincing on screen. The rest of the performances were pretty amateur in quality, especially the brotherhood characters that went in pursuit of David. This could be the fault of the writing here. Most of the time the script was well conceived and made the viewer think, but one has to ask why so many of these stories must rely on cheesy cults. But if you enjoy time travel science fiction, give this film a look.
Nalia standing in front of the cave entrance.
Best Chucks Scene


Samuel slams down David's red high tops on the table.
The cinematography of Escape 2120 is particularly chucks friendly, giving the viewer many closeups and singular views of David's red high top chucks, especially when he is walking around. (See the collection of stills below). Probably the best scene is when Nalia is being questioned by the brotherhood and the head brother Samuel slams down David's pair (which he had given to Nalia) on the table.
David's pair of chucks becomes part of the story.
David's red high top chucks are often featured in the cinematography.
Click on the icons to see the larger images. Use your back button to return.
Escape 2120. (2020) Edward Pritchard, Samantha Ipema, Roe Pacheco, Paul Kandarian, David Afflick, Ulisses Gonsalves. Written and directed by Brian K. Bennett.
Categories: Science Fiction, Action/Adventure.
ChucksConnection Rating:

MPAA Rating: PG

Support the film industry by purchasing genuine DVD, Blue Ray, or streaming copies of these films. Illegal copies only help profiteers. Make sure your money goes to the producers and artists who actually create these films. Still images from the film are used here as teasers to get you to view an authorized copy. If you have information about a film where a main character wears chucks, contact us at films@chucksconnection.com.