A ChucksConnection Film Review
Jim Carrey, Kate Winslet, Elijah Wood, and Ryan Whitney wear black high top Converse "Chuck Taylor" All Stars in the film.
Eternal Sunshine of the Spotless Mind
by Hal Peterson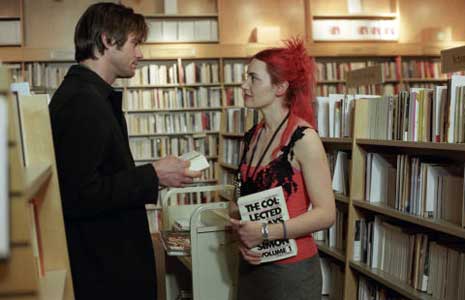 Joel and Clementine have an unconventional romance in Eternal Sunshine of the Spotless Mind.
If its title Eternal Sunshine of the Spotless Mind makes sense to you, then you will have no trouble unraveling the many plot layers and viewpoints that this movie presents. The title is based on a quote from a poem "Eloisa to Abelard" by the 18th century English poet Alexander Pope, where Eloisa begs for forgetfulness (rather than forgiveness). The story line is made more confusing, because it often presents events out of sequence as it explores the on again off again relationship of the two main characters, Joel Barish (Jim Carrey) and Clementine Kruczynski (Kate Winslet). Sometimes the story is in live action, sometimes it is in flashbacks, and other times it exists in the minds of Joel and Clementine. Joel is a somewhat introverted and unassuming man who people tend to ignore or trample on, like his neighbor who runs into his car but doesn't leave a note. Joel has a good imagination and an artistic side, which is evident in some of the things he does and the constant notes and scribbling he makes in a notebook. Clementine is flamboyant and Bohemian in her appearance and behavior, alternating between bright red or blue dyed hair as she impulsively pursues her desire of the moment. When Joel and Clementine's relationship is happening, the two make an interesting couple. Joel's artistic side can handle the impulsive Clementine and can come up with ideas, gifts and things to do when she decides to do unconventional things like break into a someone's beach house or make snow angels on an iced over lake. But something happens to make the two break up — eventually Joel decides that Clementine is too high maintenance and Clementine thinks that Joel is too conventional and indecisive. The breakup turns out to be very painful for Clementine, in fact too difficult to work out on her own, and she decides to use the services of Dr. Howard Mierzwiak (Tom Wilkinson), who has developed a technique for permanently erasing the memory of someone you wish to forget completely.
Patrick keeps dogging in the footsteps of Joel, even appearing in his dreams.
Dr. Mierzwiak and his staff at the Lacuna Company provide the next layer of plot and storylines that appear in the film. The mind erasing process, which "technically speaking ... is brain damage," involves an overnight process monitored by a laptop computer and other high tech equipment, is administered by Dr. Mierzwiak's assistants Stan (Mark Ruffalo) and Patrick (Elijah Wood). We don't see the process for Clementine, but we do for Joel, who signs up for the procedure in a fit of anger after he receives a notice that Clementine has had her mind erased of all memories of Joel. Although the Lacuna staff at first seems normal and professional, we find that they all have other things going on. Stan is just starting an affair with the office receptionist Mary (Kirsten Dunst), and after the procedure has been started on Joel, she appears at his door, ready to party with Stan and they proceed to have drinks and get stoned. The other technician, Patrick, is a voyeuristic, girl-starved twenty-year-old who tries to use the memories of Joel's successes with Clementine to insinuate himself into her life. Mid-procedure, he asks Stan if he can leave, and since Stan is so pre-occupied with Mary, he lets Patrick leave so he can pursue Clementine. Meanwhile, the procedure is not going as planned. As memories of Clementine flutter by, the unconscious Joel decides that maybe he would like to remember Clementine after all. With her subconscious encouragement, he begins to hide away some of his memories by retreating into his childhood. Before the preoccupied Stan begins to notice, the procedure is compromised and he must bring Dr. Mierzwiak in to try and salvage the process. This event leads to the uncovering of more secrets in the Lacuna office that won't be revealed here, but suffice it to say that even more strange developments occur as memories of past love affairs break out to conquer the mind erasing technology of the Lacuna procedure.
Patrick tries to get the attention of fellow office worker Mary, but she is only interested in her latest beau, Stan.
Eternal Sunshine of the Spotless Mind is one of the most original films to come out in a long time. Its screenplay won the Oscar for Best Original Screenplay in 2005 and after you see the film you know why. In an age of constant remakes and imitative plots, this film clearly travels some new ground as it freely combines elements of romance with science fiction, reality with imagination, and present time with that of the past and the future. Much of the credit must go to author Charlie Kaufman, known also for "Being John Malkovich," who has done the unthinkable in today's commercial film world — create a project with amazing creativity that clearly is a writer's film. The great direction by Michel Gondry is another asset, well-paced and stimulating throughout. And by the way, (and isn't this the way films should be) some great performances from the well-cast ensemble, featuring Jim Carrey and Kate Winslet. The two have great on screen chemistry together, and you see them as their characters, not as the zany comedian playing a role, or the romantic lead acting in a period piece. Despite all of its fantastic elements, Eternal Sunshine of the Spotless Mind has a strong emotional core that makes you want to know more about the characters. Although the film doesn't seem to want to deliver a particular message, it has as a side-effect some commentary on the ethics of mind control as you see how the work of Dr. Mierzwiak can have very unexpected developments. While this may not be a film for everyone, it certainly is a film worth study by anyone with a serious interest in the art of the cinema.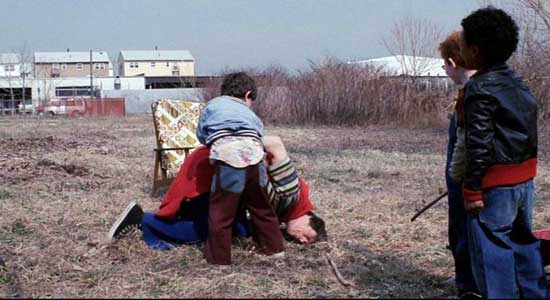 Joel remembers a fight he had with some of the neighborhood kids when he was a child.
Best Chucks Scene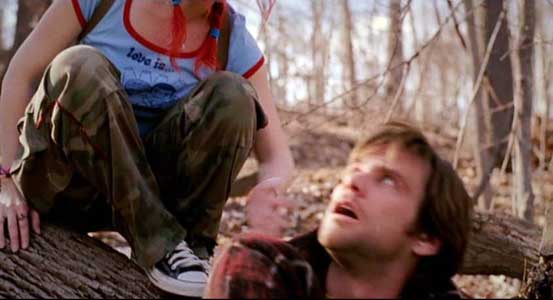 Joel hears the voice and commentary of Clementine during a dream.
Three of the main characters wear black chucks in this film. Both main leads Jim Carrey (Joel) and Kate Winslet (Clementine) are seen wearing them in brief scenes. Joel has them on when he goes back into his childhood and flashes back on a traumatic scene of his childhood. Clementine wears them when she appears in a dream Carrey is having, and provides commentary to his questions. Elijah Wood who plays Patrick, a young voyeur who tries to move in on Kate Winslet by taking advantage of Joel's notes and journals, wears black high tops throughout the film. There are only a few brief close ups, and the best close up shots occur during Clementine's dream scene with Joel.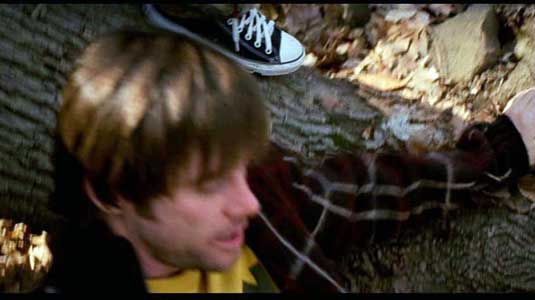 Joel continues to act out his dream.
Eternal Sunshine of the Spotless Mind. (2004) Jim Carrey, Kate Winslet, Elijah Wood, Thomas Jay Ryan, Jane Adams, Tom Wilkinson, Ryan Whitney.
Directed by Michael Gondry. This very creative screenplay won an Oscar for Best Original Screenplay in 2005.
Categories: Comedy, Romance, Science Fiction/Fantasy.
ChucksConnection Rating:

MPAA Rating: R
Support the film industry by purchasing genuine DVD, Blue Ray, or streaming copies of these films. Illegal copies only help profiteers. Make sure your money goes to the producers and artists who actually create these films. Still images from the film are used here as teasers to get you to view an authorized copy. If you have information about a film where a main character wears chucks, contact us at films@chucksconnection.com.