A ChucksConnection Film Review

Matthew Knight wears black high top Converse "Chuck Taylor" All Stars in the film.

Finn on the Fly
Taylor Bathel
Ben must protect his dog from Dr. Madsen, his next door neighbor and a genetic scientist.
Thirteen-year-old Ben (Matthew Knight) is the new kid on the block. As if adjusting to a new school, new friends—and new bullies—isn't tough enough on a shy kid, his dog Finn adds another obstacle. When mischievous Finn noses his way into the neighbor's mad science lab, he guzzles down a transformation serum that turns him into a human. Within 24 hours, Finn is a man (Ryan Belleville). Ben is unexpectedly tasked with explaining his new friend to his parents, while hiding from Dr. Madeline Madsen (Ana Gasteyer), the mad scientist who's determined to capture Finn.
After Finn is changed into a human, Ben discovers that his house is a mess.
In a string of coincidence, Ben is able to spin Finn off as his cousin to suffice his parents. But Dr. Madsen is hot on his trail—resolute in proving her "life's work" and claiming the supposed fame and fortune for the successful transformation. With her bold hair, heavy makeup, and maniacal laugh to boot, Dr. Madsen has just the mad scientist energy to pair with her crazy science experiments. And she'll stop at nothing for glory. Now, after years of Finn protecting Ben, it's time for Ben to protect Finn. Ben has to pull from whatever resources he can find to save his best friend.
Ben and Finn on the front porch.
Even as a human, Finn still has all of his dog instincts, making the transformation pretty funny to watch. He's rowdy and rambunctious…like a dog. He howls through his words and chases squirrels, making for a great few early scenes that will rope in the little viewers. But Finn's stereotypical "good" dog traits carry over, too, and serve him well as a human. Passion, joy, and loyalty are subtly highlighted. Finn becomes an impromptu coach of Ben's Frisbee teams, reminding the kids to channel the passion of a dog playing Frisbee—by simply loving to play.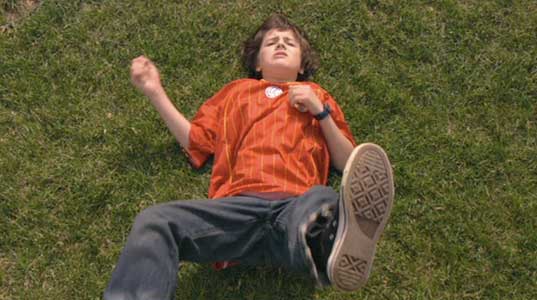 Ben gets knocked down to the ground.
Finn on the Fly is a wacky comedy that has all the absurdly over-the-top characters that kids adore. To make this work, the film casts two known comedians as main characters. With Saturday Night Live graduate Ana Gasteyer, and comedian Ryan Belleville, the film has echoes of standup and improv comedy. Both comedians have a past of letting themselves loose—and they do just do in this movie. While Gasteyer clearly steals the show with her unbridled madness, both actors embody the perfect comedy characters for young kids: over-the-top and a little clueless. While little boy humor and low budget cues can be tiring for an adult audience, these characters are key to creating something both kids and adults can laugh at.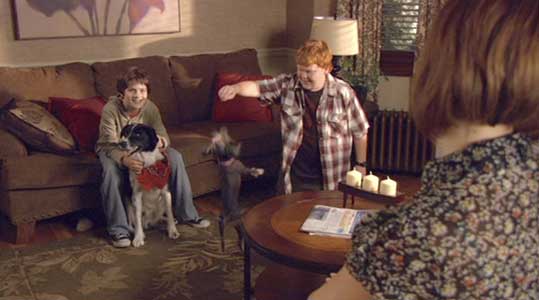 Ben and Al playing with their dogs.
Best Chucks Scene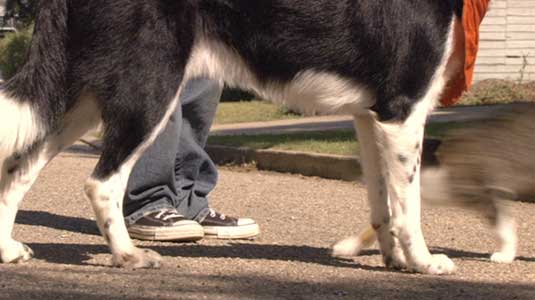 As Ben and Finn watch, a cat streaks by.
Matthew Knight in his role as Benito Soledad wears black high top chucks throughout the film with extra long baggy jeans, a typical look for a thirteen-year-old kid. The best scenes are actually with their neighbor's cat, outside and inside Dr. Madsen's workshop.
While hiding from Dr. Madsen, Ben hopes that her cat won't give his location away.
Finn on the Fly. (2008) Matthew Knight, Ryan Belleville, Ana Gasteyer, Brandon Firia, David Milchard.
Directed by Mark Jean. Categories: Comedy, Family, Science Fiction.
ChucksConnection Rating:

MPAA Rating: PG
Support the film industry by purchasing genuine DVD, Blue Ray, or streaming copies of these films. Illegal copies only help profiteers. Make sure your money goes to the producers and artists who actually create these films. Still images from the film are used here as teasers to get you to view an authorized copy. If you have information about a film where a main character wears chucks, contact us at films@chucksconnection.com.