A ChucksConnection Film Review
Rosario Dawson wears black high top Converse "Chuck Taylor" All Stars in the film.
Fire with Fire
by Jack Hunter
Jeremy and his girl friend Talia fight against an Aryan Brotherhood crime boss in Fire with Fire.

Revenge is a dish best served cold, and in the case of action/thriller films, often. One would not be hard pressed to name a dozen or so films in the genre that center around an individual seeking revenge against another, more "evil" individual. This common storytelling trope is used often, and with somewhat decent effect. Films like Kill Bill, Gladiator, and Man on Fire use the revenge motif to great effect. They clothe the common theme in a new, and exciting skin that presents the story in a unique way. However, this story is more often than not, told in a repetitive, formulaic way. Fire With Fire is just an example.
Jeremy and Talia crouch down to avoid the bullets from their attackers.
Former stuntman-turned-director David Barrett's Fire With Fire follows firefighter Jeremy Coleman (Josh Duhamel) who, following a hard night shift, looks to unwind with his buddies over a case of 35-year-old scotch. While buying snacks, he witnesses the brutal murder of a store owner and his son at the hands of a white-supremacist crime boss named Hagan (Vincent D'Onofrio). He meets a detective named Mike Cella (Bruce Willis), whose partner was murdered by Hagan, and points out the gangster in a line up. However, Hagan knows who is pointing him out and Coleman is forced into witness protection. There, he falls for the Marshall assigned to his case (Rosario Dawson) but all is not well. Hagan is released from prison during his trial and Coleman must take the law into his own hands.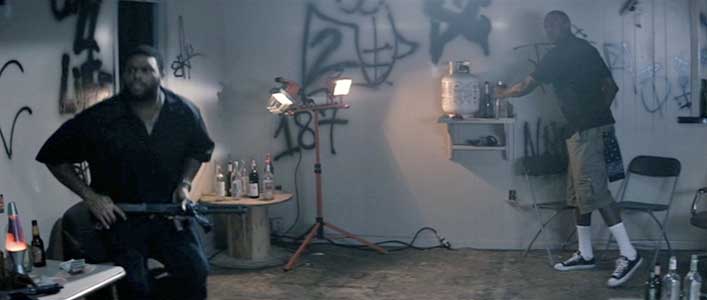 Jeremy seeks assistance from the local Crips to pursue Nance.
What is surprising about this film is the star power of its cast. The fact that Bruce Willis, Vincent D'Onofrio, and Rosario Dawson are tied to the film give it the appearance of promise. Sadly, that is not the case. Fire With Fire is about as by-the-book as an action/thriller film can get and the cast is not allowed to stretch their collective muscle. Willis is wasted as Detective Cella and his role is essentially pointless in the grand scheme of the plot. 50 Cent makes a brief, brief cameo as a Los Angeles gang leader and so does former Pro Bowl cornerback Nnamdi Asomugha. D'Onofrio, who was great in Netflix's Daredevil as the troubled but hyper violent kingpin, is about as vanilla a bad guy as you can get. What passes for a story is standard fare and can easily be figured out from the get go.
Talia has been kidnapped and left in the burning building.
How Fire With Fire got such talent in it is a mystery that could very well make a decent film itself. The fact that Bruce Willis would be in such as thing is quite interesting. Duhamel as the lead is no surprise, as the poor guy's career highlights really only include the Transformer films. How Willis agreed to be third, maybe even fourth fiddle in a simply unexciting, straight to DVD movie is not something one would normally expect of an actor of his caliber. While yes, the last few Die Hard's were "meh," Willis can still do it. But alas, best to forget about this blip in a great career.
Jeremy and Talia desperately trying to escape the flames.
Best Chucks Scene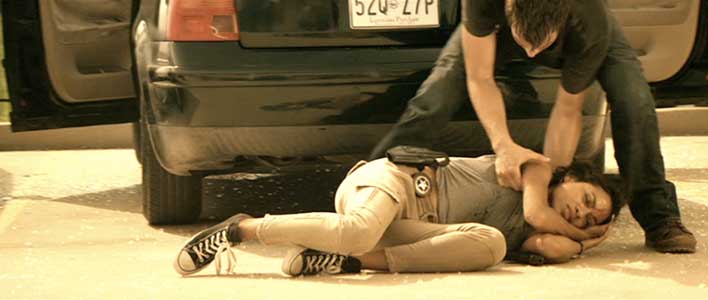 Jeremy hurries to help Talia when she is grazed by a bullet.
Rosario Dawson in her role as FBI agent Talia Durham wears black high top chucks throughout most of the film. For Talia, black high top chucks are a fashionable and practical action shoe. The best chucks scene is when Talia and Jeremy are ambushed by a team of two hitmen, and they must use their wits to escape, hiding behind a series of vehicles in a parking lot.
Talia is working to free herself while the fire rages around her.
Fire with Fire. (2012) Josh Duhamel, Rosario Dawson, Bruce Willis, Vincent D'Onofrio.
Directed by David Barrett. Categories: Drama, Crime, Action/Adventure.
ChucksConnection Rating:

MPAA Rating: R
Support the film industry by purchasing genuine DVD, Blue Ray, or streaming copies of these films. Illegal copies only help profiteers. Make sure your money goes to the producers and artists who actually create these films. Still images from the film are used here as teasers to get you to view an authorized copy. If you have information about a film where a main character wears chucks, contact us at films@chucksconnection.com.