A ChucksConnection Film Review
Manuel Colao wears black low top Converse "Chuck Taylor" All Stars in the film.
Flight of the Innocent
(La corsa dell'innocente)
by Hal Peterson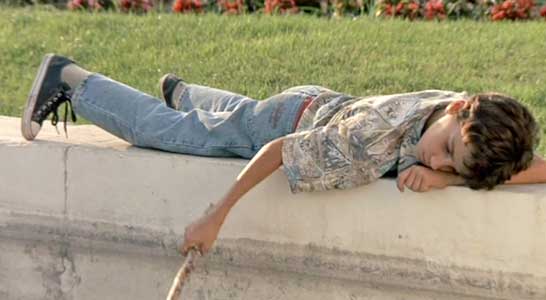 Vito rests in a park after his trip to Rome.
Flight of the Innocent begins with a warning and an explanation that the film is about rival families in the rural south of Italy who supported themselves by kidnapping the sons of wealthy families in northern Italy. This practice flourished due to the inability to stop it by the police, the poor economy in the south, and the secretive, clannish nature of the kidnappers, who would bring their captives back to caves in their isolated family farms in Calabria (the foot of Italy's boot) until a large ransom was paid. Worse than their kidnapping crimes was the fierce rivalries between the families, often resulting in bloody vendettas between them. This is the world we are introduced to as the film opens. Oblivious to all of this is young Vito (Manuel Colao), who soaks up the sun in the family orchards, draws pictures in his notebook, and daydreams of a happier life. But this idyllic existence comes to a sudden and bloody end. Vito's father (Sal Borgese) decides to kill two members of a rival clan, shepherds watching their flock in the hills. When Scarface (Federico Pacifici), head of that clan, hears about the murders, he orders a complete vendetta against Vito's family. There are several long scenes as Scarface and his men descend on Vito's household and systematically murder everyone: Vito's grandparents, his parents, and intend to kill Vito and any other children. Vito is only able to escape by hiding inside the mattress springs of his bed, which the killers miss when they look under the beds. Vito feels great sadness as he discovers the bodies. His father, dying but not quite dead, tells Vito to run to the cave where his older brother is hiding out with their latest captive, and then go on to Rome, where his cousin Orlando lives.
After his cousin Orlando is gunned down by Scarface, Vito stares in shock at his imminent death.
At the cave, Vito discovers that his brother is dead along with a young boy named Simone Rienzi. Stunned, Vito grabs Simone's backpack which was lying by his body and heads off toward the town. But he is spotted by Scarface, and the chase is on. Running through the hills and streets of the town, Vito is able to board a train leaving for Rome literally seconds before Scarface and his men arrive in pursuit. Vito is safe for the moment, but Scarface continues to doggedly pursue him throughout the film. In Rome, Vito is able to track down Orlando (Lucio Zagaria) and spends a happy night with Orlando and his girl friend. They give him a new set of clothes, food, and a comfortable bed to sleep in. The next day Orlando takes Vito to his apartment in a high rise building. But when they arrive, the apartment has been completely trashed and searched, clearly the work of Scarface and his men. Although the men busted his television, they failed to discover a sealed plastic package containing the latest ransom of 100K Lira notes. (This was before the EU.) Orlando has Vito place the package inside his backpack and they descend down the many flights of stairs. Orlando tells Vito to wait as they reach the ground floor, but he is surprised and gunned down by Scarface. Vito is saved from certain death by a policeman who was in the building who Scarface must kill first instead of Vito. Now Vito is totally alone, but has no time to worry about that, running away for his life from the intense pursuit of Scarface and his men in cars and by motorcycle. Vito ditches his backpack in an abandoned warehouse window and hides out in a mausoleum overnight.
Vito runs through the streets of Rome to escape the pursuit of Scarface and his men.
The next morning Vito is able to escape out of the area in the back of a truck filled with plants. That was a smart thing to do, as Scarface and his men are waiting for him, relentless as ever. Due to the murder of the policeman, Vito is now on their radar and brought in for questioning and referral to social services. He is interrogated but is not much help to them, having been taught by his father to never trust the police. He then spends a night in a state run orphanage where he befriends another kid his age struggling with his situation. The next day Vito is turned over to a policeman who takes him to an amusement park to show him a good time, but has other designs on the boy. After the policeman get too "hands on", Vito manages to escape and hides out overnight in an abandoned building in the amusement part. The next day Vito is able to retrieve his backpack with the ransom inside, and after seeing televised pleas and posters on the wall from Simone's parents, decides to travel north and visit them, having obtained their address from the backpack. This leads to a series of twists and turns involving, Vito, the Rienzis, the police, and Scarface as the movie comes to its conclusion.
After hiding out in a mausoleum, Vito cautiously makes his escape.
Flight of the Innocent was Italian writer/director Carlo Carlei's first film, and it turned out to be an impressive beginning. While in many ways it is a bleak look at Italian society, the film cleverly contrasts violent realism with the idealism of a young boy longing for a better life. Manuel Colao gives a strong performance as young Vito. The cinematography brings this out in doe-eyed close ups of him as he reacts to the constant jolts life gives to him in the story line. Life is tough for him yet he handles things with such simplicity and directness. Is his destiny to continue in the violent life of crime of his family or will he be able to remedy the vicious actions of his family, escape from the cross hairs of Scarface's trigger, and move on to a better life? Behind all the violence and action is an interesting lesson in ethics. Flight of the Innocent is available for viewing in Italian with English subtitles.
Vito discovers Simone's room and lies down on his bed.
Best Chucks Scene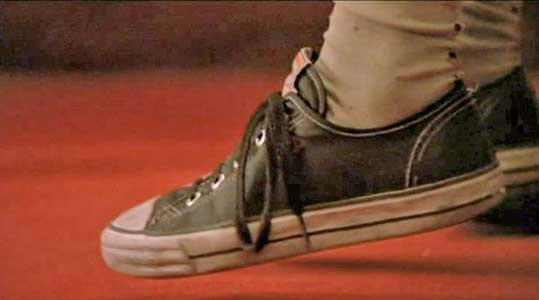 While being interrogated by the police, the camera provides a close up of Vito's chucks.
Throughout the middle and main sequence of the film, Manuel Colao in his role as Vito wears black low top chucks. They are part of a new outfit of clothing he got from cousin Orlando and his wife after arriving in Rome. There is a lot of good chucks cinematography due Vito's constant running around to escape from Scarface's gang, and sometimes the authorities. One scene is when Vito is interrogated by police detectives after Orlando's murder. A second good shot is in the playground near the orphanage where he spends the night and helps out another kid his age. And there is a third scene when he is after directions to Simone's house and retrieves a basketball that town kids are playing with in the street.
Another close up at the playground near the orphanage.
Flight of the Innocent. (1992) Manuel Colao, Federico Pacifici, Sal Borgese, Lucio Zagaria, Giusi Cataldo, Massimo Lodolo, Severino Saltarelli, Francesca Neri, Jacques Perrin. Written and directed by Carlo Carlei.
Categories: Drama, Crime, Action/Adventure.
ChucksConnection Rating:

MPAA Rating: R
Support the film industry by purchasing genuine DVD, Blue Ray, or streaming copies of these films. Illegal copies only help profiteers. Make sure your money goes to the producers and artists who actually create these films. Still images from the film are used here as teasers to get you to view an authorized copy. If you have information about a film where a main character wears chucks, contact us at films@chucksconnection.com.