A ChucksConnection Film Review
Matilda Lawler wears maroon and print high top Converse "Chuck Taylor" All Stars in the film.
Flora & Ulysses
by Marcus Angulo
Flora wears maroon high top chucks in this super-squirrel adventure.
We live in the golden age of superheroes. What was once a nerdy niche of the pop culture universe is now the predominant driver of entertainment in America. Superheroes aren't even relegated solely to big budget movies from Marvel and DC anymore. There are TV shows, parodies, deconstructions of the genre, super villain movies, and so much more. New heroes are made everyday, and that's where one of Disney+'s newest films comes in. Flora & Ulysses is a 2021 family superhero comedy film directed by Lena Khan based on the children's novel of the same name by Kate DiCamillo. It stars Matilda Lawler, Alyson Hannigan, Ben Schwartz, Anna Deavere Smith, Danny Pudi, Benjamin Evan Ainsworth, Janeane Garofalo, and Kate Micucci. The film was released on Disney+ on February 19, 2021.
Flora's mom shows off her new setup and Flora is unimpressed.
Flora Buckman (Lawler) is a ten-year-old girl who loves superheroes and comic books. Her father George (Schwartz) is a failed comic book author who now works at an office supply store while her mother Phyllis (Hannigan) is an award winning romance novelist dealing with severe writer's block. These issues have led to a separation between the two, which has been tough on Flora. One day, Flora's next door neighbor experiences trouble with her Ulysses brand vacuum when it gets lose in her yard and runs amok. It runs into a tree, knocking down a normal squirrel that then gets sucked up into the vacuum. The poor squirrel seemingly dies, until Flora resuscitates him. She brings him home to nurse him back to health, and names him after the vacuum. The next day, Flora quickly discovers that Ulysses is not only sentient, but has also gained superpowers. She confides this secret to her neighbor's visiting nephew, William Spiver (Ainsworth), who suffers from "hysterical blindness" due to stress. Together, they embark on an adventure filled with heroics both big and small, and Flora learns the valuable use that hope plays in our lives.
Flora riding her bike.
The film is a really good family adventure film, with a very cute squirrel added in for good measure. Matilda Lawler does a good job of being a kid with a "weird" personality while not being annoying. She also brings a lot of earnestness to the role. Ben Schwartz gives a really nuanced and surprisingly low key performance. He's kind of always been casted as the high energy, obnoxious character (Jean-Ralphio on Parks & Recreation, Sonic the Hedgehog, Dewey Duck in DuckTales), so to see him play a beaten down, depressed father was surprising and refreshing. Ulysses looks really good and never suffers from looking out of the place in the film, which is impressive considering he's a super powered CGI squirrel.
Flora also wears these multicolored print high top chucks in the second half of the film.
The film also has a nice take on the idea of what superheroes mean to people these days. Flora is extremely cynical because of superheroes, as she knows that in the real world they never come to save anyone. They also represent what split her mom and dad up as his heroes never managed to break through into the mainstream. It makes for an interesting development for Flora that once she realizes that Ulysses has powers, she jumps at the chance to make super heroes a real thing. Overall, this is a very fun, and heartwarming film that is a great Saturday night flick with the family!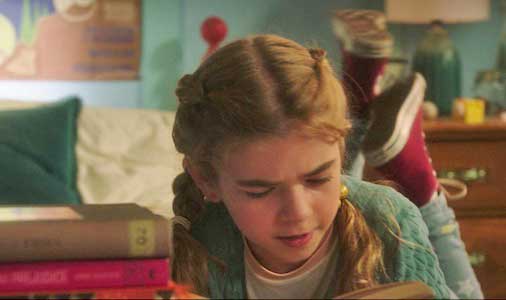 Kick up your chucks and read a comic book today!
Best Chucks Scene
Flora jumps in to help her neighbor.

The best chucks scene comes during Ulysses transformation into the super-powered, sentient squirrel he was always destined to be. In this scene, Flora leaves her own home to stop her neighbor's Ulysses brand vacuum from raging out of control. She's wearing maroon high top chucks in this scene, which she wears throughout the first half of the film. Her whole look is very All-American kid, and gives her that kind of every-person quality every good protagonist needs. We see her in her chucks as she runs across the lawn and tries to save the day, showing that she herself is a hero, even if she doesn't believe that they truly exist.
When the only thing standing between you and a rogue vacuum is your maroon chucks.
Flora & Ulysses. (2021) Matilda Lawler, Alyson Hannigan, Ben Schwartz, Danny Pudi, Darien Martin, Anna Deavere Smith, Bobby Moynihan, John Kassir.
Directed by Lena Khan. Categories: Comedy, Family
ChucksConnection Rating:

MPAA Rating: PG
Support the film industry by purchasing genuine DVD, Blue Ray, or streaming copies of these films. Illegal copies only help profiteers. Make sure your money goes to the producers and artists who actually create these films. Still images from the film are used here as teasers to get you to view an authorized copy. If you have information about a film where a main character wears chucks, contact us at
films@chucksconnection.com.