A ChucksConnection Film Review
Josh Hutcherson wears black high top Converse "Chuck Taylor" All Stars in the film.
The Forger

by Mary Ann Meussling
Joshua is an abandoned teenager trying to survive in the coastal town of Carmel, California.
It's short, it never made it to the theaters, and leading man Josh Hutcherson may put you in a Hunger Games mind set, but The Forger is a well done film with a gripping storyline. Right from the get-go, we find out that Joshua Mason (Josh Hutcherson) was abandoned by his mother in a motel. At fifteen years old, the poor guy is just trying to get by and ends up wandering into the California town, Carmel. After finding a painting he sees a way to make a bit of money and sells it for fifty dollars only to get caught by the artist. Thus begins his leap into artistry, something that he has a rare talent for, starting with a wall, mirror, and ceiling as a canvas. Soon after abandoning his work, we are introduced to Joshua's social worker, Vanessa (Dina Eastwood), who is called to check up on Joshua after the art theft incident. Joshua, however, is busy exploring the new town and finds himself by a school where he meets Amber Felter (Hayden Panettiere), a student whose lunch break has lasted a bit too long. A teacher comes out to guide her to the principal's office, but the rough treatment she receives angers Joshua and leads to a fight, the start of a rainstorm, and an injured hand obtained during his escape.
Joshua is a talented artist who can copy any artist's style.
Desperate for some shelter, he breaks into an old mansion where he stumbles upon a half-done painting that he feels compelled to finish.  Shortly after, he falls asleep, only to be woken by the police the next day who briskly whisk him away to child services. Meanwhile, the owner of the mansion, Everly Campbell (Alfred Molina), finds the finished piece of art. Blown away by the accuracy with which it was completed, he sets out to find Joshua to take him in, in hopes of exploiting his abilities. Enchanted by the prospect, Joshua immerses himself in the art world and befriends Amber's brother, Ryan (Scott Eastwood), and the elderly Anne-Marie (Lauren Bacall).
Attracted to Amber, Joshua instinctively goes after a teacher at her private school when he believes she is being treated unfairly.
Hutcherson's character experiences a flirtatious relationship with Amber, a unique friendship with Anne-Marie, and a butt-kicking by Ryan, all while working on his art forgeries. Emotions are tried when Joshua's elusive mother enters the picture, and at the revelation of his art forgery.
Everly Campbell and his associate Bernie discover Joshua's talent and take him in so that he can create forged art for them.
This film is filled with twists and turns — ones that we won't tell you (because nobody likes spoilers), and an ending that will for sure stick in your mind. It's unfair, really, that The Forger was a straight to DVD movie, as it could easily have been a big screen hit with the unique plot line peppered by compelling characters, heart-wrenching moments, and a look into the life of a troubled teen just trying to find his place.
Joshua begins to discover the world of high end art.
Best Chucks Scene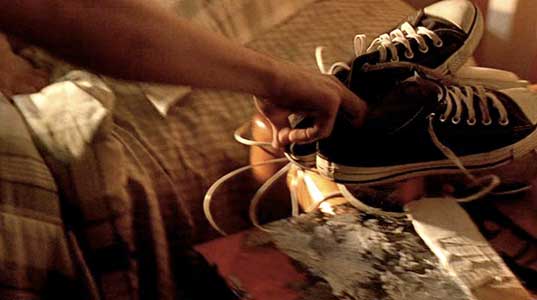 Joshua grabs his high top chucks when he is about to be evicted from the motel room where his mother abandoned him.
Josh Hutcherson is seen wearing black high top chucks in many of the scenes. In maybe one of the sadder parts—a homeless Joshua is seen taking shelter under a doorway in an attempt to get a little sleep. He may have on some great shoes, but that doesn't take away from the heartbreak of seeing the aftermath of someone abandoned by their mother.  
Now homeless, Joshua is forced to take refuge in doorways or bridge culverts.
The Forger. (2012) Josh Hutcherson, Lauren Bacall, Albert Molina, Hayden Pantierre, Billy Boyd, Dina Eastwood, Scott Eastwood. Directed by Lawrence Roerck.
Category: Drama
ChucksConnection Rating:

MPAA Rating: PG-13
Support the film industry by purchasing genuine DVD, Blue Ray, or streaming copies of these films. Illegal copies only help profiteers. Make sure your money goes to the producers and artists who actually create these films. Still images from the film are used here as teasers to get you to view an authorized copy. If you have information about a film where a main character wears chucks, contact us at films@chucksconnection.com.