A ChucksConnection Film Review
Dennis Quaid wears black low cut Converse "Chuck Taylor" All Stars in the film.
Frequency
by Hal Peterson
John Sullivan fondly remembers life with his parents in the sixties.
Frequency is a film that has three levels of interplay. First it is a science fiction story that uses the basic plot idea of Back to the Future, but in a much more serious vein. Secondly, it is a murder mystery involving a dangerous serial killer. And most of all it is a film about two generations of a New York family and their relationships over time. As the opens, we are introduced to John Sullivan (Jim Caviezel) living in the present. John is a police officer who is going through a particularly rough time in life. He is breaking up with his girl friend and seems somewhat adrift in his life. What keeps him going are his ties to the community and his family, although there isn't much left of it. His father, a city fireman, was killed in a fire when he was just six years old, and although his widowed mother is still around, she no longer lives in the family house in which he still resides. One evening during a storm, John is rummaging through a closet and finds his father's old ham radio set. For old times sake, John gets the set out and turns it on. Soon he is talking to someone, and they talk about the upcoming world series. The caller wonders what is going to happen in the Mets (this was made in 1999, not 2000!) historic world series in 1969, and John tells him exactly what happens in the first game. The connection then breaks up, but when John turns the set on again the next evening, he is again contacted by the mysterious caller who is amazed about John's correct play by play call of the first game between the Mets and Baltimore. As they talk some more, John discovers that he is talking to Frank Sullivan (Dennis Quaid) his father living thirty years in the past. As the two continue their conversations, John realizes that he has a chance to warn his father about the dangers of the fire in which he was killed. John tells Frank exactly what he needs to do to escape, and when the alarm comes, Frank takes the advice and survives. At first this is great news, but then John finds out that his mother, Julia (Elizabeth Mitchell), is no longer alive, as this change in the space-time continuum has altered other events. John discovers that because Julia wasn't called away from the hospital where she worked as a nurse due to Frank's death in the fire, she ended up being stalked and murdered by a serial killer.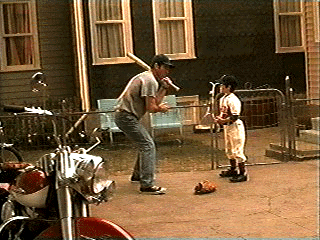 Frank teaches his son John how to play baseball.
In order to fix things again, John enlists Frank to help him find the killer and bring him to justice before he can strike again. So the focus of the plot shifts to a cross-generational murder mystery, as both father and son work to prevent harm coming to Julia. But Frank's snooping around and knowledge of facts that only the killer could know in the past make him a suspect in the eyes of Satch DeLeon (Andre Braugher) a police detective investigating the case in the days of Frank, but also John's present-day supervisor. The balance of the story deals with how both John and Frank work together in different decades to resolve the mystery and rectify the danger that Julia is now in. In doing this they also have a chance to resume the father-son bond that was cut-off when John was six. How do the two men know know they can trust each other, since their only contact is through the transient air waves of the ham radio? Because of their shared family memories: John's nickname of "Little Chief", how Frank taught John to ride a bicycle or hold a baseball bat, and the two of them rooting for the Mets in the 1969 World Series.
Frank is puzzled when Satch begins to think of him as a criminal suspect.
Although the plot of Frequency seems somewhat far-fetched when described in a summary, the story is presented in a manner that is both gripping and engaging. Writer Toby Emmerich has created a rich mixture of science fiction, thriller, and reality as he skillfully tells a story of working class family devotion. Elements like his inclusion of the 1969 World Series and how Frank uses his insider information obtained from John to influence others make it much easier to accept the science fiction elements, and provide some leavening to the familiar murder mystery. Another effective element of the film is the generational panorama of the Sullivan family as we see scenes of John and Julia as they were in the sixties and in the present time. The actors playing the Sullivans are well-cast. Dennis Quaid delivers an excellent performance as the macho fireman and devoted father from the late sixties. Jim Caviezel provides his character with some depth as he works with his father to try and change and rectify events of the past while rekindling the father-son relationship he lost as a young boy. Elizabeth Mitchell is charming as the young wife and mother of John's youth and mature widow of the nineties. Director Gregory Hoblit keeps things moving at a fast pace so you don't have time to question the paradoxes of the story line. Frequency has a lot in common with films like Back to the Future or Ghost where a supernatural element is used to create a story full of action and emotional impact. If you can accept the basic premise, you are in for an entertaining two hours.
Frank discovers the identity of the true villain.
Best Chucks Scene
Frank chases after the villain.
Dennis Quaid is seen wearing black low cut chucks in most of his scenes, typical casual wear for the late sixties. The best chucks scene is the sequence where Quaid is chasing after the killer, when he finally discovers who he is.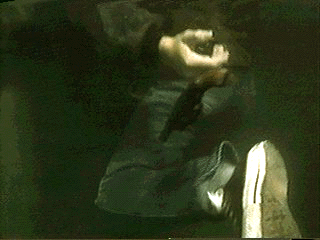 Frank struggles underwater to get hold of the gun.
Frequency. (2000) Dennis Quaid, James Caviezel, André Braugher, Elizabeth Mitchell, Noah Emmerich, Frank McAnulty. Directed by Gregory Hoblit.
Categories: Drama, Science Fiction, Mystery.
ChucksConnection Rating:

MPAA Rating: PG-13
Support the film industry by purchasing genuine DVD, Blue Ray, or streaming copies of these films. Illegal copies only help profiteers. Make sure your money goes to the producers and artists who actually create these films. Still images from the film are used here as teasers to get you to view an authorized copy. If you have information about a film where a main character wears chucks, contact us at films@chucksconnection.com.