A ChucksConnection Film Review
Desmond Bradshaw wears maroon high top Converse "Chuck Taylor" All Stars in the film.
Aiden Johnston wears black high top Converse "Chuck Taylor" All Stars in the film.
Lars Panchuk wears black low top Converse Dr. J sneakers in the film.
Ghost of Lake Opeongo
by Hal Peterson
Toby and Chris meet at Ryan and Owen's house to set out on their trip.
Lake Opeongo is the largest lake in Algonquin Provincial Park, about 182 miles northwest of Ottawa, Canada, in the province of the same name. It is a popular vacation spot with its own lodge and facilities for canoeing and camping. However, in this film, the lake is a place of mystery and foreboding, appearing abandoned of human traffic except for our small cast of kids, led by Toby (Desmond Bradshaw) who is twelve or thirteen. Besides Toby, the cast consists of two brothers, Ryan (Lars Panchuk) and Owen (Nolan Panchuck), and the youngest friend, eleven-year-old Chris (Aiden Johnston). A fifth uncredited kid appears at the beginning of the film as Toby is seated at a park picnic table working on his "What I did this summer" essay. Set in summer-fall of 1982, the entire story is told in flashback as Toby tells the kid about he and his three other friend's summer adventure with the Ghost of Lake Opeongo.
The four friends riding their bikes with their camping gear.
The story gets underway after the four friends have gone swimming in the water hole of a nearby quarry near the small town where they live. As they are relaxing after their swim, Ryan tells them a ghost story about a little girl who drowned in Lake Opeongo back in 1920 after a boating accident. Her body was never recovered and now her ghost haunts the lake area and any campers attempting to camp out there. The others think that this story can't be true, and decide that they should check it out by going on a camping trip at the lake. Apparently their parents don't have any problem with this, as a day or so later the boys are meeting up at Ryan and Owen's house to start on their trip. The four friends load up their camping gear and supplies onto their backs, and head off to Lake Opeongo on their bicycles. Along the way you hear typical boy conversations and arguments about school and popular culture.
The boys unload their camping gear on a Lake Opeongo island.
At the lake, the four boys load up all of their gear onto two canoes that Toby's grandfather had stored away and paddle off to one of the islands. The two older boys, Toby and Ryan are in the lead boat, followed by Owen and Chris in the other. They stop at an island and decide to camp out there, but even though Toby has a map, they are not exactly sure where they are. They do fun things like skinny-dipping in the lake, talking by the campfire, and eating beans and hot dogs. Then the ghost begins to appear. The first night, she restarts the campfire after it was put out, then chases them another time, and even unties one of the canoes causing it to drift off. The ghost seems to possess more than just the ability to appear as a spooky apparition. The boys decide to abandon their campsite and head back, but the ghost hasn't quite finished with them.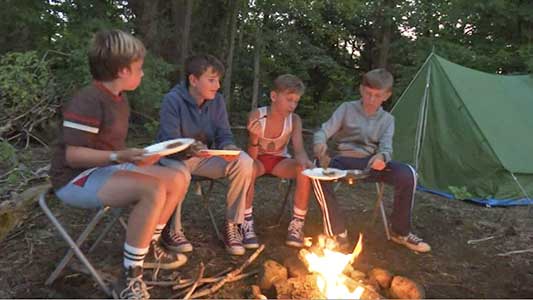 Eating dinner by their campfire.
Ghost of Lake Opeongo is an all-Canadian family produced film, mainly the work of Sterling Johnston who produces, writes, directs, and edits the movie while his son acts in one of the roles. The Panchuk family provides several of the characters, two of the boys plus the ghost. While the camera work is good, and the special effects by Cathy Danneberg are credible, given the low budget, it is sometimes difficult to hear and understand the dialogue, since it is delivered by young boys in their first film experience who come across as typical boys in that age group. The story itself is pretty thin, and never addresses a few things that could have made the film more interesting. For example, why was the ghost was so malevolent to the boys (way past simple haunting with an actual physical presence), or what was the significance of Ryan's prescription, as his bottle of pills keeps appearing in the story without explanation, or why was the story set in the 1980s. Luckily, anyone who wants to see it and make their own conclusions about Ghost of Lake Opeongo can do so as Sterling has chosen to make the complete film available for viewing on YouTube for anyone who wants to see and enjoy it.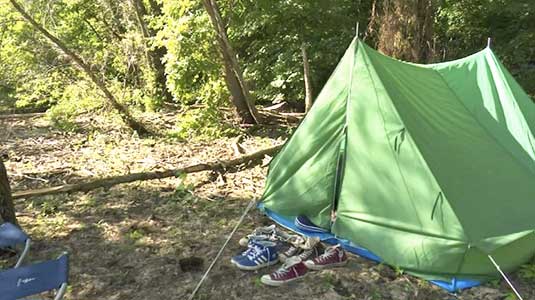 The four boys are asleep in their tent.
Best Chucks Scene
Ryan stirs up a pan of beans.

Chucks were typical footwear for tween-teen boys back in the 1980s as they still are today. Desmond Bradshaw (Toby) wears maroon high top chucks throughout the film. The camera work is fairly chucks-friendly and we see him wearing them in all of the group shots. We see a few close ups in the camping scenes. Aiden Johnston (Chris) wears chucks throughout the film, in his case well worn black high tops. There is one morning scene at their campgrounds where the camera focuses on him lacing them up. And Lars Panchuk (Ryan) wears a pair of black Converse Dr. J low cut sneakers.
Chris lacing up his black high tops.
Ghost of Lake Opeongo. (2019) Desmond Bradshaw, Aiden Johnston, Lars Panchuk, Nolan Panchuk. Written and directed by Sterling Johnston.
Categories: Family, Mystery.
ChucksConnection Rating:

MPAA Rating: PG
Support the film industry by purchasing genuine DVD, Blue Ray, or streaming copies of these films. Illegal copies only help profiteers. Make sure your money goes to the producers and artists who actually create these films. Still images from the film are used here as teasers to get you to view an authorized copy. If you have information about a film where a main character wears chucks, contact us at
films@chucksconnection.com.