A ChucksConnection TV Series Feature
Jonathan Silverman wears black high top Converse "Chuck Taylor" All Stars in the series.
Gimme A Break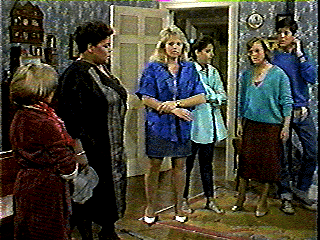 The Kaninsky household included Maybelle, Nell Harper, Katie, Sam, Julie, and Jonathan.
Nell Carter played Nell Harper, a portly housekeeper in charge of the Kanisky clan, led by Carl Kanisky (Dolph Sweet), the police chief in the small town of Glen Lawn, California. Carl had just become a widower, and Nell stepped in as a surrogate mother to the three girls in the household, Katie (Kari Michaelson), Julie (Lauri Hendler), and Samantha (Lara Jill Miller), who were in need of guidance and advice as they completed their grade school and high school years.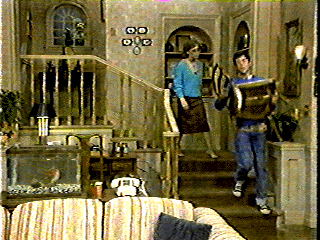 Jonathan carries a chair downstairs for Julie.
Jonathan Maxwell (Jonathan Silverman) married the chief's daughter Julie in the third season, and took over as the man of the house after the chief passed away. He was seen in a number of episodes wearing black high top chucks. Tall and gangly, Jonathan provided another type of humor as his occasional pratfalls were in contrast to the fat jokes and and wisecracks surrounding Nell.
Jonathan trips over the chair in his Chuck Taylors.
The active cast continued to evolve, as the daughters and Jonathan eventually left the series, and in the final season, Nell and her friend Addy Wilson (Telma Hopkins) leave California and move to New York City, with Grandpa Kaninsky (John Hoyt) and the young orphan Joey (Joey Lawrence) who the family had adopted in the show's third season.
Julie tries to help Jonathan get up.
Do you know of other television shows or series where a main character wears Converse All Star Chuck Taylors? Can you describe a favorite episode or two from the series, or do you have additional information about the shows described here already? Do you have videotapes, DVDs or shot captures of episodes from any of the series that haven't been given an in depth article on this site? If you do, email us at chucksphotos@chucksconnection.com and we will add the information to the television pages.