A ChucksConnection Film Review
Jacob Tremblay wears black high top Converse "Chuck Taylor" All Stars in the film.
Good Boys
by Marcus Angulo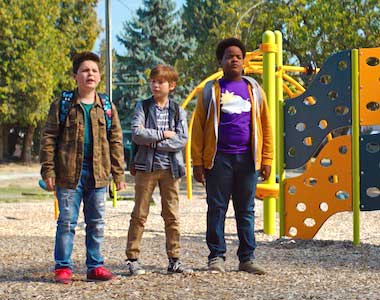 Meet the Beanbag Boys: Thor, Max, and Lucas.
Growing up can be hard, especially once puberty enters the picture. Your body goes through intense physical changes, and your emotions go out of whack as hormones take control. It can be a confusing time for anyone, but it can be slightly less confusing if you have your best friends by your side. The film Good Boys is a coming of age comedy that follows the wild first week of sixth grade for three 12-year-old boys. Starring Jacob Tremblay, Keith Williams, Brady Noon, Molly Gordon, and Midori Francis, the film is the directorial debut of Gene Stupnitsky and is executive produced by Evan Goldberg and Seth Rogan. The film grossed $110 million worldwide and was praised for the performances of its young cast and heartwarming theme mixed with raunchy humor.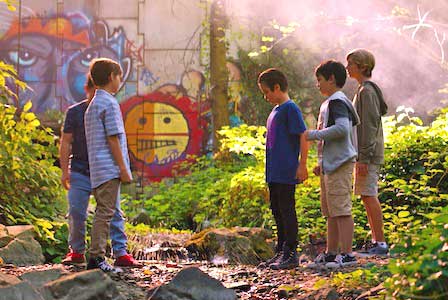 You might end up doing a lot of dumb stuff to impress the cool kids, like sipping beer in the woods.
The film begins with Max (Tremblay), Lucas (Williams), and Thor (Noon) entering sixth grade together. They're a group of best friends who've known each other since birth, and they go by the nickname "The Beanbag Boys". They've each got something weighing them down as they start middle school: Max has a crush on a girl in his class and his hormones are out of control, Lucas's parents are getting a divorce, and Thor is being ostracized for his love of singing in musicals. Max and Thor are desperate to be accepted by the cool kids in their grade, while Lucas doesn't really care, being more interested in the "nerdy" stuff the group has always liked. Max is invited to a party by the cool kids, where there's going to be a game of Spin the Bottle with his crush. He sees this as his big chance, and gets the popular kids to let him bring Thor and Lucas even though they think that they're lame. Max begins to freak out because he's never kissed before, and he needs to figure out how before the party. The boys decide to use Max's dad's drone to spy on his neighbor Hannah (Gordon) and her friend Lily (Francis) because Max knows she has a boyfriend that she's always making out with.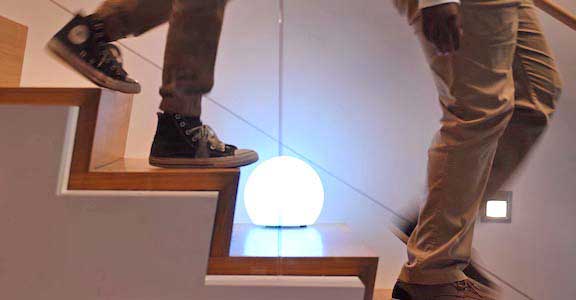 Max wears black high top chucks throughout this insane crusade the boys go on.
However, things go awry when they crash the drone in Hannah's backyard. She and Lily take it to teach the boys a lesson, but the boys then take Hannah's bag as a bargaining chip. What they don't realize is that there is ecstasy in her bag, which the girls need for the concert they're attending that night. A trade is proposed, but this too goes awry and ends with the drone's destruction. To keep Max out of trouble, the Beanbag boys skip school to buy a new drone at the local mall, while Hannah and Lily follow still in pursuit of their drugs. This back and forth between the two sides carries the rest of this movie, and absolute chaos ensues. Eventually, they make it to the party, and there comes a point where it looks like the Beanbag Boys may have to move on from each other. However in the end, they may just learn what true friendship is, and that being true to yourself is what it really means to grow up.
Lily and Hannah won't let these pre-teens ruin their night at the Kendrick Lamar concert.
This film is absolutely hilarious and the biggest source of its laughs come from the three young leads. Tremblay is best known for his role opposite Brie Larson in Room, but this role as Max couldn't be more different. He brings impeccable comedic timing, and true to real life awkwardness that makes his lines even funnier. Keith Williams might actually steal the show from him though, as his innocence and goody-two-shoes personality portraying Lucas is such a stark contrast to the rest of the characters in the film. This film also has a surprising amount of heart for an R-rated comedy. The Beanbag Boys friendship is completely believable and endearing, leaving viewers hoping that these three good boys stay best friends forever.
Oh the places you'll go to replace your dad's $500 drone.
Best Chucks Scene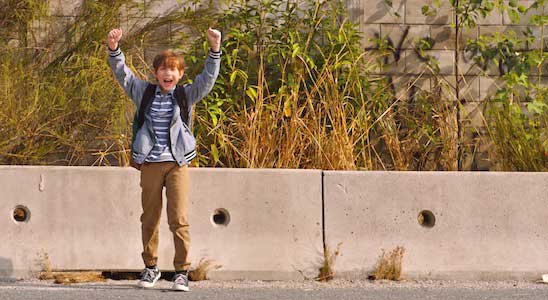 Max celebrates in his black chucks after narrowly avoiding death crossing the interstate.
Jacob Tremblay as Max wears black high top chucks throughout the whole movie, but his best chucks scene comes as the boys descend on the local mall. They see the sprawling complex off in the distance, but there's just one issue: a jam packed interstate. Traffic is at a standstill, so the boys don't think there will be an issue. However, once they get to the center divider, traffic suddenly clears and they appear trapped in the middle of the interstate. Max vows to get that drone, and he charges through the speeding cars, making it across safely. Lucas speeds after him and also makes it across. This leaves Thor all alone on the divider, but he does not want to move. Lucas has Max on his shoulders on the other side, and we get some great shots of his chucks as they egg Thor on. He eventually runs across and causes mayhem in the process. This moment in the film is a pivotal moment in the boys' friendship, and Max's chucks were key in getting him across that freeway in a speedy fashion.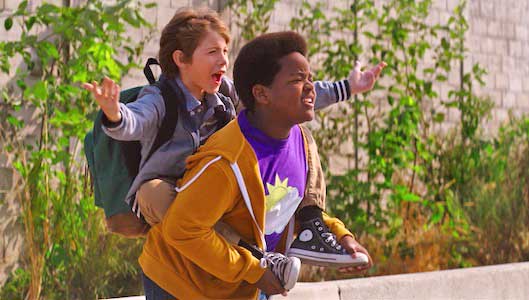 Just two good boys trying to get a third good boy to run through oncoming traffic.
Good Boys. (2019) Jacob Tremblay, Keith L. Williams, Brady Noon, Molly Gordon, Midori Francis, Izaac Wang, Millie Davis, Josh Caras. Written and directed by Gene Stupnitsky.
Categories: Adventure, Comedy
ChucksConnection Rating:

MPAA Rating: R
Support the film industry by purchasing genuine DVD, Blue Ray, or streaming copies of these films. Illegal copies only help profiteers. Make sure your money goes to the producers and artists who actually create these films. Still images from the film are used here as teasers to get you to view an authorized copy. If you have information about a film where a main character wears chucks, contact us at films@chucksconnection.com.