A ChucksConnection Film Review
John Travolta, Barry Pearl, Michael Tucci, Kelly Ward, and others wear black and white high top Converse "Chuck Taylor" All Stars in the film.
Grease
by Hal Peterson
The T-Birds hang out at Rydell High.
Grease is the word, as the opening song goes, and the popular rock musical about high school life in the fifties has recently been re-released in theaters. This is mainly due to the appearance of John Travolta in the film as Danny, the leader of the T-Birds, a group of greasers at Rydell High. Danny and his buddies (Jeff Conaway, Michael Tucci, Kelly Ward, and Barry Pearl) hang out with the Pink Ladies, led by gum-chomping tough girl Rizzo (Stockard Channing). During the summer, Danny met a girl named Sandy (Olivia Newton-John) had a brief romance with her on the beach, and now (by convenient coincidence) she's moved to the area and is attending Rydell High. Sandy doesn't fit in with the greaser scene — she is the cheerleader type — and is rebuffed by Danny when they are reunited, then made fun of by the Pink Ladies, who describe her in a song as Sandra Dee.
Danny and Sandy have a falling out because she isn't "cool" enough for his scene.
But there still is an attraction between Danny and Sandy. She tries to make him jealous by dating a Rydell football player, and he tries to impress her by going out for the track team. Things look like they are starting to jell again between them, but they still aren't on the same wavelength. When the National Bandstand TV show sponsors a dance contest at Rydell High, Danny ends up dancing with an old girlfriend, and winning the contest, to the chagrin of Sandy. Other subplots concern a rival gang, the Scorpions, who want to drag race with the T-Birds car, and the relationship between Rizzo and Kenickie (Conaway). Eventually, Sandy realizes that she has to change her attitude about life if she is ever going to have a real relationship with Danny, does a complete makeover of her appearance, and wows Danny in one of the final numbers, "You're the One That I Want". Of course, all ends well, and everyone goes on to have a great graduation party to the song "We Go Together".
The T-Birds dream of their ultimate car in "Greased Lightning".
Grease is the rare example of Hollywood taking a vehicle from another medium, giving it a major remake, and actually making it better. Three new songs were added, "Grease Is the Word" which serves as an overture to the film and is also used for the closing credits, "There Are Worse Things I Could Do," a torch song sung by Rizzo with some difficult chord changes and intervals that make it sound a little off key, and "You're the One That I Want," sung by Sandy and Danny after her drastic makeover. Of the original songs, the best ones are "Summer Nights", sung by Sandy, Danny, the Pink Ladies and T-Birds at the beginning of the film, "Beauty School Dropout" performed by Frankie Avalon as a teen angel, and "We Go Together", the Sha-Na-Na-like ensemble number that serves as the finale. All of the original songs were given new orchestrations and spruced up quite a bit for the production. There is a lot of fifties nostalgia in the film like malt shops, hot rods, dance contests, and of course a whole lot of people wearing black Chuck Taylor high tops. You would have to be a baby boomer to appreciate many of the cameo roles in the film: Eve Arden (from Our Miss Brooks) as the school principal, Ed "Kooky" Byrnes (77 Sunset Strip) as the Dick Clark-like host of National Bandstand, Sid Caesar (Your Show of Shows) as the affable coach, Alice Ghostley (from the Jackie Gleason American Scene Magazine sketches) as the auto shop teacher, Fannie Flagg (Candid Camera) as the school nurse, and Joan Blondell (The Real McCoys) as the waitress in the malt shop.
Here's proof that you can wear chucks in heaven. Frankie Avalon appears as the Teen Angel.
If you have some nostalgia for the fifties, you will have a pleasant time watching the movie, and be able to overlook some of the flaws. The most obvious is that all the students look like they are in their 20s, (which they probably were) instead of 17 or 18. And in reality the attitudes of most fifties students were probably more like Sandy's than those of the T-Birds or the Pink Ladies. In high school, belonging or not to the "in crowd", going steady, and the breaking up of a romance are big deals, that come with major emotional turmoil, and not the cavalier attitude more typical of a 20-year-old that you see in the film. But the T-Birds characters are entertaining enough, with Jeff Conaway (later of Taxi fame) as the young punk with a heart, and the other three doing slapstick comedy bits, although Michael Tucci's character keeps reminding you of his current role as the hospital administrator on "Diagnosis Murder". Stockard Channing gives a convincing performance as Rizzo, the tough girl who wants to party at all costs, and Didi Conn is great as the beauty school dropout who helps Sandy with her makeover. The Rizzo character seems awfully hardened, however, for a 17-year-old girl of the fifties. It is clear from the start that John Travolta is the one who makes this movie work. Well cast in the part, and coming off of his tour-de-force of the 70s, Saturday Night Fever, he proves that he can dance with the best of them, and is a credible singer. They did try too hard to make him look and sound like Elvis, but of course in those days Elvis was truly the king of this type of music. He certainly outdoes his co-star, Olivia Newton-John, but her role was doomed from the start. Here is an Australian trying to be an American teenager who hangs out with greasers but doesn't share any of their values or desires to party, smoke, and raise hell. Then at the end, when she is transformed from a virginal teenager in poodle skirts and flip hair style to a swinging chick in a tight black body suit with teased and permed hair, smoking a cigarette, it just seems awfully unbelievable.
Best Chucks Scene
Danny wants to impress Sandy by becoming a jock.
There are lots of chucks being worn in this film, one of the great things about the fifties, and you see them in the backgrounds of many of the scenes. Three of the T-Birds guys wear them, and of course so do all of the athletes and a lot of the students at Rydell High. It's nice to see a film where students train in them, dance in them, wear them to class, and just fool around in them. Probably the best scene for chucks is when Danny decides to impress Sandy by going out for sports at Rydell. You see the entire basketball team, wrestling team, and track team working out with black high tops. Even the coach sports a pair of white high tops.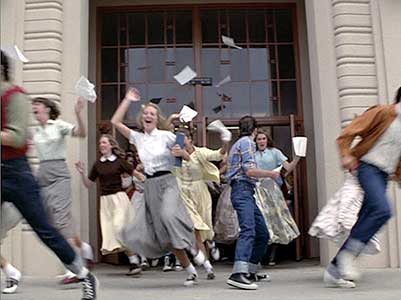 Students at Rydell High celebrate the end of the school year.
Grease. (1978) John Travolta, Olivia Newton John, Stockard Channing, Jeff Conaway, Barry Pearl, Michael Tucci, Kelly Ward, Eve Arden, Sid Caesar, Frankie Avalon, Didi Conn, Joan Blondell.
Directed by Randal Kleiser. Categories: Musical, Romance.
ChucksConnection Rating:
MPAA Rating: PG-13
Support the film industry by purchasing genuine DVD, Blue Ray, or streaming copies of these films. Illegal copies only help profiteers. Make sure your money goes to the producers and artists who actually create these films. Still images from the film are used here as teasers to get you to view an authorized copy. If you have information about a film where a main character wears chucks, contact us at films@chucksconnection.com.