A ChucksConnection TV Series Feature
Maestro Harrell, Bumper Robinson, and Chris Hardwick wear black Converse "Chuck Taylor" All Star high tops in the series.
Guys Like Us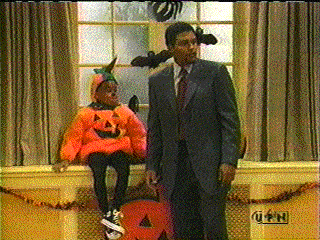 Maestro and Jarod
Guys Like Us starred Maestro Harrell as a young elementary school kid being raised by his older brother Jarod (Bumper Robinson) and his roommate, Sean Parker (Chris Hardwick). One episode featured high black chucks worn by all three male characters. The plot surrounded a Halloween pageant at Maestro's school. All three guys participated laced in high black chucks. At one point, the roommate handed a pair of black high top chucks to the older brother to lace up with his costume.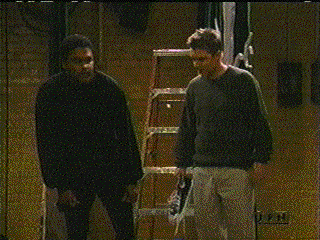 Sean helps Jarod get ready for the play performance.
The three pumpkins, Sean, Jarrod, and Maestro, wear black high top chucks.
Do you know of other television shows or series where a main character wears Converse All Star Chuck Taylors? Can you describe a favorite episode or two from the series, or do you have additional information about the shows described here already? Do you have videotapes, DVDs or shot captures of episodes from any of the series that haven't been given an in depth article on this site? If you do, email us at chucksphotos@chucksconnection.com and we will add the information to the television pages.