A ChucksConnection Film Review
Jared Van Snellenberg wears black high top Converse "Chuck Taylor" All Stars in the film.
Happy Gilmore
by Marcus Angulo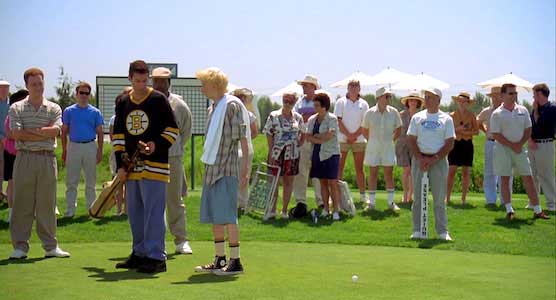 "Where were you on that one…".
Remember everyone, it's all in the hips! Ask any golfer out there and they will tell you, golf is a dumb game. It's hard, frustrating, and rage-inducing while also being silly and incredibly fulfilling. So what happens when you take a wannabe hockey player and drop him into the world of golf? Happy Gilmore is a 1996 American sports comedy film directed by Dennis Dugan. It stars Adam Sandler, Christopher McDonald, Julie Bowen, Frances Bay, Jared Van Snellenberg, and Carl Weathers, and has gone on to become one of the iconic sports movies of the 1990s.
Happy's Waterbury caddie wears black high top chucks in this film.
Happy Gilmore (Sandler) is a hot-headed, unsuccessful hockey player whose only skills are fighting and a powerful slapshot. After yet another failed tryout, Happy learns that his grandmother (Bay) owes the IRS $270,000 in back taxes and has 90 days to pay off the debt or she'll lose her home. Happy resolves to make the money somehow while his grandma temporarily moves into a retirement home. After arguing with some movers, Happy discovers he has an incredibly long golf drive, which he proceeds to use to hustle golfers at the local driving range. There, he meets Chubbs Peterson (Weathers) a club pro and former tour star who lost a hand in an alligator attack. Chubbs urges Happy to enter a local amateur tournament where the winner will earn an automatic spot on the professional golf tour. Desperate for money, Happy agrees after Chubbs tells him of the large cash prizes in golf. Happy wins the tournament and a spot on the pro tour. He quickly becomes a fan favorite thanks to his long drive and rowdy nature. He meets Head of Public Relations for the tour, Virginia Venit (Bowen) and they quickly become close. He also meets the arrogant star of the tour Shoot McGavin (McDonald), who hates Happy for his lack of golf etiquette.
Everything's coming up Happy!
Though Happy has a powerful drive, his putting is terrible, and his bad behavior draws the attention of tour Commissioner Doug Thompson. Virginia convinces Thompson not to expel Happy from the tour, citing higher TV ratings and attendance. She promises to work with Happy on his anger issues and initially Happy is successful. However, that all changes at the Pepsi Pro-Am. Happy plays poorly after Shooter hires a heckler to antagonize him, and he and his celebrity partner, Bob Barker, get into a fistfight. Happy is fined $25,000 and suspended for a month jeopardizing his chances to save his grandmother's house until Virginia secures him an endorsement deal with Subway. However, Happy loses the house in an auction to Shooter. They agree to a wager: if Happy wins the tour championship he gets the house and if Shooter wins Happy quits the tour. As Happy tells Virginia after the wager is made, it's time for him to learn how to play golf.
Chubbs advises Happy on how to putt.
This film is a classic Adam Sandler film from his comedic peak, and it truly is one of his best films. The jokes always hit and often don't rely on cheap punchlines. There are so many iconic lines and moments that have lived on in not only sports culture, but pop culture as a whole. This film has also been a surprising mainstay in golf culture. The iconic Happy Gilmore swing has been attempted at least once by every golfer out there and everyone has had a terrible putting day where you've said to yourself "Just tap it in". Finally, there's Shooter McGavin. One of the most likable yet hateable villains ever put to screen you love to hate this guy. He has so many iconic quotes and moments and is played brilliantly by Christopher McDonald. While Sandler has been hit or miss with his comedies over the past 20 years, Happy Gilmore is him at his best and most iconic.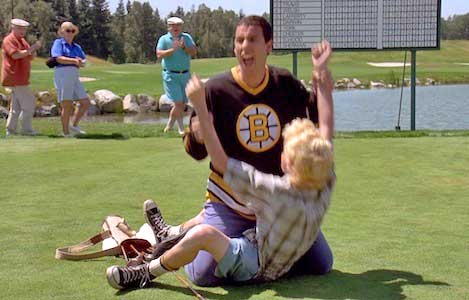 Sweet victory means Happy is on the Tour!.
Best Chucks Scene


A brief misunderstanding lands this young caddy on the ground.

The best chucks scene in the film comes when Happy is hilariously introduced to his new caddie. The young teenage boy (Jared Van Snellenberg) is wearing a flannel button-up, jean shorts, and black high top chucks when he takes Happy's bag. Happy mistakes this as the kid stealing his clubs and tackles him to the ground. After realizing that the kid is there for a job, Happy apologizes and says he'll carry his own club, but that the kid can tell him when he's doing something stupid. Happy then immediately does something stupid and their fun back-and-forth relationship goes from there. Throughout the tournament, Happy goes from choking the kid to dancing with him to eventually winning the whole thing and tackling him out of joy. This scene is such a funny stream of events and has gone on to have a life of its own outside of the film. Rising PGA Tour star Will Zalatoris has often been compared to the caddy, so much so that Sandler himself has tweeted his support during his rounds. Happy is so proud!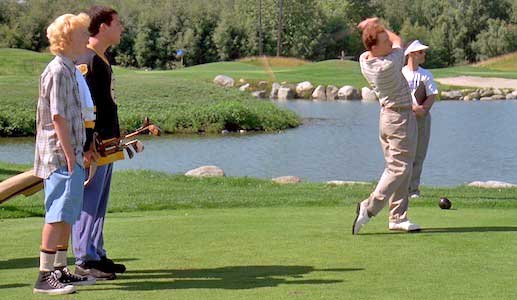 Their relationship is one of the funnier ones in the film.
Happy Gilmore. (1996) Adam Sandler, Christopher McDonald, Julie Bowen, Frances Bay Carl Weathers, Jared van Snellenberg, Allen Covert, Kevin Nealon. Directed by Dennis Duggan.
Categories: Comedy, Sports.
ChucksConnection Rating:

MPAA Rating: PG
Support the film industry by purchasing genuine DVD, Blue Ray, or streaming copies of these films. Illegal copies only help profiteers. Make sure your money goes to the producers and artists who actually create these films. Still images from the film are used here as teasers to get you to view an authorized copy. If you have information about a film where a main character wears chucks, contact us at
films@chucksconnection.com.