A ChucksConnection TV Series Feature
Alexander Elliot wears black high top Converse "Chuck Taylor" All Stars in the series.
The Hardy Boys
Joe and Frank Hardy work on solving mysteries in Bridgeport.
The Hardy Boys, the classic mystery series first published in 1927, has almost been around as long as the Converse All Star (first manufactured in 1917), and the good news in this latest adaption is that Joe Hardy (Alexander Elliot) wears black high top chucks throughout the series. As is typical with film or television show adaptations, the writers and producers have made variations on the original characters and this Canadian produced series has a lot of them. Frank Hardy (Rohan Campbell) is sixteen instead of eighteen (although he looks much older) and Joe Hardy is twelve or thirteen instead of just a year younger than Frank like he was in the original books. In most versions, the boys work as continual partners in solving their cases, but in this series, due to their wider age difference, Joe does a lot of his investigating with Biff Hooper (see below), who is portrayed as a tween girl tomboy, while Frank gets help from their older high school friends. In the original book series, the boys got around town in their motorcycles and in the water on their motorboat, the Sleuth. But in this series, Frank can drive but doesn't have a vehicle, and Joe is too young to have a driver's license. Joe still is the more impetuous and emotional of the two, aggressively following through on leads that continually put him (and Biff) in danger. Joe is portrayed as a modern young teenager, tooling around town on his skateboard or bicycle and dressed in tee shirts with hoodies, including a Levis jacket hoodie with whacked off sleeves, and cut off shorts or jeans along with his ever-present black high top chucks. Both boys are very bright and good at problem solving. Additionally Joe possesses skills in electronics and the ability to pick locks, while Frank has the academic skills to win an invitation to a prestigious college and athletic prowess as a pitcher. Frank is more stoic, conservatively dressed, and much more concerned with the dangers they face.
Joe and Frank park their bikes after arriving at Wilt's Deli.
Fenton Hardy (James Tupper), their father is still the mostly out-of-town famous private detective, leaving Frank and Joe to solve things locally, but he is portrayed as much more of a bad ass in this series. Surprisingly, one of the first events of the series is the tragic death of their mother Laura (Janet Porter) in an automobile accident, so she only appears briefly in flashbacks. This is a major change in their family dynamic from the original series. Eccentric and complaining Aunt Gertrude has also been replaced by Aunt Trudy (Bea Santos), a much younger single woman who is charged with taking care of the boys while Fenton is on the road, and a new family member, their maternal grandmother Gloria (Linda Thorson), a wealthy and influential matron in the town of Bridgeport (instead of Bayport), has been added to the mix.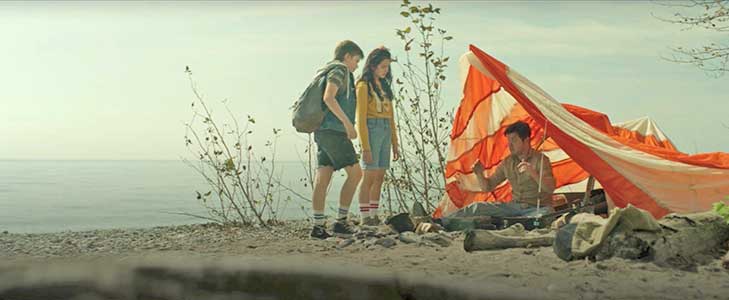 Joe and Biff discover an injured JB Cox.
When the boys are moved from the city to Bridgeport after the death of their mother, they meet and befriend mostly the same sidekicks from the books with a few key differences. Chet Morton (Adam Swain) still lives on a nearby farm but he is now black, and there is no mention of his sister, Iola. Biff Hooper (Riley O'Donnell) is now a girl the same age as Joe, and the daughter of single mom Jesse (Jennifer Hsiung), who is a member of the Bridgeport Police Department. It is explained that her real name is Elizabeth, but she got her nickname "Biff" because she had trouble saying "Beth" when she was very young; it came out "Biff" and the name stuck with her. Callie Shaw (Keana Lyn) initially is Chet's girlfriend, but becomes closer to Frank due to academics (they both are being pushed to apply to elite Rosegrave Academy by Frank's grandmother, Gloria) and their growing mutual attraction. Phil Cohen (Cristian Perri) is another Bridgeport local who becomes involved in their circle but is on the periphery of Frank and Joe's investigations. They all meet on the Hardys' first day in Bridgeport at Wilt's Deli, the local hangout in town. Wilt (Philip Williams) and many of the townspeople all know about the Hardys and their mother Laura, because she grew up in Bridgeport, and soon Wilt offers Frank a part time job at the deli.
Joe escapes out of Chief Collig's kitchen window.
Another difference between this series and prior versions of the Hardy Boys is the amount of violence you see. In the very first episode there are machine gun murders of the captain and crew of a cargo ship and Laura's death in an automobile accident. There are a number of scenes where people are kidnapped or attacked, severely beaten, and deliberately knocked unconscious. Our young heroes are often pursued by criminals with seemingly murderous intent. This makes the series not so suitable for younger viewers, although most teenage boys would love it. You are expecting the typical components of kid detective stories like secret rooms, mysterious symbols, clues in code, hidden caves, and valuable artifacts with special powers sought after by ruthless criminals. This version of the Hardy Boys doesn't disappoint in that regard. The story action starts when the Hardys begin to believe that Laura Hardy's death was not an accident. As they learn more about events leading up to her death, they discover that Laura was investigating how the three powerful founding families of Bridgeport had managed to control things since the town was founded. This was an investigation she started in high school that was suppressed then and clearly she wished to continue it now, causing the boys to grow suspicious of their grandmother.
Joe gets up after being knocked down by the Tall Man.
As their investigative white board begins to fill up with their research and discoveries, Joe and Frank come to believe that more of the powerful and connected people in town, like police chief Collig (Bill Lake), must be involved in the suspicious activities going on. In the other major thread of the story, Frank and especially Joe run into bad actors who are after a mysterious piece of a metallic artifact hidden in a fake Egyptian statue that seems to have special powers. One of these men is JB Cox (Atticus Mitchell), a thief for hire, who literally dives out of an airplane after stealing the statue from the Tall Man (Stephen R. Hart), a seven-foot-tall man dressed in all black with a bad accent who is seemingly unstoppable in his pursuit of whoever has the statue. JB enlists Joe and Biff to help him out, when they discover him injured and camped out on the beach after his fall (not knowing what JB has actually done). Later JB hides the statue in Joe's house where Joe discovers it hidden in a heating duct. Now Joe becomes the target of both JB and the Tall Man.
Close up of Joe's black high tops as he skateboards through town.
The Hardy Boys was released as a feature series on Hulu in December of 2020. The first season contains a thirteen episode serial, with several plot lines that gradually merge together. Good editing by Daniel Sadler, Ana Yavari, and others helps each episode move about to its multiple ongoing story segments. Tight direction by series creator Jason Stone and his team members keep the action moving. The all Canadian cast is led with strong performances by Alexander Elliot as Joe Hardy, Rohan Campbell as Frank Hardy, and Riley O'Donnell as Biff Hooper.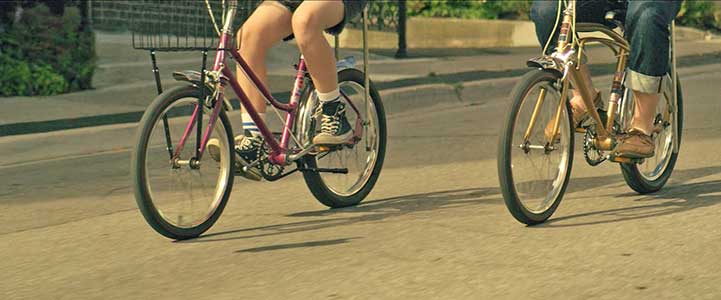 Joe and Frank bicycling in Bridgeport.
Do you know of other television shows or series where a main character wears Converse All Star Chuck Taylors? Can you describe a favorite episode or two from the series, or do you have additional information about the shows described here already? Do you have videotapes, DVDs or shot captures of episodes from any of the series that haven't been given an in depth article on this site? If you do, email us at chucksphotos@chucksconnection.com and we will add the information to the television pages.