A ChucksConnection Film Review
Daniel Radcliffe wears black low cut Converse "Chuck Taylor" All Stars in the film.
Harry Potter and the Half Blood Prince

By Brandon L. Summers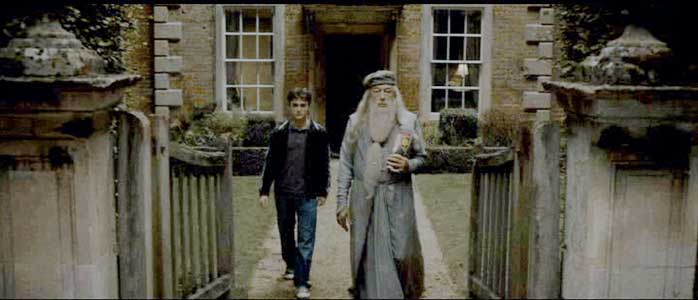 Dumbledore brings along Harry to Professor Slughorn's house.
Harry Potter and the Half-Blood Prince, the sixth film of the popular series, begins the conclusion of the epic saga. Hogwarts Schoolmaster Albus Dumbledore (Michael Gambon) retrieves Harry Potter (Daniel Radcliffe) to entice Prof. Horace Slughorn (Jim Broadbent) to join the staff as the new potions master. Slughorn has a secret stored in his brain, a memory that may be key to defeating Voledemort, and it is Harry's mission to retrieve this memory. School starts and Harry is reunited with his best friends, Ron and Hermione (Emma Watson and Rupert Grint), while at the same time perpetual red herring Prof. Snape has been bound by a fatal curse to fulfill the task of eliminating Dumbledore should the young, inexperienced Draco Malfoy, tasked with the job, fail. Harry spends the year splitting his time studying old memories of young Tom Riddle with Dumbledore, captaining his house's Quidditch team, dealing with awkward teenage romances and social situations, including his own growing affections toward Ginny (Ron's sister) and being a champion potions student, to Slughorn's appeal, thanks to an old potions book brilliantly annotated by some someone called The Half-Blood Prince. Amid all this, Harry also grows suspicious of long-time rival Draco, son of an avowed Voldemort supporter. Draco lurks in the shadows making mysterious purchases. At the same time, a few students are being near-fatally cursed or poisoned. Of course, these could all just as easily be the caprices of eager schoolgirls pining for "The Chosen One" missing the target.
Harry is united with his best friends Hermoine and Ron.
With a little bit of liquid luck, Harry is able to retrieve the needed memory from Slughorn's mind. Dumbledore and Harry now know what they are looking for: Horcruxes, ordinary objects containing the fragmented soul of Voldemort. One such item was Tom Riddle's diary, destroyed in the Chamber of Secrets four years prior. Destroy the horcruxes, destroy the dark lord. Meanwhile, the spells noted by The Half-Blood Prince are revealed to be dark magic, Harry kisses the aforementioned cutie, Ron and Hermione sort out their feelings and Draco completes his secret magical box. At the climax, Harry and Dumbledore embark to retrieve one of the Horcruxes for destruction. They succeed (it seems), but at a price that takes its toll just when Dumbledore must confront a troubled Draco, who has let his fellow Death Eaters into the school, and the identity of the Half-Blood Prince is revealed.
A love-struck Ron talks to Harry in a train car.
Because the film was certain to gross over a billion dollars worldwide, less time than any of the other films is spent on CGI wonder and more on atmosphere and mood, focusing on character and situation over scale. The plot suffers from this, becoming, for some, equally too contrite or meandering. Other criticisms argue that great actors only make obligatory appearances as well-loved characters. Hagrid (Robbie Coltrane), McGonagall (Maggie Smith) and several key villains have one superbly written scene before being relegated to the background if they return at all. Voldemort and Harry's foster family are written out entirely. The significance of the Half-Blood Prince is absent, to the chagrin of the zealously devout. But the casual filmgoer and the faithful follower is rewarded with charming characters, who are less engaged in comedy so much as humor and now feel more natural. Similarly, gone is the epic score of John Williams, replaced with moodier, low tones. The world is painted beautifully in striking (and dark) colors, while experimenting with light and shadow. Whether any of this makes the film better or worse than any of the other varied entries depends on the inclinations of the viewer, but certainly no one will be disappointed by this start of Harry's closing chapters. It's flawed, but never to its detriment.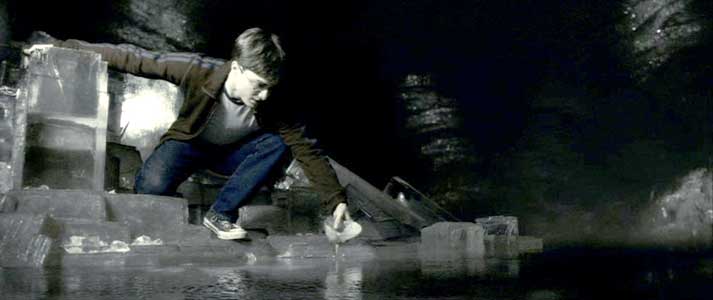 Harry extracts some water to help out Dumbledore.
Best Chucks Scene
Harry stays after the party to talk to Professor Slughorn.
After one of Professor Slughorn's famous private parties for some of the more promising students has concluded, Harry stays behind to speak with the man. In a single shot, he stands alone, dressed nicely for a casual evening in a jacket, dress shirt, slacks and his Converse sneakers. In that one shot, Harry Potter is captured as the average teen, awkward and insecure, but being nonetheless dutiful while burdened with massive responsibilities in a world much bigger than him. We may not all have been "The Chosen One," but almost certainly many of us have been Harry Potter.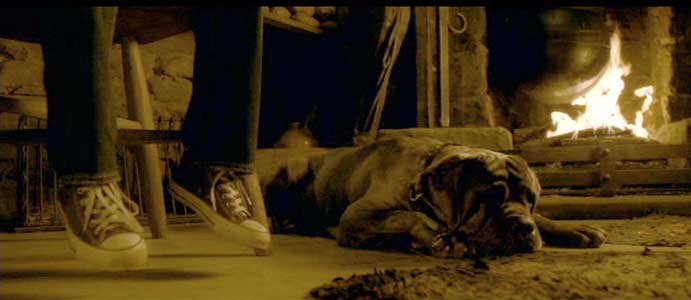 Harry is sitting on a stool as the camera focuses on his chucks.
Harry Potter and the Half-Blood Prince. (2009) Daniel Radcliff, Emma Watson, Rupert Grint, Jim Broadbent, Geraldine Somerville, Bonnie Wright, Julie Walters Brandon Gleason, Gary Oldman, Maggie Smith, Robbie Coltrane, Michael Gambon.
Categories:Action/Adventure, Science Fiction/Fantasy.
ChucksConnection Rating:

MPAA Rating: PG-13
Support the film industry by purchasing genuine DVD, Blue Ray, or streaming copies of these films. Illegal copies only help profiteers. Make sure your money goes to the producers and artists who actually create these films. Still images from the film are used here as teasers to get you to view an authorized copy. If you have information about a film where a main character wears chucks, contact us at films@chucksconnection.com.