A ChucksConnection Film Review
Henry Thomas wears black high top Converse "Chuck Taylor" All Stars in the film.
Hijacking Hollywood
by Taylor Bathel
Aspiring director Kevin Conroy searches for jobs in Hollywood.
Hijacking Hollywood lays the sleaze in all the right places, producing a satire that comically highlights Los Angeles stereotypes. Michigan-raised Kevin Conroy (Henry Thomas) takes the leap to Hollywood thinking he has the next big film idea, but has to pay his dues as a production assistant first. Naïve and inexperienced, Kevin is treated horribly by his Hollywood superiors, and just when he seems on the verge of cracking, his roommate Tad Sheen (Neil Mandt) and him devise a plan: hijack Hollywood's hottest film reel.
Kevin gets a job as an assistant to Russell, Michael Lawrence's manager.
The real entertainment is in the portrayal of unsavory characters that make you laugh and cringe at the same time. Every detail of the film fulfills a stereotype—lazy, greedy, immoral, and brainless. First up is Tad, the confident and smooth-talking type that never seems to accomplish anything, despite his proud statements that he has films "in development." Kevin's boss, Russell Bernside (Scott Thompson), is the epitome of the wicked Hollywood animal who throws out uncanny orders—delivering a single pencil, for example. All the while, shots are directed back to Russell's desk where behind the scenes we see him deeply involved in video games the majority of the time. Thrown in between these characters are a slew are sexualized, brainless women prancing around to play up the Hollywood stereotype and add specs of humor.
Kevin is at the airport delivering the daily film rushes.
Kevin's life is hell as the lowly production assistant. The movie does follow a shallow storyline, but similar to the entertainment being in character types, the plot entertainment comes from random scenes of innocent Kevin winding up in precarious situations. Overall, Kevin is in charge of a number of mundane duties on set, including the retrieval of the film reels that he soon realizes houses millions of dollars in recordings. Kevin and Tad decide to hold the film for ransom, a tactic of revenge and also a means for Kevin to afford producing his own film. You can image that this plan has some twists and turns, and leaves plenty of room for laughs.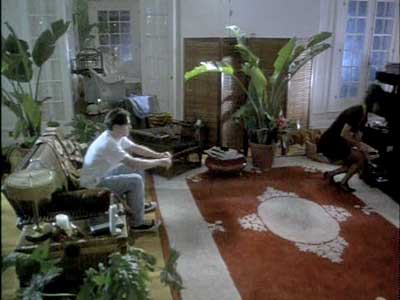 Michael Lawrence's wife Sarah complicates things by wanting to have an affair with Kevin.
Not only was Nel Mandt a leading character in the film, he is also the writer and director. An impressive feat and challenge to take on, and Mandt delivers. The film is genius in the way it mocks its own culture, and even its own actors. Henry Thomas earned fame through his childhood role in E.T, and you bet that during this film, Thomas plays with an E.T. doll to poke fun at himself. Thomas' role is spot on though—he's a lost puppy in the intricate maze of Hollywood, and without his seemingly natural portrayal of this role, the film would not have been so effective. Thomas is constant rushing around, panicking and struggling, a feeling that is so utterly juxtaposed to the fast-talking and swaggering characters around him. Overall, Hijacking Hollywood is a film where everyone is indecent, and hilariously so. Watch it for a lighthearted laugh, and be warned of some slight vulgarity.
Tad helps Kevin load a box of film.
Best Chucks Scene
Kevin is looking inside his right high top.
Henry Thomas in his role as Kevin Conroy wears black high top chucks throughout the film. The best chucks scene was when Kevin got something in one of his chucks, and was emptying it out sitting on the hood of his car.
Kevin is shaking something out of his right chuck.
Hijacking Hollywood. (1997) Henry Thomas, Scott Thompson, Mark Metcalf, Neil Mundt, Nicole Gann, Helen Duffy, Paul Hewitt, Art LeFleur.
Directed by Neil Mundt. Category: Comedy.
ChucksConnection Rating:

MPAA Rating: R
Support the film industry by purchasing genuine DVD, Blue Ray, or streaming copies of these films. Illegal copies only help profiteers. Make sure your money goes to the producers and artists who actually create these films. Still images from the film are used here as teasers to get you to view an authorized copy. If you have information about a film where a main character wears chucks, contact us at films@chucksconnection.com.