A ChucksConnection Film Review
Terrence Howard and others wear black high top Converse "Chuck Taylor" All Stars in the film.
Mr. Holland's Opus
by Hal Peterson
Mr. Holland and the Kennedy High School orchestra attempt to play Beethoven.
Mr. Holland's Opus is the story of Glenn Holland (Richard Dreyfuss), a composer and professional pianist who takes a teaching job at the newly renamed John F. Kennedy High School in an unnamed suburban location in 1964. Holland has just spent several years on the road, but now that he has married Iris (Glenne Headley), his dream is to spend a few years teaching in order to accumulate enough savings to allow him to return to his true passion in life: composing music. However, events soon change everything: Iris becomes pregnant, and in order to provide for her and their new son Cole (named after John Coltrane, and played by several actors as he is seen growing up), Holland now finds himself having to settle down, buy a house, and even teach driver's training in summer school to make ends meet. Teaching is no longer just a way to earn some extra money; it has become his family's livelihood.
Mr. Holland tries to get Russ to clap in time to the music.
The story line of Mr. Holland's Opus spans thirty-one years, and during this time we see Holland start out as a beginning teacher trying to teach music appreciation to bored and unresponsive students, conduct performing ensembles with poor rhythm and intonation, and learn to deal with the many demands of the school administrators. He is at first unsuccessful in inspiring his students until he realizes what is lacking in his teaching: the expression of his personal passion and knowledge of the subject during his classes. When he starts showing his music appreciation students the common elements between popular and classical music — the similarity of forms, rhythms and melodies — the students quickly become engaged in the learning process. Likewise, when he is able to show his performing ensembles that playing music is "supposed to be fun", and is an important form of inner expression, they start playing music instead of just written notes. Mr. Holland is then able to get them to play real music literature correctly, and use his skills as a writer and arranger to create pieces for them when money for music is limited. A third element of his success is his willingness to tutor individual students with conceptual learning problems about music and help them gain a better understanding of what music really is. All of this extra work pays dividends in the music program at Kennedy High School, creating a loyal following of students. Unfortunately, at the same time this causes some strain at home. Mr. Holland's son Cole is found to be deaf, and must have special training and schooling. Much of this responsibility is placed on Iris, because it is equaling demanding in time. And the fact that Cole cannot hear makes it difficult for father and son to relate to each other because Holland thinks that his son will never understand why what he does is important. A significant portion of the latter part of the film deals with this rift and how eventually the Holland family learns how to deal with their situation.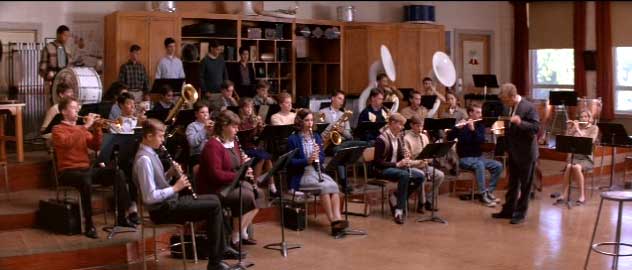 The Kennedy band plays the Stars and Stripes Forever.
Mr. Holland's Opus is a film about the importance of arts education in people's lives, and how the efforts of one dedicated teacher can be an major influence in not only in the cultural growth of a local community but in the development of many individual lives. Mr. Holland doesn't start out as a crusader for music education, but along the way he realizes the importance of what he is doing, and finally admits that teaching is all he ever really wanted to do. The film succeeds in presenting this message because it always emphasizes the personal relationships that make education work. There is the wise but demanding principal (Olympia Dukakis) who is always asking for more from Mr. Holland, because she can see what he is capable of, the officious vice principal (W. H. Macy) who remains perennially suspicious about the influence that music has on the students, yet is very knowledgeable about the subject, and the P. E. coach (Jay Thomas) who becomes an ally and friend, as they help each other deal with various students and the school administration. There is the frustrated clarinetist (Alicia Witt) who Mr. Holland helps to discover the joy of playing for fun rather than to keep up with her family, the "wannabe" drummer (Terrence Howard) who can't keep a beat until Mr. Holland shows him how, and the talented singer (Jean Louisa Kelly) who develops a crush on Mr. Holland, and wants him to come with her to New York. Director Stephen Herek is to be commended for giving us a surprisingly uplifting film that touches on some of the realities of public school music education. Despite some of its flaws and omissions — the film doesn't discuss the support and feeder system necessary to make an instrumental program of that quality possible, those high school kids sound like Hollywood studio musicians on the soundtrack, and Mr. Holland's actual opus we finally hear isn't a symphony at all — the story line does touch you and make you want to question why cost cutters are always trying to eliminate programs that are the heart and soul of true education.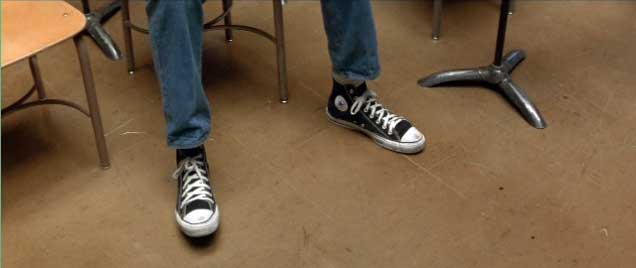 Russ tries to tap his foot in time to the music.
Best Chucks Scene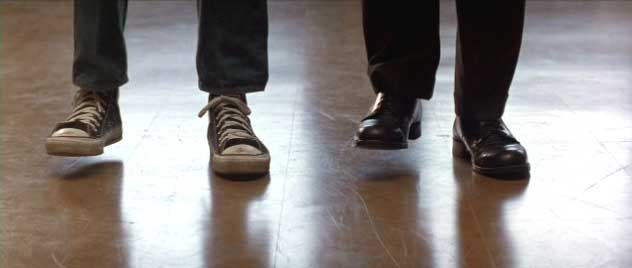 Mr. Holland tries to get Louis to match his beat.
There isn't a lot of chucks footage in Mr. Holland's Opus, but there are several memorable moments. You see various members of the band or orchestra wearing them, but the best scene is when Holland undertakes to teach a gifted athlete, Louis Russ, how to play in rhythm, so he can be in the band, and have the grade point average to remain eligible for sports. There is a great sequence of shots where you see them clapping, then tapping toes, and finally Mr. Holland literally grabs one of Russ' black chuck high tops by the laces and bangs it to the beat, until he gets the concept of steady pulse.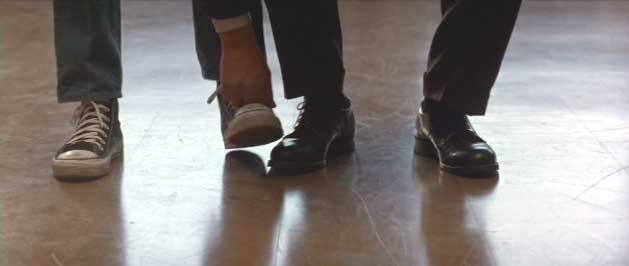 Mr. Holland grabs Russ' left chuck to help him learn what the beat is.
Mr. Holland's Opus. (1995) Richard Dreyfuss, Glenne Headly, Jay Thomas, Olympia Dukakis, W.H. Macy, Alicia Witt, Jean Louisa Kelly, Terrence Howard.
Directed by Stephen Herek. Category: Drama
ChucksConnection Rating:

MPAA Rating: PG
Support the film industry by purchasing genuine DVD, Blue Ray, or streaming copies of these films. Illegal copies only help profiteers. Make sure your money goes to the producers and artists who actually create these films. Still images from the film are used here as teasers to get you to view an authorized copy. If you have information about a film where a main character wears chucks, contact us at films@chucksconnection.com.