A ChucksConnection TV Series Feature
David Corenswet wears white high top Converse All Star "Chuck Taylor" sneakers in the series.
Hollywood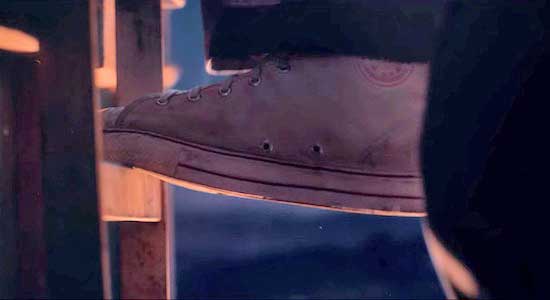 Jack Costello's chucks are the first thing shown in the opening credits.
What do you think of when you think of Hollywood? Do you think of the legendary sign? The stars and starlets that have graced the silver screen? Maybe you see the power of film and is place in our cultural history. Well what if you could rewrite that history? What if the underdogs and the underrepresented had been given their fair shot during Tinseltown's Golden Age? The Netflix miniseries "Hollywood" looks to explore that alternate reality, shining a spotlight on the unfair systems and biases against race, gender and sexuality that have always been the terrible truth behind the city of dreams. Starring an ensemble of David Corenswet, Darren Criss, Laura Harrier, Joe Mantello, Dylan McDermott, Jake Picking, Jeremy Pope, Holland Taylor, Samara Weaving, Jim Parsons, and Patti LuPone, "Hollywood" exposes and examines decades-old power dynamics, and asks what our films, culture, and society would look like if they had been dismantled.
Jack works on his acting with acting coach Ellen Kincaid (Taylor).
The show follows the careers and lives of aspiring actors and filmmakers in post-World War II Hollywood during its Golden Age. Jack Castello (Corenswet) is a World War II veteran who has just moved to Hollywood in hopes of becoming an actor. After struggling to get paying work, he soon meets Ernie West (McDermott), a pimp who runs his "services" out of a gas station. Jack soon befriends and recruits Archie Coleman (Pop), an aspiring screenwriter facing prejudice for being gay and African American. As they try to survive everything the town throws at them, they eventually meet Raymond Ainsley (Criss). Ainsley is an aspiring director who is trying to get a picture greenlit at Ace Studios by producer Dick Samuels (Mantello) and new studio head Avis Amberg (LuPone). Camile Washington (Harrier) and Claire Wood (Weaving) are two actresses on contract with the studio vying to become the next big thing. All these stories and more converge on the film "Meg", and this cast of underdogs and castaways will have to give the performance of a generation to not only get this movie made, but to change La La Land forever.
Jack, Archie, and Raymond check out a screening of "Meg".
Jack Costello is really the center of the show, and serves as a uniting force for a lot of these stories. He's your All-American war vet with a good heart, and to really sell this point he wears chucks when he's not acting. This really hammers home that he's just a normal guy chasing a dream, and along with his "aw shucks" attitude, endears him to the viewer in a way that makes it easy to see him becoming a star in the Golden Age of Hollywood.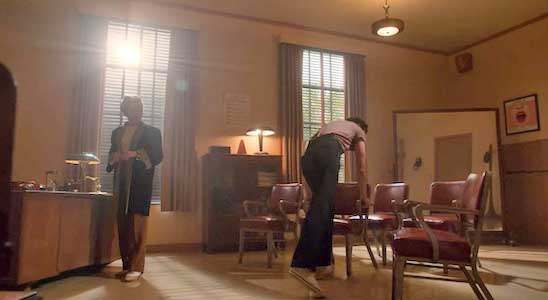 Jack is always one to help out.
The show is carried by its actors, as they all bring their A game. Corenswet is a breakout newcomer, who brings an authentic earnestness and heart to Jack Costello. Laura Harrier brings emotional weight to Camile, and Darren Criss is as incredibly charismatic as ever. The show's plot is a bit convoluted and does suffer from obstacles being quickly swept to the side. The show has received criticism for its portrayal of Hollywood and for "erasing" the film industry's dark history of prejudice and bigotry. However, this criticism isn't entirely warranted as the show never pretends to be anything other than a fictionalized history. At one point in the show, Archie says he wants to give Hollywood a "rewrite", and that's the mission statement of the show. This is an alternate history where maybe the baby steps the industry has taken this century towards inclusivity and representation happened 100 years ago instead of right now. Maybe if stars like Camile Washington and writers like Archie Coleman had been given a fair chance by Hollywood, America's culture would have looked at their stories differently.It's a fantasy that never happened, but what's wrong with dreaming it was true? After all, Hollywood was built on dreams.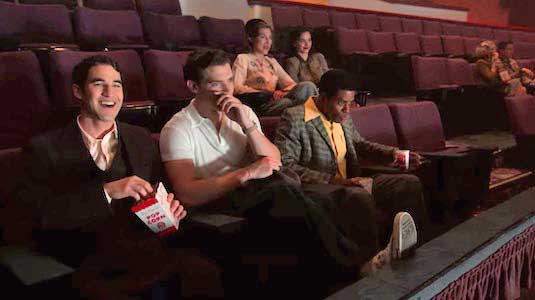 Watching yourself on the big screen and realizing how far you've come.
Do you know of other television shows or series where a main character wears Converse All Star Chuck Taylors? Can you describe a favorite episode or two from the series, or do you have additional information about the shows described here already? Do you have videotapes, DVDs or shot captures of episodes from any of the series that haven't been given an in depth article on this site? If you do, email us at chucksphotos@chucksconnection.com and we will add the information to the television pages.