A ChucksConnection Film Review
Brad Boyle, Steve Hollar, Brad Long, David Neidorf, Kent Poole, Wade Schenck, Scott Summers, Maris Valainis and others wear black and optical white high top Converse "Chuck Taylor" All Stars in the film.
Hoosiers
by Hal Peterson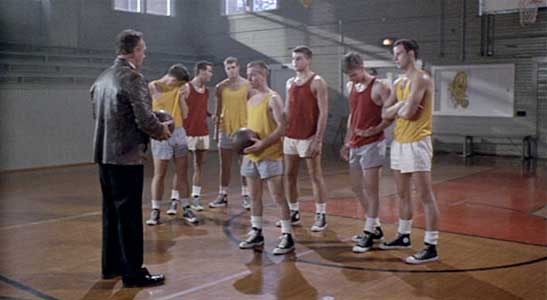 Coach Dale checks out his future All Stars.
You have to know that this a going to be a good film when you pick up the cover of the original DVD issue and there is a picture of a pair of black Chuck Taylor high tops overlooking an Indiana country landscape.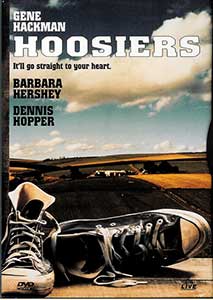 The original cover shows you that this is going to be a great film.
And Hoosiers doesn't disappoint. Based on the true story of a small-town Indiana team, the Hickory Huskers, who went from nowhere to the state finals in 1952, this movie contains all the elements of the typical Hollywood sports film, yet in the end, makes you identify with the team, its town, and its principal characters because it is successful in reminding you of the passion for local sports that can only occur in a small town. In fact, the town is so small that it can barely field a team, yet everyone in the town from the school board down to the parents think they know more about basketball than the coach and are very much involved in trying to run the team. Into the town comes coach Norman Dale (Gene Hackman) who has the experience, knowledge, and will to accomplish this miracle, but has had troubles in his past, and is using this opportunity to try to make a comeback. He enlists an unlikely ally, the town's basketball-loving drunk and father of one of the team members (superbly portrayed by Dennis Hopper, who received an Oscar nomination for this performance) to lead help him lead the team to victory.
Will these All Stars make it to the winner's circle?
Hoosiers is successful in engaging your attention because it takes you back into a world of basketball that has for the most part been forgotten in this age of highly commercialized sports. It's great to see a league system where a small town can take on the teams from more well heeled big towns and cities, where team discipline is more important than winning the game at all costs, and where the Converse All Star high top is the shoe of choice for all teams. You almost know how the story is going to end before it starts, yet you are drawn in by the great performances of Gene Hackman, Barbara Hershey as Hackman's romantic interest, and Dennis Hopper.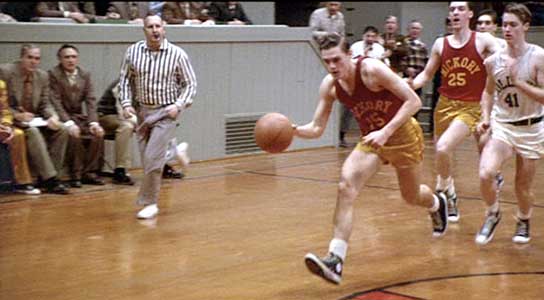 Hickory High's star forward dribbles down the court.
Basketball team members Brad Boyle, Steve Hollar, Brad Long, David Neidorf, Kent Poole, Wade Schenck, Scott Summers, and Maris Valainis look great and wear their chucks with pride. There is simplicity in the "comeback" theme of the film that permeates the plot and characterizations, yet the characters seem real because they are not one-dimensional or totally predictable. You are drawn into their community because they remind you of ordinary folks that you would expect to meet in a small town with all of their foibles and pride in their simple lives. A recent critics poll, printed in USA Today, stated that Hoosierswas the number one choice as the best sports picture.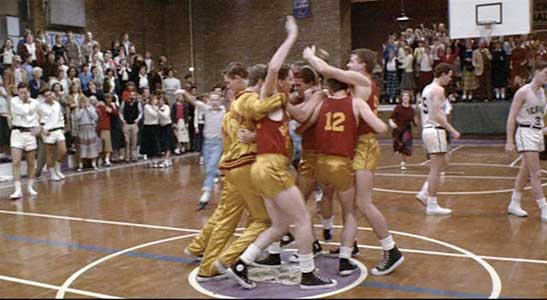 The team celebrates one of their playoff victories.
Best Chucks Scene
Practicing footwork.
All of the basketball games contain great chucks shots, either black vs. black, or black vs. white. But as you peruse the entire movie, the best scene has to be in the regional finals where one of the weakest players is brought in at the end of the game, is fouled, and has to make the game winning shot. The camera pans up from his chucks into his face as he takes the team to the state finals. Great stuff that all young hoopster's dreams are made of!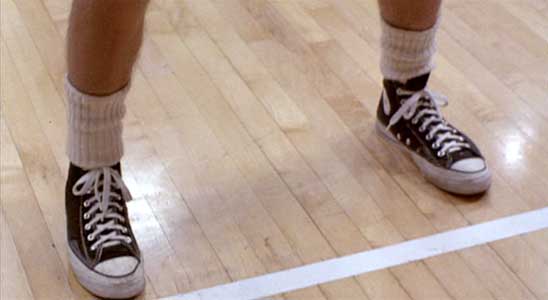 This player has the right shoes to be an All Star.
Hoosiers. (1986) Gene Hackman, Dennis Hopper, Barbara Hershey, Brad Boyle, Steve Hollar, Brad Long, David Neidorf, Kent Poole, Wade Schenck, Scott Summers, Maris Valainis.
Directed by David Anspaugh. Categories: Drama, Sports.
ChucksConnection Rating:

MPAA Rating: PG
Support the film industry by purchasing genuine DVD, Blue Ray, or streaming copies of these films. Illegal copies only help profiteers. Make sure your money goes to the producers and artists who actually create these films. Still images from the film are used here as teasers to get you to view an authorized copy. If you have information about a film where a main character wears chucks, contact us at films@chucksconnection.com.