A ChucksConnection Film Review
Michelle Horn wears black low top Converse "Chuck Taylor" All Stars in the film.
Marshall Allman wears black high top Converse "Chuck Taylor" All Stars in the film.
Hostage
by Hal Peterson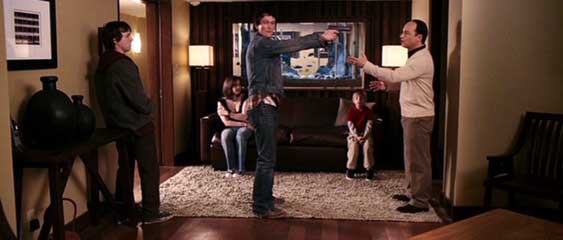 Dennis takes the Smith family hostage, after an alarm foils their vehicle burglary attempt.
In the opening scene of Hostage, we see a bearded Bruce Willis, at the end of a long hostage crisis in Los Angeles that ends very badly. Willis plays Jeff Talley, a hostage negotiator who thought he could talk a disturbed husband out of killing his family, and tells the SWAT team to back off when one of their snipers gets a clear shot at the man. The next time we see Talley, he has left Los Angeles and become the chief of police in the small Ventura County town of Bristo Camino, trying to bring professionalism to his small town force and deal with family problems that his wife Jane (Serena Scott Thomas) and daughter Amanda (played by Willis' real daughter Rumer Willis) have with their new lifestyle. But things are about to radically change. We are introduced to Dennis Kelly (Jonathan Tucker) and his friend Mars (Ben Foster), two aimless and criminally-minded teenagers with a lot of inner anger. They are sitting in a beat up red pickup truck with Dennis' younger brother Kevin (Marshall Allman) at the local shopping area when they see an attractive teenage girl, Jennifer Smith (Michelle Horn), wearing the uniform of a private school, come out of an expensive Cadillac Escalade to get some take-out from the restaurant. The teens whistle and make eyes at her, but she doesn't want anything to do with them, hurrying by as quickly as she can. When they persist with their talk, she flips them off as she gets into the Escalade. The Escalade belongs to the Smith family. Walter Smith (Kevin Pollak) is a widower dad, running his family with an iron hand. Jennifer wants to be free from his authority, and when we next see her at home, her dress and interests are those of the teen rock culture, and her desire is to go out and party with her friends. The other family member is Tommy (Jimmy Bennett), a precocious youngster with insatiable curiosity. We soon discover that Walter is a high-priced accountant who helps some very powerful people with illegal financial transactions. As a result, their family mansion in the hills is built like a fortress with elaborate security systems. On a whim, Dennis and Mars decide to follow the Escalade so that they can steal it as revenge for being snubbed by Jennifer. They park the pickup nearby and warn Kevin to stay in the truck while they go to steal the Escalade. At first Dennis and Mars are unnoticed, even as the cameras record their entry into the garage and house. The two cannot get the gates to open, and they enter the house to force someone to help them. When Tommy sees Dennis grab Jennifer, he activates the one of the silent alarm buttons in the house, which automatically notifies the Bristo Camino police. Later they are joined by Kevin, bored with staying in the truck, but surprised that the family has been taken hostage by Dennis and Mars.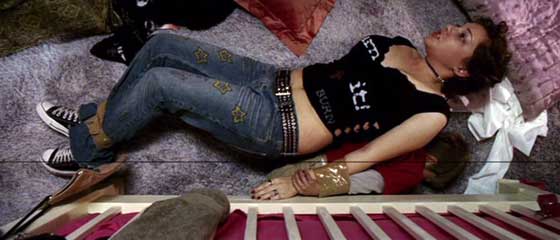 Jennifer and Tommy are tied together but Tommy struggles to break some glass so they can escape.
An investigating police officer soon knocks at the gate, and although Walter says the right things, the officer is still suspicious. Suddenly she is shot and killed by Mars, (whom we soon discover is a sociopath), an event that brings the entire Bristo Camino police force on the scene. Mars shoots at those vehicles, including the one driven by Talley who tries to rescue the dying police officer. Inside the house Walter is knocked out and the two kids are tied up. Now the situation has escalated into a full blown crisis. Talley starts to deal with Dennis, but decides this is beyond the capabilities of the Camino Bristo police force (and himself) and calls in a SWAT team from the county. Talley goes back to town, and is ready to return to his family when a weird twist of fate changes the entire situation. The powerful interests who have been working with Walter Smith become aware of the hostage situation at his house when Dennis answers Walter's cell phone. Apparently some very critical information for them is still in the house on a disk. They send in a team of their own agents disguised as FBI and decide to force Jeff to work for them by kidnapping Jane and Amanda. Jeff is told that he must go back to the scene, retake control of the SWAT team, and make sure that he gets the CD or his family will be killed. Luckily for Jeff he is able to do so without too much of a problem and he has the added bonus that Tommy was able to escape from his captors, hide in the air conditioning ducts of the house, and relay important information to Jeff using his sister's cell phone. There are many twists and turns in the plot as all of these elements work themselves out.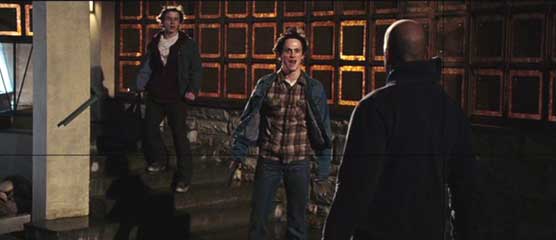 Chief Talley tries to negotiate face-to-face with the Kelly brothers.
Hostage is one of the better Bruce Willis action films to come out in the last few years. It has a real film noir quality to it, which is enhanced by the dark look of the cinemaphotography by Giovanni Coltellacci. He and director Florent Siri have put together a stylish looking film, with many interesting shots and camera angles. Siri has made an impressive debut in the American market, and maybe when he has more clout as a director, he can resist the usual Hollywood temptations in these type of thrillers to always end with an apocalyptic final scenes — houses burning, mega-deaths, and the inevitable shootout in a series of close ups. Willis plays a hero who is very human, has family problems, makes mistakes, and survives by his wits, toughness, and taking chances in the end. We don't have the usual wise-cracking, superhuman type of hero, and as a result his characterization is quite believable. The plot twist of a hostage situation inside another hostage situation contributes to this humanization because you see it cause real conflicts in Jeff Talley's world as he must make decisions that may help one set of hostages but result in the deaths of the other. At times he must decide between his family or the Smith family and you can see the anguish this causes in his performance. Ben Foster as Mars, the psychopathic killer who likes to watch people die, and Michelle Horn as the daughter, Jennifer, also have interesting performances. The script allows for their character development, something unusual in this type of film. Part of the reason that Mars pursued the Smiths was because of his infatuation with her, and she is the only person in the story that he treats with any sympathy even when he captures her and tries to make her respond to him. At first she is attracted by him, but eventually she rejects him and fights back, making the final chase scenes between the two of them all the more scary. Secondly, we see Mars gradually emerge as the main villain through his actions of turning a simple car theft into a hostage situation and then a full blown showdown with a SWAT team, feeding on the violence while becoming more sadistic and vengeful. The storyline does suffer from some lapses and inconsistencies, especially involving the actions of Walter and Tommy Smith. The movie "code of justice" is at work as usual, resulting in some typical thriller cliches, but you expect that in this type of film, and it doesn't detract from the overall impact of the movie.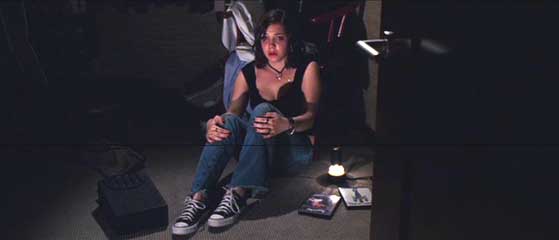 Jennifer waits to be rescued in her father's secure vault room.
Best Chucks Scene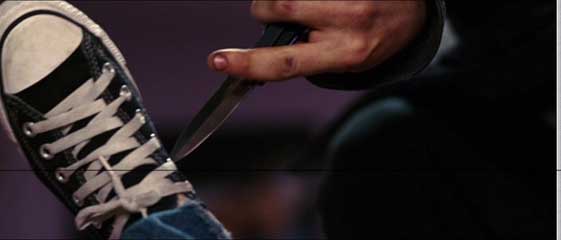 This close up symbolizes the danger that Jennifer is in from the psychotic Mars.
Except for the very first scene (where she is wearing her private school uniform) Michelle Horn in her role as Jennifer Smith wears black low cut chucks throughout the movie. She likes to wear her chucks with revealing halter tops and embroidered jeans. They are part of her rebellious attitude toward her over-protective father. The best close up shots are when you see Jennifer in peril from Mars and Dennis, either when she is being held captive or escaping from them. Dennis' kid brother Kevin, along for the ride and sucked into a criminal scenario that he doesn't want to participate in wears black high tops throughout the film. Although there are no good close ups, they remind you that Kevin isn't a hardened criminal yet and more like a typical teenager fallen into bad company.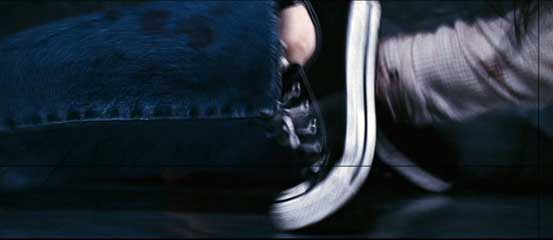 Jennifer tries to escape from the pursuing Mars in a ventilating crawl space.
Hostage. (2005) Bruce Willis, Kevin Pollak, Jimmy Bennett, Michelle Horn, Ben Foster, Jonathan Tucker, Marshall Allman, Serena Scott Thomas, Rumer Willis.
Directed by Florent Siri. Categories: Drama, Action/Adventure, Crime and Mystery.
ChucksConnection Rating:

MPAA Rating: R
Support the film industry by purchasing genuine DVD, Blue Ray, or streaming copies of these films. Illegal copies only help profiteers. Make sure your money goes to the producers and artists who actually create these films. Still images from the film are used here as teasers to get you to view an authorized copy. If you have information about a film where a main character wears chucks, contact us at films@chucksconnection.com.