A ChucksConnection Film Review
Sunny Suljic and Braxton Bjerken wears black high top Converse "Chuck Taylor" All Stars in the film.
The House With A Clock In Its Walls
by Hal Peterson
Ten-year-old Lewis Barnavelt arrives at his Uncle Jonathan's home.
1955 was quite a year of change for ten-year-old Lewis Barnavelt (Owen Vaccaro). Orphaned when his parents were killed in a car crash, he then travels to the small town of New Zebedee, Michigan to live with his uncle Jonathan (Jack Black). Uncle Jonathan is not married, has no children of his own, and has no experience raising children, but he has agreed to take Lewis because it is the right thing to do. Jonathan lives in a large multi-story home filled with ticking clocks and other collectibles which keep Lewis awake his first night. Also present at the home is Jonathan's neighbor, Florence Zimmerman (Cate Blanchett), who is his constant companion. She also is constantly making chocolate chip cookies, which she encourages Lewis to eat. It is clear to Lewis that things are going to be a lot different in his new life and home. The only thing he has left from his old life are one suitcase of clothing and a Magic 8-Ball toy that was a gift from his parents just before the car crash.
Lewis with his Uncle Jonathan and neighbor Florence Zimmerman.
When Lewis goes to his new school the next day, he also stands out from the rest of the boys. He is formally dressed in a white shirt, bow tie, sweater, and dress shoes, as opposed to the others who wear plaid shirts, tee shirts, dungarees, and black sneakers. Lewis also wear goggles on his head, like Captain Midnight, his favorite hero on television. An early scene shows all of the boys lined up in the gym, choosing kids for a basketball game. Everyone is picked except for Lewis and another boy who is crippled but still gets chosen before Lewis. Luckily one of the in-crowd kids, Tarby Corrigan (Sunny Suljic), is friendly to him and helps him out during the game, where Lewis is pretty clueless about how to play. Tarby is running for class president and he sees Lewis as an extra vote, quickly enlisting him in his campaign. At home things continue to freak Lewis out. At night objects come to life, he see apparitions of his dead mother, and Uncle Jonathan engages in strange behaviors. Finally Jonathan reveals to Lewis that he is a wizard and that Florence is a witch. He tells the boy that the house they are living in was previously owned by an evil warlock named Isaac Izard (Kyle MacLachlan) which explains a lot of the visions he sees. Before Izard died, he left a clock somewhere inside the house, and Jonathan has been trying to locate it and stop its evil purpose. Lewis begs Jonathan to teach him how to become a warlock and make magic like he does. Jonathan tells him that there are many steps in the process and to become an actual warlock he must fight an evil spirit by using his own magic. Jonathan also tells Lewis that he must never open a a locked cabinet in one of the living rooms.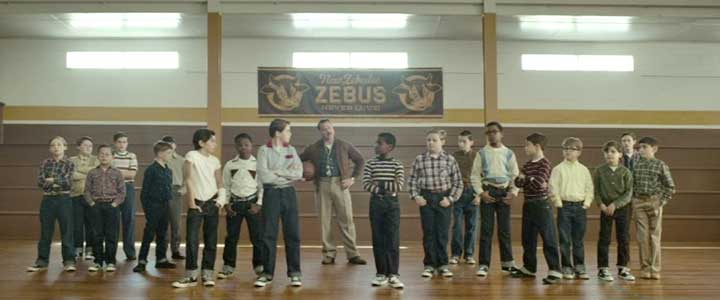 The students in the gym class are picking teams.
At school things take a turn for the worse. Tarby is elected class president and now he has no further use for Lewis. Lewis tries to regain his friendship and interest by telling him about the magic at home. When Tarby does visit him, he does the unthinkable and opens the forbidden cabinet. Inside the cabinet is a book of magical incantations including the instructions on how to perform a rite of necromancy. At night, the two boys go to the cemetery and Lewis reads the spell. There is a stirring at one of the crypts, but when nothing else seems to happen, Tarby decides it is all a hoax and takes off, later rejecting Lewis and telling him to stay away, even punching him in the gut to emphasize his point. But it turns out that the spell was real, and Isaac Izard and his evil wife Selena (Renee Elise Goldsberry) come back to life. They begin a campaign to take back their house from Jonathan and Florence, and let the clock inside the house complete its mission, which is to destroy the world. The remainder of the film is about their struggles and contest of magical abilities.
Tarby helps Lewis get up off the gym floor.
Based on a book and screenplay by John Bellairs, The House With A Clock In Its Walls is another family friendly horror story complete with overwhelming special effects and over the top performances by its lead characters, especially Jack Black. There is plenty of action, requisite toilet humor, and oddball characters that one expects in this type of family film, but for adult viewers and even older kids, the convoluted story line gets on your nerves after a while. Maybe there should be a tax on screenplays that invoke large amounts of magic and end of the world scenarios with orphaned kids, since that seems to be such a common theme these days. Is this delightful fantasy or merely commercialized overacting with too many special effects? Is it a worthy successor to Harry Potter or just another attempt to cash in on the magic/action film genre with somewhat mixed results? It would depend on what kind of a mood you are in when you see it, and what you think about the work of Jack Black. Director Eli Roth takes us right to the edge of PG-13 in this baroque horror-lite adventure for the younger set, but in the long run you could do a lot more with a lot less.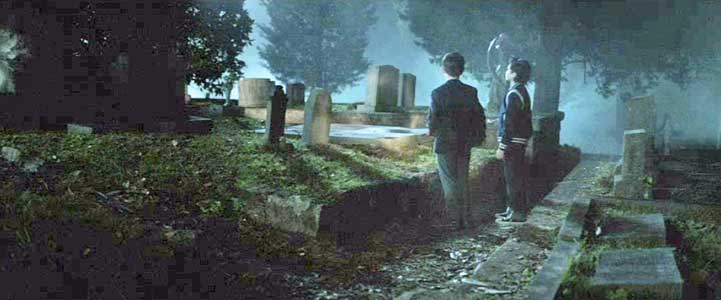 Lewis and Tarby are at the cemetery.
Best Chucks Scene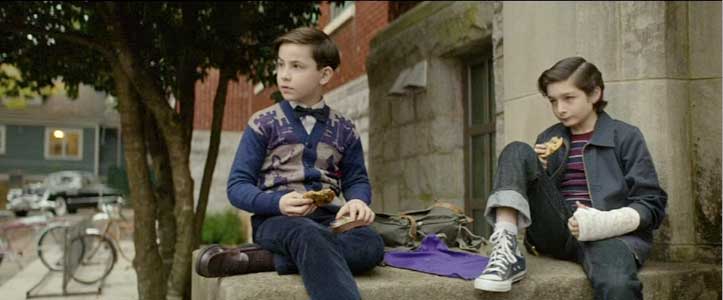 Lewis and Tarby eating chocolate chip cookies outside the school, shot 1.
Sunny Suljic and Braxton Bjerken their roles as Tarby Corrigan and Woody Mingo, along with some of the other boys at Lewis' school wear black high top chucks throughout the film. This is especially apparent in the gym class scene, where all the boys are lined up while choosing players for a basketball game. The best close up scene is when Lewis and Tarby are seated outside the school after classes.
Lewis and Tarby eating chocolate chip cookies outside the school, shot 2.
The House With A Clock In Its Walls. (2018) Jack Black, Cate Blanchett, Owen Vacarro, Sunny Suljic, Kyle MacLachlan, Renée Goldsberry, Colleen Camp, Braxton Bjerken. Directed by Eli Roth.
Categories: Comedy, Family, Fantasy.
ChucksConnection Rating:

MPAA Rating: PG
Support the film industry by purchasing genuine DVD, Blue Ray, or streaming copies of these films. Illegal copies only help profiteers. Make sure your money goes to the producers and artists who actually create these films. Still images from the film are used here as teasers to get you to view an authorized copy. If you have information about a film where a main character wears chucks, contact us at films@chucksconnection.com.