Interview With Aiden Vaughan
The author of the Hunter & Holmes Mysteries talks about the series.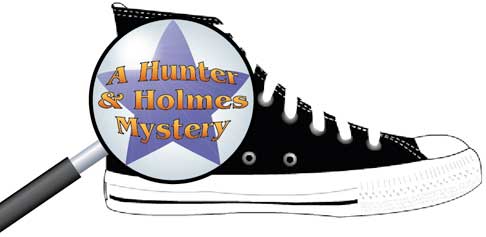 One of the logos for the Hunter and Holmes Mystery Series.
The ChucksConnection has been working with author Aiden Vaughan to develop and publish a new mystery series about two teenagers, Jason Hunter and Daniel Holmes, who become amateur detectives. And there is a nice twist to their story: each detective is an enthusiastic wearer of chucks, and the "chucks club" culture plays a role in the mysteries. The stories are set in the Silicon Valley, the south Bay Area of northern California in today's world. Recently we sat down with their author to discuss the project and some of the background for the characters in the books.
Q. Tell us some of the things that you thought about as you planned and developed this new mystery series.
A. The idea of amateur or hobby detectives stepping in and solving crimes is a time-honored tradition in the mystery genre. The stories are less violent than a lot of hard core adult only mysteries, with the emphasis on adventure, detection, clever plot twists, and peril that you can escape from rather than murders and a lot of graphic violence. In the case of Hunter & Holmes, I thought that it was especially important that the two main characters had a strong and deep friendship, that allowed them to trust and confide in each other. This is helped in the series by the fact that the two heroes are the only children in their families. Things are made a little simpler action-wise because they don't have other siblings to deal with. The relationship that these kids have with their parents is a critical factor, because at 14 and 15 years of age they aren't old enough yet to control their own lives. As with all teenagers, their support group of friends is an important part of their lives. Another significant factor in the way that the stories are written has to do with how modern technology has changed the world of teenagers. In the Silicon Valley these days, nearly every teenager (where both parents work in the family) has a cell phone, and that definitely impacts the way that you have to plot a modern day story. Plus teenagers have access to computers, the Internet, and a complete range of media to help in their investigations.
Q. Tell us about the two young heroes of the mysteries, Jason Hunter and Daniel Holmes.
A. Jason Hunter is the A-type personality of the detective duo. He is actually the younger of the two, but more outgoing and charismatic. Jason is really good at connecting with people when he wants to. He is very accomplished and mature for his age, and has a brilliant analytical mind. But Jason is not pretentious or egotistical; rather he is very pleasant and polite in his mannerisms, enthusiastic about life and new interests, and likes to balance his intellectual side with physical activity, something that will serve him well during these stories. Jason is the poster boy California teen, attractive looking with sandy blond hair and an athletic physique. He loves the casual west coast look, and lives in tee shirts, print shorts, and red high top chucks. Daniel is nearly a year older and a little taller, but is in the same class as Jason because his birthday was just past the registration deadline for school. Daniel is bright just like Jason, but his interests are more artistic especially in the area of music where he has had many years of experience singing in choirs. As the first story opens, he is just starting to learn to play the guitar and quickly takes to it. Whereas Jason has lived in the Silicon Valley all of his life, Daniel is a newcomer to the area. Meeting Jason in his homeroom class at school was one of the best things to ever happen in his life, because the two of them hit if off right away, and in a few months became best friends. One of Daniel's best characteristics is his loyalty and his ability to empathize with the true needs of others, which is something that will end up serving Jason very well in the series. He tends to be more critical and suspicious of things, and Jason calls him his "great sounding board, conscience, and bubble popper when I get too out there." Daniel cultivates more of a rock star look, with curly black hair, band tee shirts, and black high top chucks. He likes to complement his artistic and intellectual pursuits with regular physical activity and workouts, to keep in shape and project a self-assured demeanor.
Q. How did you go about developing the world of the two young detectives?
A. Jason and Daniel have to be able to communicate well with their parents and establish rapport with other adults to be successful in their world. The first stage in doing this was to establish strong family relationships and well fleshed out personalities for their parents. I wanted their family units to be strong and loving, giving the boys a real support system to draw on when facing adversity in the stories. This was especially important to Jason in the first mystery. The Silicon Valley is a multicultural society, and that needed to be reflected in the friends and neighbors that Jason and Daniel regularly associate with as well as with the police and other authority figures in the stories. Chauncey Jackson. a star athlete and one of Jason's oldest friends, Laura Friesen and Diana Miglione, two attractive girls that Jason and Daniel like to socialize with, Lt. Antonio Garcia, head of the police deparment missing children's unit, and Joe Connor, a retired army surplus store owner and ex special operations agent all play significant roles in the first novel.
Q. Tell us something about the first story in the series, The Kidnapping.
The very unexpected disappearance of Jason Hunter around noon one summer Monday from City Park jump starts the opening of the series and puts a real chill over the community. I think Lt. Garica of the police missing persons unit put it best: "This is the worst type of missing persons case! An intelligent and charming poster boy kid with loving family and friends has suddenly vanished into thin air from our showcase downtown park, in our low crime rate city, in the middle of broad daylight. If the media gets on this before we find anything substantive out, I sure hope we can come up with some good answers for the mayor, chief of police, and every concerned parent when they ask us. 'How could this happen here?' " It is quickly established that Jason had no reason to runaway from home, so unfortunately his disappearance most likely was due to his indavertently stumbling on a crime, the action of a predator, or a kidnapping for ransom. If it was a true kidnapping, the next inexplicable element is the "why?". Jason's family is a typical middle class family, living comfortably but certainly not high profile or wealthy. That fact along with no contact from the kidnappers for days makes the waiting agony for Jason's parents and his friends, especially his best friend, Daniel. I don't want to spoil the impact of the story by telling any more of the details, except to say that kidnapping is a very personal and emotional crime and the lives of Jason, his parents, and friends end up being changed forever.
Q. How did you go about integrating the "chucks club" idea into the stories?
A. This actually turned out to be very easy to do. What brand of sneakers you wear is a big deal for teenagers, and Converse Chuck Taylor shoes have a big following, They are very distinctive in appearance, and their owners tend to be very dedicated to wearing them. It wasn't difficult at all to have them come up in conversations. One of my favorites moments in this first book is the one on one basketball game between Jason wearing his red high top chucks and his friend Chauncey wearing his Air Jordans. And of course somewhere in this series you know that a high top chuck is going to end up being some sort of clue or plot device.
Q. What can we expect from the Hunter & Holmes mystery series in the future?
A. Events in the first book have planted all kinds of seeds for future stories. There are a lot of interesting things to be developed with Jason and Daniel's group of friends. As the first book focused on Jason, the next book will give Daniel some equal time. The world of the Silicon Valley offers lots of possibilites with its constant high tech innovations and startup companies, and there is a lot happening in the Bay Area in the world of sports, entertainment, and the arts. The books will bring up subjects of great interest and concern to todays teenagers. Kids today are more at risk from abusive behavior by adults around them than they are from violent killers or other felons. Broken families cause them more pain and angst than the work of thieves and robbers. Kids are under more pressure than ever to succeed in this very complex world. There are important moral issues like cheating in school or bullying that could make for interesting subplots. And there will be continued tributes to the fictional detectives of the past as their ideas and methodologies are discovered by Jason and Daniel.