A ChucksConnection Film Review
Mason Cook and Jedidiah Goodacre wears black low top Converse "Chuck Taylor" All Stars in the film.

If There Be Thorns
by Marcus Angulo
Bart feels alienated from his family and peers in If There Be Thorns.
If There Be Thorns is a Lifetime original movie that is Part 3 of the The Dollanganger series. It follows Cathy Sheffield (Rachael Carpani), her husband Chris (Jason Lewis), and Cathy's sons, Jory (Jedidiah Goodacre) and Bart (Mason Cook), living in California. Bart feels lonely and is outshone by his older brother who he feels is his parents favorite. One day, a woman dressed in black (Heather Graham) moves into the mansion next door and invites Bart and Jory over. She explains that she is all alone in this world, with only her butler (John Amos) to keep her company. She is very rich however, and promises Bart that she'll treat him well if she visits her often. She bestows lavish gifts on Bart, including a pet snake. She then reveals that she is in fact Bart's grandmother, Corrine, who is supposed to be in a mental institution. She then has her butler gift him a journal that belonged to her father, Malcolm (Robert Moloney). This journal contains fanatical writings about women that leaves an impression on young Bart.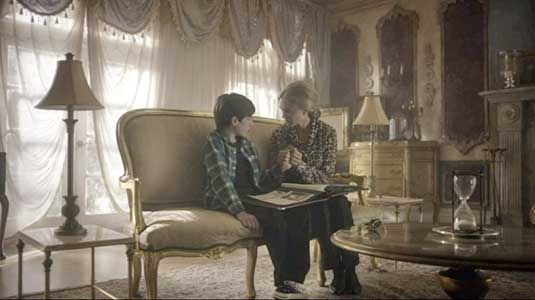 Corinne reveals to Bart that she is his grandmother.
Things begin to unravel quite abruptly for the family though. It turns out the Cathy and Chris are actually brother and sister, and Corrine is their mother! When Bart learns this from Corrine, he is both shocked and appalled. He begins to act resentful towards his family, even telling Jory that he is weak for having emotions. Corrine then tells Bart that his biological father is actually the late second husband whom Cathy seduced as an act of revenge against Corrine. She then tells him that the reason she came to their home was so that he could become the son she never got to have with his father, vengefully taking him from her daughter Cathy.
Bart is fascinated and influenced by his grandfather's journal.
After Chris and Cathy adopt one of her students, Cindy, Bart becomes resentful and jealous. He then attempts to drown Cindy in the kiddie pool. As punishment, Chris locks him in the attic. Bart then begins to shout that Chris is "fornicating with his sister". Realizing that he knows about their secret, Cathy and Chris desperately place him in a mental hospital. Bart claims that it was Malcolm who tried to drown Cindy, leading doctors to suspect that he suffers from a mild case of schizophrenia. After this, things escalate very quickly with a couple of shocking twists still to come. The ending features a very high-tense scenario and leaves the family in a much different place than they were at the start of the film.
Jory gets ready to confront Bart over his bad behavior.
As said earlier, this is a Lifetime movie, so your mileage may vary when it comes to the acting and plot. The movie is based off a dramatic novel series from the 1980's so many of the twists are over the top and very dramatic. The movie was shot well and it seems as though a lot of effort went into the production. Overall, it was an enjoyable watch and good quality for a made-for-TV film.
Bart continues to be aloof from his family.
Best Chucks Scene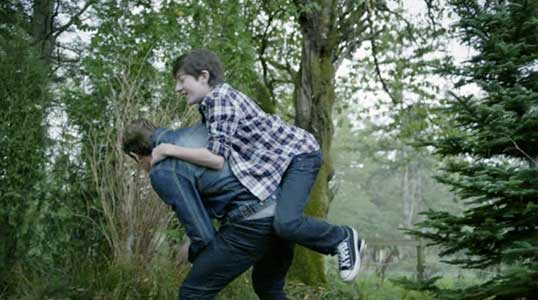 Bart jumps Jory in the woods.
Mason Cook in his role as Bart, Jr. wears black low top chucks in nearly every scene in the film. Jedidiah Goodacre, who plays Bart's older brother Jory, also wears black low top chucks in a few of his scenes. The cinematography is chucks friendly throughout in both indoor and outdoor scenes. The best scene with chucks in them comes at the very beginning of the movie. Bart is thrown out of the bus and we get a real good shot of his classic black and white low top chucks. We get a second good look at them as he walks away from his brother, towards the camera, with his chucks getting him down the dirt path.
Bart walks away from his brother and his girlfriend.
If There Be Thorns. (2015) Rachael Carpani, Jason Lewis, Mason Cook, Jedidiah Goodacre, Bailey Skodje, Heather Graham, Mackenzie Gray.
Directed by Nancy Savoca. Category: Drama
ChucksConnection Rating:

MPAA Rating: PG-13
Support the film industry by purchasing genuine DVD, Blue Ray, or streaming copies of these films. Illegal copies only help profiteers. Make sure your money goes to the producers and artists who actually create these films. Still images from the film are used here as teasers to get you to view an authorized copy. If you have information about a film where a main character wears chucks, contact us at films@chucksconnection.com.