A ChucksConnection Film Review
Kevin Zegers wears black high top Converse "Chuck Taylor" All Stars in the film.
The Incredible Mrs. Ritchie
by Hal Peterson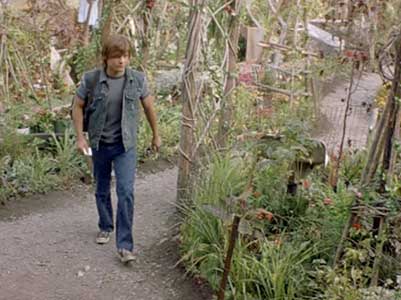 Charlie enters Mrs. Ritchie's garden for the first time.
Charlie Proud (Kevin Zegers) is a high school kid with a lot of problems. He comes from a dysfunctional working class family, is constantly getting into fights at school, and is starting to hang out with the wrong crowd, led by Jim (Carmeon Daddo) who wants Charlie to be a part of his gang after seeing him win a fight. Mr. Dewitt (James Caan), the principal of the high school where Charlie attends has had to call him into his office on a number of occasions, and the school year has just begun. When Charlie is seen running away with a stolen purse, which Jim actually took, he calls Charlie's parents, Sonny and Joan (David Schofield and Leslie Hope), into his office. Charlie is actually quite capable of learning, and when Mr. Dewitt meets Sonny, also full of attitude and temper, he decides to give Charlie one more chance. Charlie must start working for Mrs. Ritchie, (Gena Rowland) to make restitution for the stolen purse and the money inside. If he doesn't, he will be expelled from school. It was Mrs. Ritchie's purse that was stolen. And Sonny vows that Charlie will do the work to make restitution or else. Not wanting to face his father's wrath, and because he actually likes learning, Charlie agrees to take the job.
Charlie tries to look after his younger brother, Al.
When Charlie goes over to meet Mrs. Ritchie, she is totally unlike anyone he has ever met before. She has a huge garden, which she believes has magical powers and is home to the spirit of her late husband, a career soldier in the military. She doesn't take any guff from Charlie, often driving him crazy by answering his questions with questions of her own. Mrs. Ritchie has a very different family life from what Charlie is used to. She has a grown daughter, about to marry a college professor, and their wedding in Mrs. Ritchie's garden is going to be the big event of the year for her. Mrs. Ritchie has two mentally challenged sons, one of her own and one adopted. Part of Charlie's duties include looking after her sons, who are often picked on by Jim and his gang.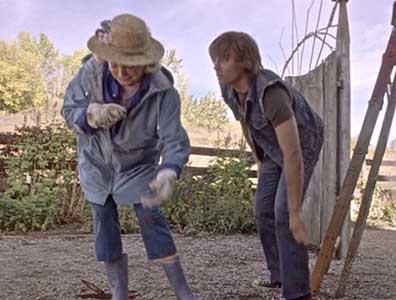 Mrs. Ritchie and Charlie.
Amazingly, Charlie takes a liking to the work, and is fascinated by what Mrs. Ritchie is able to accomplish in her garden. An envious neighbor even tries to get Charlie to work for her but he sticks with Mrs. Ritchie. As Charlie gets to know her and her family, he discovers that her two sons have abilities of their own that an outsider would never know about. Although the truth about Mrs. Ritchie's late husband is not what one would expect, she continues to maintain her belief that his spirit resides in her garden. Through Mrs. Ritchie, Charlie starts to understand the importance of family, and becomes more committed to helping his family stay together, especially when he realizes why his parents have been estranged for a long time. When his mother finally decides to leave his father and his sister wants to run away with a no-good, older man, Charlie now can step in and help prevent his family from breaking up. Most importantly, Charlie and Mrs. Ritchie develop a cross-generation friendship and trust that ends up being beneficial to both of them.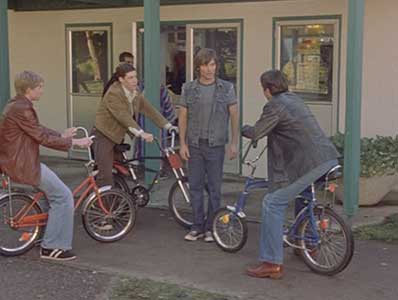 Charlie tries to stay away from the guys who got him into trouble but they won't leave him alone.
The Incredible Mrs. Ritchie is set in an earlier time, that reflects attitudes that are now different from today. It is based on a novel by Paul Johansson that details his experiences growing up. This film was made as a Showtime feature film. The story line has an interesting combination of gritty reality with a touch of fantasy that gives it a spiritual feeling at times. The film is well cast, with good performances by Gena Rowlands as Mrs. Ritchie, Kevin Zegers as Charlie, and James Caan as the people-wise high school principal. David Schofield and Leslie Hope are quite good also as Charlie's trigger tempered father and cynical, chain-smoking mother. Although The Incredible Mrs. Ritchie is not a family film, it definitely would be appreciated by teenagers and adults.
Part of Charlie's duties are to watch over Mrs. Ritchie's mentally disabled sons.
Best Chucks Scene


Charlie looks down at his brand new pair of black high top chucks.
Kevin Zegers wears black high top chucks for most of the film. They look good with his typical outfit of jeans jacket with the sleeves ripped off, heavy sweater, and Levis. The best chucks scene is after Charlie goes to spend some of the stolen money taken from Mrs. Ritchie's purse on a brand new pair of black high top chucks. The camera focuses on them for the best close up shot of the film. There are a couple of funny asides. His delinquent friend Jim who insisted on stealing the money tells him that his other shoes were "butt ugly" and that these are so much better. And in the background we see that the store where he bought his pair of chucks is called Zegers Sporting Goods.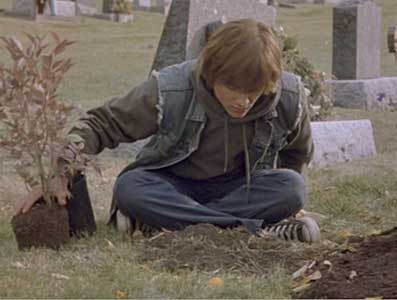 Charlie plants a memorial at the graveyard.
The Incredible Mrs. Ritchie. (2003) Kevin Zegers, Gena Rowlands, Brenda James, Justin Chatwin, Heather Wahlquist, James Caan.
Written and directed by Paul Johnson. Categories: Drama, Coming of Age.
ChucksConnection Rating:

MPAA Rating: PG-13
Support the film industry by purchasing genuine DVD, Blue Ray, or streaming copies of these films. Illegal copies only help profiteers. Make sure your money goes to the producers and artists who actually create these films. Still images from the film are used here as teasers to get you to view an authorized copy. If you have information about a film where a main character wears chucks, contact us at films@chucksconnection.com
.