A ChucksConnection Film Review
Tim Robbins and Lou Jacobi wear black low cut Converse "Chuck Taylor" All Stars in the film.
I.Q.
by Hal Peterson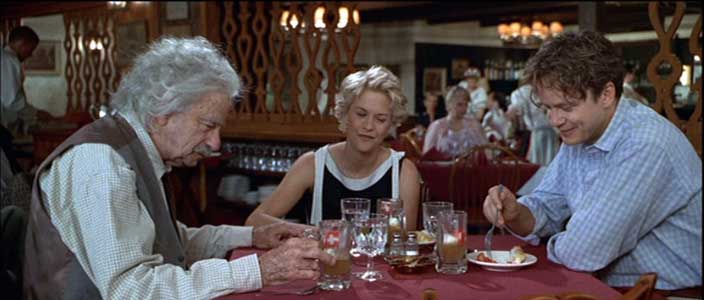 Albert Einstein wants his niece to have a true love relationship.
I.Q. is a pleasant romantic comedy with a twist — the uncle of the young woman the story is about is none other than the great genius Albert Einstein (Walter Matthau). Set in the late fifties, the story begins when Catherine Boyd (Meg Ryan) and her fiancee James (Stephen Fry) experience car trouble while riding around in his MG, and seek assistance in a garage. The garage mechanic, Ed Walters (Tim Robbins), sees Catherine and falls hopelessly in love with her at first sight. Of course, Ed's aspirations seem to be hopeless. James is a respected psychologist, Catherine is a gifted mathematician in her own right, and furthermore she feels that she needs to marry someone smart in order to maintain the family's intellectual tradition. Ed is a very good car mechanic but has no formal college education. But in the spirit of all romantic comedies, Ed feels that the relationship has a chance if he can only meet her and spend some time with her. When she accidentally leaves her heirloom pocket watch at the gas station, he seizes the opportunity to try and see her again by personally returning the watch to the address on the work sheet. Imagine his surprise, when he knocks on the door and Albert Einstein answers.
Einstein and his scientist cronies conspire to get help Ed get hooked up with Catherine.
Surprisingly, Ed and Professor Einstein hit it off immediately. Ed is no scientific genius, but he understands human nature and the importance of having fun in life, two things that Einstein feels are lacking in his niece's life, which has been largely based on trying to emulate her uncle. Einstein is getting on in years, and wants to make sure that she is happy and will be looked after properly. When Ed expresses the depth of his feeling, Einstein vows to help set things up. He introduces Ed to his mathematics cronies Nathan (Joseph Maher), Kurt (Lou Jacobi), and Ben (Gene Saks) who also dote on Catherine, dislike James' pompous attitude, and are suspicious of his human and animal experiments in shock therapy. The five of them are soon conspiring to make Ed appear to be a young undiscovered genius in physics who has stumbled on the formula for cold fusion which will revolutionize space travel. As Ed is introduced to the scientific world, the four old men are hilarious in the clever ways in which they set him up, and provide him with the correct answers when challenged by James and other scientists. Unfortunately, their plan works too well. The media jumps on the idea of a common man as a major new scientific mind, a local industrialist (Charles Durning) is desperate to get hold of the formula, and President Eisenhower pays him a visit to announce that his research will put America ahead of the Soviet Union in the space race. Soon Ed and Catherine begin take each other seriously, but clouds appear on the horizon when the authenticity of the formula is challenged and eventually proven false by Catherine herself, and Ed realizes that he must level with her if they are ever to have a true relationship based on reality and trust. The clever and romantic ways that these issues are resolved by Einstein and his cronies, and by Ed and Catherine themselves make up the remainder of the story.
Ed climbs a tree to get various clubs and items thrown up there by the scientists.
The highlight of I.Q. has to be the performance of Walter Matthau as Einstein. He has created an original character here that seems totally different from the kind of roles he always played with Jack Lemmon. The plot turns on the clever and calculating plans of Einstein throughout the film, and it is nice to see genius acknowledged in this way. Tim Robbins and Meg Ryan are engaging as the young lovers and give us a good on screen chemistry, like they were meant for each other. Tim Robbins gives Ed a pleasant complexity of character, on one level the practical auto mechanic, average American good guy, and on another level a fun loving and entertaining person who likes to have a good time and could loosen Catherine up. He is intelligent, but not in an academic way. Meg Ryan also gives us an interesting character. In an era when women were usually not respected for academic credentials, she holds her own in the company of other academics, and continues to do her own research and investigation. Yet at the same time, she is starting to address her need to be fulfilled as a woman and have a good time in her relationships with men. There is a delightful caution in her relationship with Ed. She finds him attractive and likeable but that doesn't mean she has to marry him. Because the romance that develops between Ed and Catherine is played out so much in the open, some of the secondary characters act like a Greek chorus, commenting on things as they are happening. The performances of Lou Jacobi, Gene Saks and Joe Maher stand out in this regard, and even mention should be given to the guys at the gas station who perform the same function the mathematicians do but as average guys. While this film is by nature light and predictable, you will find it enjoyable entertainment.
Ed's rival James does behavioral studies in his lab.
Best Chucks Scene
Catherine is astounded that her uncle wanted to ride on Ed's motorcycle.
Both Ed and one of Einstein's cronies, Nathan, wear chucks in this film. Ed wears black low cuts as leisure wear and the eccentric Nathan wears them also. (His appear gray in color, as though they were washed several times.) The best chucks scene is the motorcycle sequence when Albert Einstein asks Ed to give him a ride on his motorcycle. There are a couple of close up shots, and best of all everyone is having a good time. "Wahooo!!" as Einstein is heard to shout.
Ed revs up his motorcycle to take Albert Einstein for a ride around Princeton.
I.Q. (1994) Tim Robbins, Meg Ryan, Walter Matthau, Gene Saks, Lou Jacobi.
Directed by Fred Shepisi. Categories: Comedy, Romance.
ChucksConnection Rating:
MPAA Rating: PG
Support the film industry by purchasing genuine DVD, Blue Ray, or streaming copies of these films. Illegal copies only help profiteers. Make sure your money goes to the producers and artists who actually create these films. Still images from the film are used here as teasers to get you to view an authorized copy. If you have information about a film where a main character wears chucks, contact us at films@chucksconnection.com.