A ChucksConnection Film Review
Brandon Naden wears black high top Converse "Chuck Taylor" All Stars in the film.
Jet Boy
by Hal Peterson
Nathan must survive on his wits in Jet Boy.
Jet Boy takes us first to the city of Calgary in Canada where we meet Nathan (Brandon Nadon), a fourteen-year-old boy who has a grim life. He doesn't know who his father is, his mother is a heroin addict, and he often has to rely on the good will of his neighbor to have a meal. As the film opens, we see that Nathan is starting to live the life of a hustler and prostitute so he has money for survival and to get fixes for his mother. It's his birthday and in a remarkable sequence of events, we see him leaving the home of a John, meeting up with his drug contact Jordan, who sells him a drug packet for his mother and takes him to get a tattoo, getting into a fight with a bully at school, giving his mother the heroin and warning her to smoke it not shoot it up, then sitting alone in the kitchen, putting candles on a remaining piece of birthday cake as he celebrates his birthday by himself. The film then cuts to the interrogation rooms of the Calgary police station where we meet the other main character, Boon (Dylan Walsh). Boon seems to be a local bad-ass, brought in for questioning in handcuffs, but by his demeanor and that of the detectives comes across as some kind of informant or minor dealer in the local drug scene. In another room sits Nathan. We discover that his mother has overdosed and Nathan somehow blames himself for her death, telling the detectives that he had wished she would die, but didn't mean it. Boon is able to see into that room through one way glass, and seems very intrigued by Nathan. Later Nathan escapes back out onto the streets just as a social worker is about to take custody of him.
Jordan takes Nathan to get a tattoo.
The story begins to take shape as both Boon and Nathan head out of Calgary. Boon first picks up two large packages wrapped in plastic and sealed with duct tape. It appears that he is part of a large drug deal, and throughout the film he talks of something big going down. He demonstrates his bad-ass persona when several gang members approach him after he has transferred the packages to the trunk of his car. With one solid punch to the face, he knocks down the leader, leaving him dazed on the ground with a bloody face, while the others quickly depart when Boon starts to go after them. Nathan is on the road, but that means hiking along the highway on his own. He stops at a roadside restaurant to get something to eat (with the few coins he has left) which coincidentally (and there are a lot of these coincidences in the film) is where Boon stops to get a hamburger. Nathan comes over to his table and tries to latch onto Boon, but Boon doesn't want to deal with him and leaves. Outside, Boon is talking on the pay phone with his contact, and writes down an important telephone number on the frosted glass of the phone booth. But when he hangs up, the number has been erased and nearby stands Nathan, who bargains with Boon for the number in exchange for a ride to Vancouver. Soon the two are headed west in Boon's car and start to develop a friendship. It soon becomes evident that Nathan sees much more than a traveling companion in Boon, while Boon continues to hold Nathan at arm's length.
Nathan works to build up a relationship with Boon.
Before Boon can drive to Vancouver, he must stop in the small town of Linden, Alberta where he grew up. The two check into a motel. It turns out that Boon's estranged father is dying, kept alive on a respirator under the watchful eye of his only other relative, a distant aunt. Boon refuses to let Nathan come with him as we learn more about his past, unhappy family life. When Boon finishes his visiting his father, he returns to the motel, where he discovers that Nathan is gone. It doesn't take Boon long to find Nathan, who is watching other kids playing baseball at the local diamond. One of the other kids playing ball is Lloyd (Jordan Weller) who we find out is the son of Boon's high school sweetheart Erin (Kelly Rowan). We quickly see that there still is chemistry between Boon and Erin, who is now a single mom. Erin invites them to her home, under the impression that Nathan is Boon's son. The boys hit it off and soon are able to convince Erin and Boon to let them go off to the movies, although Lloyd's real plan is to go out with two older boys, Clay (Roy Nelson) and Dennis (Bruce McDonald) to drink and smoke weed. Erin and Boon are willing to let them go so that they can resume their romance. Eventually the boys are busted by the local sheriff, and when Erin and Boon are called to get Lloyd and Boon, the truth comes out about Nathan. This causes a rift between Erin and Boon, and when Boon continues to reject Nathan, he runs off again on his own. But Boon has his big deal to take care of in Vancouver so he drives off without Nathan. The climatic scenes take place in Vancouver that have some surprises along with the somewhat expected outcome of the story.
Nathan sits down in despair after running away.
Much of Jet Boy is set on the dark side of life, but the film is really about family. The character development we see in the relationship that slowly builds between Nathan and Boon is told in a very subtle way. Little sidebars to the story continually pop up that give the film a lot of emotional intensity. When Nathan accidentally fires Boon's revolver and the recoil cause facial bleeding, for the first time we see in his response that Boon actually cares about Nathan. When Nathan confesses that "I just want to be a good kid" we realize that with a different upbringing he would be just that. As the story progresses, it becomes clear that Nathan just wants to be loved and find someone to care for him. He's never had a father or a caring mother. The tragedy of the film is that he must resort to hustler-type ways to seek that kind of stability in his life. Nathan even offers himself to Boon, but is (thankfully) rejected. Nathan isn't really looking for a client, he's looking for a father. Writer/director Dave Schultz's storyline is quite predictable in its outcome, but the journey there is fascinating and quite moving at times. The strength of this film is in its character development and emotional impact. The three main characters, played by Brandon Nadon, Dylan Walsh, and Kelly Rowan, all give outstanding performances that keep you engaged throughout and seem quite realistic. You might not be surprised by what you see in this film, but you will definitely be moved.
Nathan and Lloyd start to become friends.
Best Chucks Scene
Nathan watches a baseball practice.
Young Nathan, the main character in Jet Boy, only has one set of clothing, a smiley face tee shirt, a zippered sweatshirt, well-worn blue jeans, and a pair of black high top chucks, very typical for teenagers just about anywhere. Even though he may be poor, he can fit in with his peers. The camera work isn't particularly chucks friendly but they are seen in nearly all of his scenes. The best scene is at the baseball diamond where we see him seated in the bleachers, and then participating in the game with the other teenagers.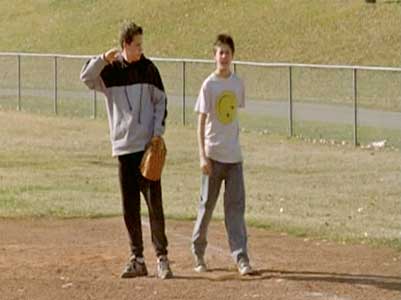 Nathan is pumped up when he gets a hit.
Jet Boy. (2002) Brandon Nadon, Dylan Walsh, Kelly Rowan, Jordan Weller, Ron Nelson, Bruce McDonald. Written and directed by Dave Schultz.
Categories: Drama, Sexually Explicit.
ChucksConnection Rating:
MPAA Rating: NR, would be R.

Support the film industry by purchasing genuine DVD, Blue Ray, or streaming copies of these films. Illegal copies only help profiteers. Make sure your money goes to the producers and artists who actually create these films. Still images from the film are used here as teasers to get you to view an authorized copy. If you have information about a film where a main character wears chucks, contact us at films@chucksconnection.com.