A ChucksConnection Film Review
Isabella Sermon wears black high top Converse "Chuck Taylor" All Stars in the film.
Jurassic World: Fallen Kingdom
by Hal Peterson
Maisie crawls through the window to her grandfather's room.
Jurassic Park: Fallen Kingdom is the latest installment in the return of the dinosaurs franchise that has existed now for twenty years and already has another film scheduled for release in 2021. CGI is king in these movies, with more astounding accomplishments in each new release as the latest engineered dinosaur manages to outsmart their human creators and escape from captivity. Very few of the human characters last more than a film or two. In this film Dr. Malcolm (Jeff Goldblum) returns for a brief cameo, along with Claire (Bryce Dallas Howard) and Owen (Chris Pratt) as the main heroes, this time working to rescue the dinosaurs left on Isla Nublar which is about to be destroyed by a newly erupting volcano. There are always some child characters to make the terror multi-generational, and this film features Isabella Sermon as the chucks-wearing granddaughter of billionaire Benjamin Lockwood (James Cromwell). And there are the characters who will be fodder for the rampaging dinosaurs, you can pick them out right away: para-military types who want to use the dinosaurs for war, corrupt business types wanting to make millions off of the dinos with no regard for the consequences of their actions or the lives of their underlings and security guards. The storylines of these films are variations on the same themes: humans messing with the natural order by recreating extinct dinosaurs through cloning, experimenting with the dinosaurs' DNA that makes them even more dangerous than an actual dinosaur from the Mesozoic Era, screw ups in the security allowing the dinosaurs to escape and put humans in harm's way, and plenty of scary chase scenes after the dinosaurs can roam freely.
Claire, Maisie, and Owen try to escape from the mansion.
Fallen Kingdom starts a few years after Jurassic World. After an opening scene where mercenaries are attempting to steal dinosaur DNA (and of course pay the price), we find that Claire is now running the Dinosaur Protection Group, a non-profit organization dedicated to saving the dinosaurs created for the island park. Since the end of the island resort for humans, the dinosaurs have run freely on the island. But the island faces imminent destruction, due to a suddenly very active volcano already starting to explode ash and lava. There is an active debate about what should be done. Dr. Malcolm appears before a US Senate committee to advocate not intervening and letting nature take its course. That becomes the official government position, but then Eli Mills (Rafe Spall), estate manager for wheelchair-bound James Lockwood, collaborator of John Hammond (from the earliest films), calls Claire. Eli tells Claire that their plan is to rescue as many of the dinosaurs that they can and place them in a new island park isolated from humans. Eli says that they are especially interested in finding Blue, the velociraptor that Owen trained (in previous films) because of his exceptional intelligence and empathy toward humans. In order to do this, they need the actual involvement of Owen to track him down. Claire agrees to the plan, and goes off to find Owen.
Owen, Claire and Maisie are confronted by Eli Mills and two security guards.
Claire finds Owen by himself on property nearby where he is building a new house. After some banter where we find out why they weren't together anymore, Owen eventually decides to go on the mission to the island. They are joined by two other staff members from the Dinosaur Protection Group, paleo-veterinarian Zia Rodriguez (Daniella Pineda) and computer nerd Franklin Webb (Justice Smith) who help facilitate the reactivation of the island's security systems and find Blue. Already in place on the island is a large paramilitary force led by Ken Wheatley (Ted Levine) who are rounding up some of the dinosaurs and placing them on a large frigate. After Blue is located and tranquilized, the four discover that the mission was a double cross — they were just needed to find Blue, and are left to fend for themselves as the volcano goes into full eruption. After a harrowing trip back to where they boat is docked, they are able to sneak on the boat and return to America. They discover that the dinosaurs are being transported to the Lockwood mansion, where a massive auction of the captured dinosaurs is being planned. When they arrive at the mansion they are discovered by Wheatley and taken prisoner.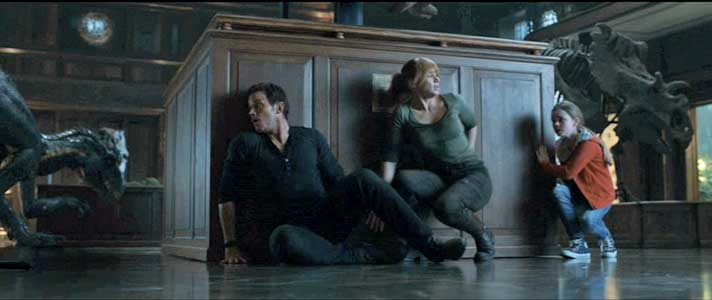 Owen, Claire, and Maisie hiding from a dinosaur in the museum.
Luckily for Owen and Claire, Benjamin Lockwood's granddaughter, Maisie, also becomes aware of what is going right under Benjamin's nose. She discovers what Eli's true plan for the dinosaur's is when she overhears him talking with Dr. Wu about it. When she tells her grandfather what she has heard, he is dismissive, but says he will bring it up with Eli the next day. Later that night Maisie sneaks down into the underground lab to get more evidence of what is going on. While hiding from Eli, who comes down there a little later, she gets too close to a cage containing the newly created Indoraptor and runs away screaming. Maisie is grabbed by Eli and locked in her room. Eli decides that he had better take drastic action, and smothers Benjamin, making it look like he died in his sleep. Maisie figures out a way to escape from her room by climbing on the ledges of the mansion but when she arrives at her grandfather's room, it is too late. Sadly she hurries into the dumbwaiter to escape, eventually hooking up with Claire and Owen who use dino power to escape from their prison cell. Now things are set up for the denouement, and that means plenty of bedlam created by the dinosaurs as they chase our heroes and the bad guys alike. One other note: While a film like this is a check your brain and logic at the door, some of the outlandish things that happen are really hilarious. The gathering of the world's baddest bad guys and rogue nations for the auction has to be on the top of list. The only thing missing is Harvey Korman asking them to take the bad guy pledge (like he did in Blazing Saddles) after they all arrive at the mansion.
Owen and Maisie climbing up a glass domed ceiling to escape from a pursuing dinosaur.
Best Chucks Scene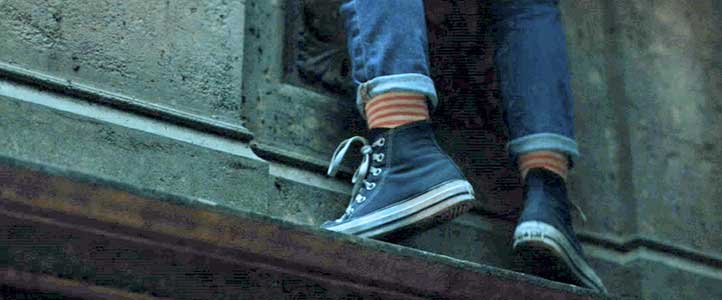 Maisie lowers herself down to the ledge leading to her grandfather's room.
Isabella Sermon in her role as Maisie, the cloned granddaughter of Benjamin Lockwood, sports a great pre-teen look in her outfits of sweaters, blue jeans, red and white striped socks, and nicely broken in black high top chucks. Her chucks get the full big and wide screen close up treatment in several places during the course of the film. The first is when she is hiding from Eli Mills and Dr. Wu after discovering the real purpose of the subterranean cloning lab in the huge Lockwood mansion in rural northern California. After being locked in her room by Mills, she escapes to warn her grandfather by climbing on the outside ledge of the mansion. Another occurs when Maisie escapes using the dumbwaiter to get away from bad guys and dinosaurs running amok that have been brought to her grandfather's mansion.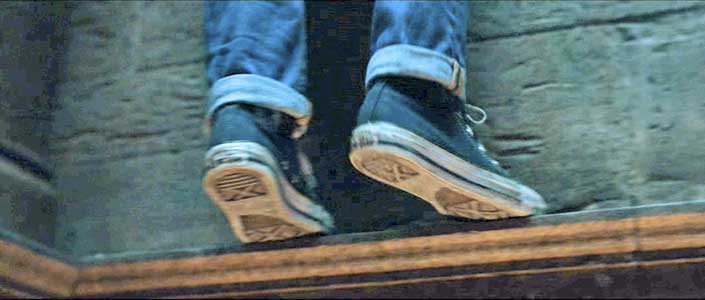 Maisie walking along the ledge.
As Maisie hides in the underground lab, we see a close up of her black high top chucks.
Jurassic World: Fallen Kingdom. (2015) Chris Pratt, Bryce Dallas Howard, Isabella Sermon, Eli Mills, Justice Smith, Daniella Pineda, James Cromwell, Toby Jones, Ted Levine, Jeff Goldblum, BD Wong.
Directed by J. A. Bayona.
Categories: Action/Adventure, Science Fiction.
ChucksConnection Rating:

MPAA Rating: PG-13.
Support the film industry by purchasing genuine DVD, Blue Ray, or streaming copies of these films. Illegal copies only help profiteers. Make sure your money goes to the producers and artists who actually create these films. Still images from the film are used here as teasers to get you to view an authorized copy. If you have information about a film where a main character wears chucks, contact us at films@chucksconnection.com.