A ChucksConnection Film Review
Adam Brody and Jesse Noah Gruman wear black high top Converse "Chuck Taylor" All Stars in the film.
The Kid Detective
by Hal Peterson


Abe Applebaum meets with Caroline, his first serious adult client.
Like many young celebrities, Abe Applebaum's youthful successes did not continue as he grew into adulthood. As a boy in the small town of Willowbrook, Abe (Jesse Noah Gruman) was known as the "kid detective", successfully solving hundreds of local mysteries and crimes from his tree house office. Typically these cases were about finding missing pets, personal items, or petty crimes by other kids. The biggest of these cases was when Abe figured out who stole the cash box from a major school fundraiser. He received respect and perks in the local community for his successes, including a certificate of appreciation from the mayor, a rent free office downtown when his tree house office was chopped down(!) by a criminal he helped put away, free ice cream for life at Hepburn's soda shop, and the perpetual support of his doting parents (Wendy Crewson and Jonathan Whittaker). Abe was the talk of the town at age twelve. Things took a turn for the worse when his close friend and sometimes assistant, Grace Gulliver (Kaitlyn Chalmers-Rizzato) went missing. After much effort, Abe was unsuccessful in finding her, as were the police. This was a traumatic experience for Abe, and his life started to take a downward spiral.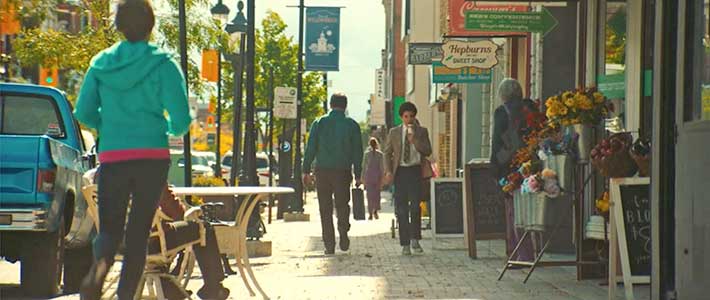 Young Abe is the talk of the town.
After that introduction, the film moves to present day. Abe (Adam Brody) is 32 years old and still operates his detective agency. But he struggles for clients, still lives with his parents, and most people wonder why he refuses to move on in his life. Now when Abe walks down main street to his office, people look away or shake their heads in derision. This is not a good situation for Abe and he resorts to drinking whiskey and taking drugs to cope. His parents try to persuade him to grow up, and remain in helicopter mode, even physically following Abe around on cases. One day things change. Caroline (Sophie Nélisse), an orphaned high school student, comes to the office and asks Abe to investigate the murder of her boyfriend Patrick Chang. This is the first real adult case of Abe's career. Eager to prove himself, Abe takes on the case for free, since he had never investigated a major crime before and wants the experience of real detective work.
Abe is talking to his parents.
Soon Abe and Caroline are tooling around town in her car, looking for leads in the case and interviewing Patrick's friends and family. Abe is not particularly skilled at interviewing witnesses, and ends up angering Patrick's father with his questioning. But he discovers that Patrick had a secret life from Caroline, including an affair with Melody, an older girl, and that one of Patrick's friends Calvin (Dallas Edwards) also was in love with Caroline, and resented their relationship. Things that were easy for Abe to do as a kid are now a lot harder, like sneaking into and casing someone's house without getting caught. Patrick was also involved in drug dealing and this leads to a pivotal scene with a couple of local teens. When Abe discovers that they have lied to him after an initial interview, he goes back and punishes the teen who did the lying, kicking him down from the bridge where they hang out to the edge of the river below. Adam shows that he can be a bad-ass too, despite his kid detective reputation. Eventually Adam finds the clue that helps him find the truth, and the balance of the film is about that and how Abe's life is changed as a result.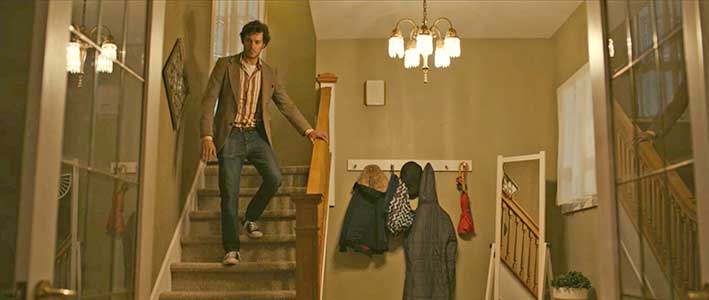 Abe walking down the stairs of a house he was casing, trying to sneak out unnoticed.
In The Kid Detective, writer/director Evan Morgan has given us a low key mystery, with some elements of film noir, some surprises, and a retro atmosphere accompanied by some interesting twists and turns in the storyline. Adam Brody's performance fits right into the mix, with its combination of emotional highs and lows, apathy, and energy. Sometimes you like his character as a person, sometimes you don't, but you stay intrigued. The film also has a fine performance by Sophie Nélisse as the naive client Caroline suddenly thrust into a world of crime and mystery. The low key atmosphere makes the ending of the film even more shocking, but not unexpected. This is Evan Morgan's first full length feature as both writer and director, and we hope to see more of his work in the future.
Abe walking up from the creek.
Best Chucks Scene
Abe punishes a drug pusher who lied to him, shot 1.

Adam Brody, who plays Abe Applebaum as an adult, wears black high top chucks throughout the film. Like many adults who wear chucks, he also wore them when he was a kid, as demonstrated by Jesse Noah Gruman, who plays young Abe. Black high top chucks are perfect footwear for The Kid Detective as a kid or as an adult. There is only one brief close up which is seen through a stair railing. The best chucks scene is when Abe goes after a young drug dealer who lied to him during a previous meeting.
Abe punishes a drug pusher who lied to him, shot 2.
The Kid Detective. (2020) Adam Brody, Kaitlyn Chalmers-Rizzato, Sophie Nélisse, Kaleb Horn, Wendy Crewson, Jonathan Whittaker, Brent Skagford, Steve Gagne, Giovanna Moore, Jesse Noah Gruman.
Written and directed by Evan Morgan.
Categories: Crime and Mystery, Drama, Comedy.
ChucksConnection Rating:

MPAA Rating: R
Support the film industry by purchasing genuine DVD, Blue Ray, or streaming copies of these films. Illegal copies only help profiteers. Make sure your money goes to the producers and artists who actually create these films. Still images from the film are used here as teasers to get you to view an authorized copy. If you have information about a film where a main character wears chucks, contact us at
films@chucksconnection.com.