A ChucksConnection Film Review
Mary Bair wears white high top Converse "Chuck Taylor" All Stars in the film.
Lorenzo Reyes wears black monochrome mid high Converse "Chuck Taylor" All Stars in the film.
Nate Turcotte wears black low top Converse "Chuck Taylor" All Stars in the film.
Kid West
by Hal Peterson
Kid West and her mom, Faye, entering their new home in Afton, Minnesota for the first time.
Kid West starts off in Anabel, Missouri. Two boys, Banjo (Kale Mitchell) and Barret (Kallen Halverson) are carrying a caged dog out in the woods that they have taken in town. They are not sure what to do about it when they hear a voice purporting to be an older boy they respect named Jimmy calling from behind a tree. Even though Jimmy has an unusually high voice, which Barret questions, when the voice tells them about a $50 reward they become interested to find out more and walk away. But the voice turns out to be young cowgirl and detective Kid West (Mary Bair). "Sometimes it's just too easy," she says as she frees the dog and puts it in her backpack. When the boys discover that they have been tricked a chase ensues that includes a great stunt flying over the West family pickup truck. Kid is able to pick off Barret with her slingshot, and Banjo doesn't realize they are heading toward an embankment to a stream. Kid is able to stop but Banjo flies off it into the water. Back in town, Kid returns the dog to its owners and collects the reward. However at home Kid is in trouble. Today she and her recently widowed mom, Faye, (Ashley Rose Montondo) are supposed to drive up to their new home in Afton, Minnesota, and Kid is late. The two eventually get in the truck and leave.
Kid West talks with the sheriff about the missing artifacts.
As we learn more about their family, we discover that Kid is a fearless young amateur detective, trying to follow in the footsteps of her late father, who was a sheriff. Both Kid and her mother handle their loss in different ways. Faye doesn't like her daughter dressing up like a cowgirl, wearing a large Stetson hat, and going off on her own to solve mysteries or cases. She refuses to even call her Kid, instead always calling her by her given name, Harper. Faye is a nurse, working long hours, leaving Kid on her own most of the time. So even though she would like her daughter to just stay at home, it's not going to happen. In Afton, they start to meet with the locals in their neighborhood. First they meet Sheriff Badger (Bruce Bonhe) who stops by to welcome them, but also check them out. While riding her bicycle, Kid meets Angie (Atquetzali Quiroz) and her uncle Jeremiah (Larry Yazzie) who are from the Ojibwa tribe of native Americans. At first they don't get along because Angie makes fun of Kid's slow bicycle, although they eventually become friends. She sees a neighborhood boy (Nate Turcotte) who she thinks wants to say hello, but instead runs away, too shy to talk to her. She also meets the neighborhood bullies, four young teens led by Braden (Lorenzo Reyes) who tell her they own the streets and she will need to pay them to ride her bike on them. Kid stands up to them, as does Angie, who Braden calls Pocahontas on the one hand, but also insists that she is his girlfriend.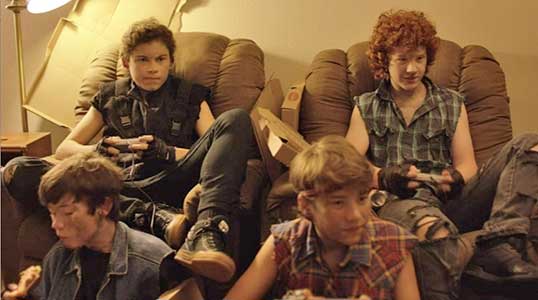 Braden and his gang eating pizza and playing video games.
Kid immediately gets involved in a local mystery. On the TV news, she learns about a college professor and museum curator (Ansa Akyea) who has located an unusual key buried in the ground, that is believed to be tied to missing treasure stored away by Walter Smith, an early settler. Later that artifact is stolen from the local museum. After hearing of the theft, Kid bikes over to the museum and checks out the crime scene, brazenly crossing the "do not enter" tape. When the curator asks her what she was doing, she learns from him some of the history behind the key. Kid also runs into Sheriff Badger who also tells her much of the background from his perspective and she shares her belief that the key was stolen by someone about her height. Later she learns from Angie that there is another side to the story, having to do with brutal treatment by Walter Smith to her ancestors. In fact so much so that a curse was placed on Walter Smith's mansion by an Ojibwa medicine man, and that day it burned to the ground. Through her sleuthing, Kid discovers that Braden and his gang are involved in this, as does Angie, and this starts a series of confrontations between them. The resolution to this and some other issues makes up the balance of the film.
Nate Turcotte plays a neighborhood kid who is too shy to talk to the Kid.
Kid West is the first feature length film by writer and director Jesse Mast. For a locally produced first effort, there were a lot of positives. The special effects were believable and there were some good stunts with bicycles and the West family pickup truck. There are some good themes that appeal to kids, like taking on bullies and protecting animals. There are family value elements like trying to do what is right, helping your neighbors, and dealing with grief interwoven into the plot. Mary Bair played her leading role as Kid West with a lot of spunk and spirit as did Atquetzali Quiroz playing Angie. And thank goodness that the bullies and other bad guys were not made into stereotypes or fools like you see in so many family films. Maybe because it is on Amazon Prime and free to members it will get some more recognition. Kid West is certainly an enjoyable hour for the family with a western and small town flair.
Jeremiah, Faye, Kid West, and Angie are talking to Braden.
Best Chucks Scene
Kid West comes to a screeching halt at her mother's pick-up truck.
Mary Bair in her role as Kid West wears white high top chucks throughout the film. Chucks are a perfect fit for the tomboy girl who takes on older kids, especially bullies. There aren't many close ups except at the beginning of the film and when the Kid is traipsing through the woods. Lorenzo Reyes who plays Braden, leader of the neighborhood bullies, wears mid high black monochrome chucks. And Nate Turcotte wears black low cut chucks. His role is mostly a cameo as the neighborhood kid who comes over to Kid West' house but is too shy to say anything, even "hello" until the very end.
A front view close up of Kid West's white high top chucks.
Kid West. (2017) Mary Bair, Ashley Rose Montondo, Atquetzali Quiroz, Lorenzo Reyes, Bruce Bohne, Larry Yazzie, Nate Turcotte. Written and directed by Jesse Mast.
Categories: Family, Action/Adventure,.
ChucksConnection Rating:

MPAA Rating: NR
Support the film industry by purchasing genuine DVD, Blue Ray, or streaming copies of these films. Illegal copies only help profiteers. Make sure your money goes to the producers and artists who actually create these films. Still images from the film are used here as teasers to get you to view an authorized copy. If you have information about a film where a main character wears chucks, contact us at films@chucksconnection.com.