A ChucksConnection Film Review
Myles Truitt wears black high top Converse "Chuck Taylor" All Stars in the film.
Kin
by Hal Peterson
Young Eli Solinski and his adopted father, Hal.
Kin starts out in a decaying part of Detroit. There are industrial areas with closed factories and neighborhoods with older, often run-down homes. We are introduced to two of the people living in this area, widower Hal Solinski (Dennis Quaid) and his adopted son, Elijah (Myles Truitt), who is an orphan. Hal is doing the best he can to raise Eli, but he is very old school in his beliefs. When we first meet Eli, he is in the principal's office at school, in the process of being suspended from school for fighting. Hal can't or won't come to pick him up so he ends up being driven home by one of the administrators. We soon see that Eli is very much a loner, without other friends. He spends much of his free time riding his bike to abandoned factories and scrounging around for things he can sell to junkyards like strips of copper wire. When Hal gets home he lectures Eli about how he should behave even when someone else is in the wrong. He also tells Eli that his older brother Jimmy (Jack Reynor), Hal's actual son, has been released from prison after six years and will be coming home that evening. Eli takes off on his bike and goes to an abandoned factory to see what he can find. At the beginning of the film, we saw an explosion and fireball in the factory, but now things are quiet. Inside the factory Eli discovers some dead bodies of alien-looking men and next to them is a square device that lights up when he touches it. It appears to be some sort of weapon. When one of the bodies moves as Eli goes to pick up the device, the boy freaks out and hurries back home.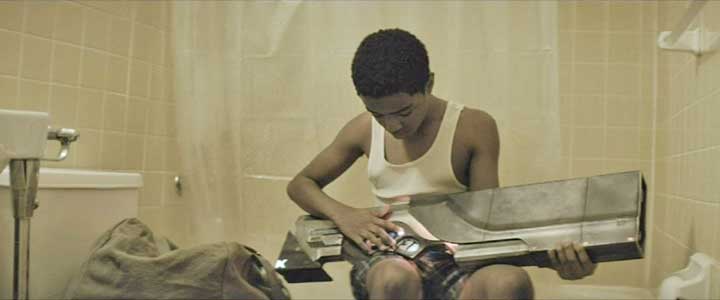 Eli is fascinated by the incredible futuristic weapon he has found.
That evening Jimmy arrives, and it is clear that relations between he and his father are still very tenuous due to Jimmy's criminal activities and constant lying. Jimmy tries to becomes friends with Eli, even offering him a pair of chucks from when he was younger to replace Eli's very worn and dilapidated sneakers. After dinner Jimmy goes to visit Taylor Balik (James Franco), a local crime boss. Jimmy owes Taylor $60,000, and Taylor threatens bodily harm to Jimmy and his family if he doesn't immediately pay up. Jimmy replies that he does have the money, just not with him. That night Eli has a dream about the futuristic device he found in the factory and decides to go back and retrieve it. Using a large flashlight, he eventually finds it at the bottom of an elevator shaft. The device has transformer-like capabilities when Eli touches it, displaying futuristic 3-D sights and displays on what appears to be a high tech rifle. The bodies are nowhere to be seen, so Eli grabs the weapon and brings it home with him. Meanwhile, things are not working out between Jimmy and Hal. Jimmy asks Hal to let him have $60,000 from his office safe at the construction company where he works, but Hal refuses and tells Jimmy to get out of the house. The next day, Hal discovers that Eli has been taking things from the abandoned buildings to sell as scrap, and angrily tells him that what he is doing is stealing, and he will have to locate and telephone the owners of the factories to return to them what he has taken. When they arrive at the construction yard where Hal works, he discovers that the locked gate has been cut open. Telling Eli to stay in his pickup truck, Hal hurries inside to discover Jimmy, Taylor, and his brother Dutch have broken into his safe to get the $60,000. A fight breaks out where Taylor shoots Hal, but also Dutch while struggling with Jimmy for control of his gun. Jimmy sees that his father is dead and Taylor is holding his mortally wounded brother in his arms. He quickly grabs the money and runs to Hal's truck. The two speed away.
Eli ends up on the road with Jimmy and Milly.
Jimmy tells Eli that Hal has told the two of them to take a vacation out west at Lake Tahoe, and to take his pickup truck to drive there. He doesn't tell Eli the truth about what actually happened to Hal. Eli accepts this story and the two pack up and leave, literally seconds before Taylor and his men arrive at their house. Later at a funeral service for Dutch, Taylor vows to go after Jimmy to kill him. He is aided in his search when Eli calls Hal and leaves a message on his cell phone, which had been taken from the construction yard. Also in pursuit are two futuristic men known as "Cleaners". They are apparently the owners of the weapon, and they have all kinds of sophisticated tracking devices that can recreate its past actions and discover its current location. The film now turns into a chase adventure, aided by Jimmy's typical bad judgment. Thinking that he has eluded Taylor and any authorities who might be pursuing him, he decides to stop at a strip club, and is able to go inside, even with young Eli. They meet Milly (Zoe Kravitz), one of the dancers, who becomes friendly with them. Soon Jimmy gets drunk, and tries to go on stage with her, acting overconfident and arrogant, and throwing money in the owner's face when he is told to stop. When the club bouncers start to beat up Jimmy, Eli runs to get the futuristic weapon, which he had brought along, and threatens the bouncers and club owner with it. When a pool cue falls, startling Eli, he fires, and the incredible blast it makes opens a hole in the wall of the club. Jimmy, Eli, and Milly are able to escape for the time being, but Jimmy forgot to take his bag with the stolen money which means they must go back to reclaim it. Things continue to escalate, with the police, and even the FBI becoming involved as the film moves to its exciting and violent conclusion when all the forces pursuing Jimmy eventually meet up.
Eli fires the special weapon at the bad guys.
Kin was written and directed by brothers Jonathan and Josh Baker, who have created a storyline that combines a crime action film with a sci-fi twist. It's an interesting ride but there are some places that strain credibility. As one would expect, there are not a lot of very likable characters in the film. Leading the way is James Franco who delivers a great "bad ass" performance as the utterly ruthless small time mob boss. Jack Reynor is also annoyingly effective as the ex-con who can't ever get things going his way, making one bad decision after another. Zöe Kravitz is likable as the stripper with a heart, who hooks up with Jimmy and Eli after the incident at the night club. It's hard to get to know Myles Truitt who plays the young black teen hero, seemingly out of his element throughout much of the film until things are explained at the end. The film has a PG-13 rating, even though it is exceptionally violent in places, but there aren't any sex scenes, so it gets the okay for teens rating. Teenaged boys will definitely relate to this film more than the general audience because in addition to the pervasive violence it has the sci fi/fantasy element that seems obligatory these days in nearly every film meant for that viewer market.
Eli falls to the ground during one of the fight scenes.
Best Chucks Scene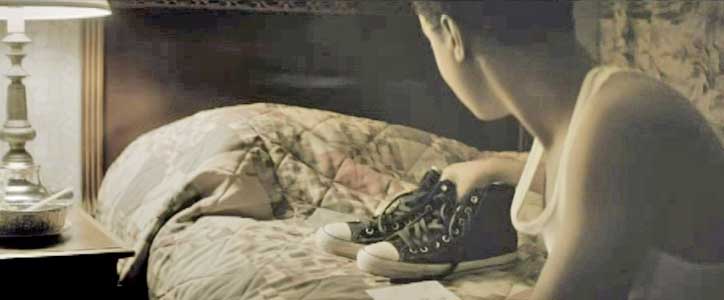 Eli discovers the pair of black high top chucks that Jimmy has given him.
Myles Truitt as Elijah Solinski wears black high top chucks throughout the film after he receives the pair handed down from his older adoptive brother, Jimmy, who noticed Eli's old beat up sneakers and wanted him to have a new pair of shoes. That is one of the few nice things that Jimmy does in the film, and it is one of the rare sweet spots in the storyline when Eli discovers the pair of chucks on his bed at the motel along with a note, "Hooked you up as promised."
Eli goes outside for the first time in his new pair of chucks.
Kin. (2018) Myles Truitt, Jack Reynor, Dennis Quaid, James Franco, Zöe Kravitz. Written and directed by Jonathan Baker and Josh Baker.
Categories: Action/Adventure, Science Fiction/Fantasy.
ChucksConnection Rating:

MPAA Rating: PG-13
Support the film industry by purchasing genuine DVD, Blue Ray, or streaming copies of these films. Illegal copies only help profiteers. Make sure your money goes to the producers and artists who actually create these films. Still images from the film are used here as teasers to get you to view an authorized copy. If you have information about a film where a main character wears chucks, contact us at films@chucksconnection.com.