A ChucksConnection Film Review
Evan Rachael Wood wears black low cut Converse "Chuck Taylor" All Stars in the film.
The King of California

by Taylor Bathel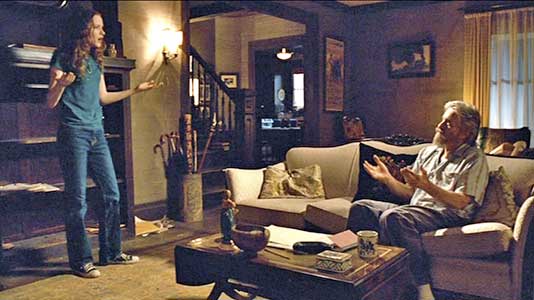 Miranda tries to reconnect with Charlie, but it is difficult.
King of California tells the tale of 16-year-old Miranda (Evan Rachel Wood), whose solitary yet monotonous living became a comfortable routine. That is until her manic father Charlie's homecoming from a mental institution. But Charlie (Michael Douglas) returned with a plan for riches in his frenzied mind: find the long lost, hidden treasure of a Spanish explorer. Soon enough, Miranda is lured aboard, and the two embark on a treasure hunt that reveals the good, bad, and ugly of each, through constant humor and moments of poignancy.
Charlie talks to Miranda outside their house.
Miranda and Charlie have a complete role reversal. Miranda seems to play a mature mother running after Charlie, her uncontrollable, disobedient child. When Miranda discovers Charlie digging in random plots of land, he finally reveals his quest to her, and she obliges to help, more so as a babysitter than by actual interest. But two things happen here: a quest for treasure, and a quest for a real relationship. The subtle changes in Miranda—small smiles, laughs—are significant to an audience so in tune with her longstanding sadness, and it appears that she starts to believe in the treasure, too.
Miranda has been living on her own at their house.
Though the film is built on humor, the growth in their relationship adds a soft hue. This isn't to say that their relationship develops without ample speed bumps. The audience's heartstrings are pulled for Miranda from the get go. Her emotions are delivered through an utter lack of them. Miranda's drained of spirit from working double shifts at McDonalds, and focused images of her face reveal her weariness and lack of further expectations in life. Charlie's arrival, with mental illness still evident, disturbs the life she's made. The viewer's connection to Miranda strengthens as the film progresses, as we become more in sync with her slight emotional variances, and more upset when Charlie hurts her.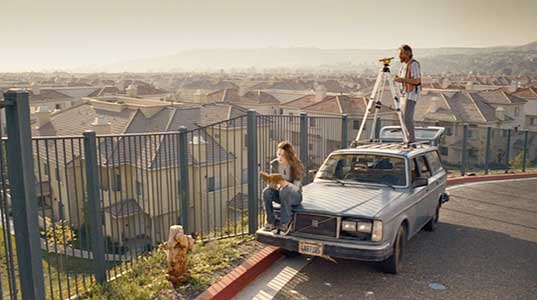 Charlie is surveying the local community.
King of California is an independent film, slow with action as to captivate the audience purely with character development. Given the odd plot line, and mental instability of the character, Charlie could easily be overplayed to an outrageous level. But Douglas' depiction is spot on. Douglas' magnetism makes the audience care about the quest, and teaches a lesson in believing in your dreams. This is a hard feat for a mentally unwell character, and without his integral acting, the film would not have been such an accomplishment. Plus, his acting makes for a good humor that flows throughout.
Miranda waits at the Costco.
Best Chucks Scene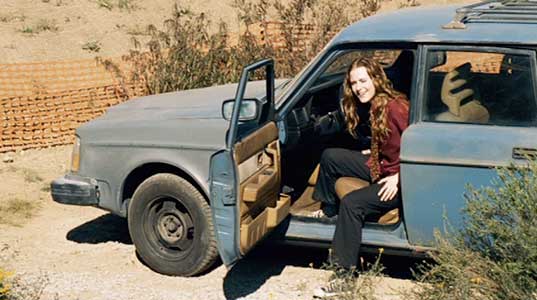 Miranda is getting into her car to go to work.
Evan Rachael Wood wears black low cut chucks throughout most of the film. There is only one closeup shot. Probably the best chucks scene are the full body shots of her at her house.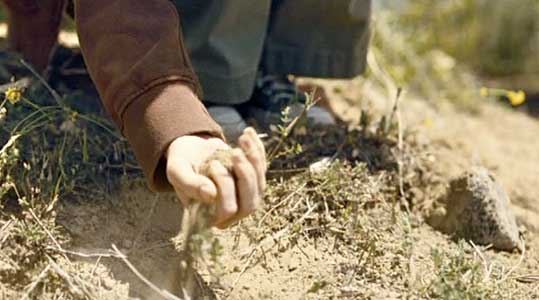 Miranda sifts through some dirt.
King of California. (2008) Evan Rachel Wood, Michael Douglas, Willis Burks II, Laura Kachergus, Paul Lieber, Kathleen Wilhoite.
Directed by Mike Cahill. Categories: Comedy, Drama.
ChucksConnection Rating:

MPAA Rating: PG-13
Support the film industry by purchasing genuine DVD, Blue Ray, or streaming copies of these films. Illegal copies only help profiteers. Make sure your money goes to the producers and artists who actually create these films. Still images from the film are used here as teasers to get you to view an authorized copy. If you have information about a film where a main character wears chucks, contact us at films@chucksconnection.com.