A ChucksConnection TV Series Feature
Tommy Rettig and Cory Sevier wore Converse "Chuck Taylor" All Stars in the series.
Lassie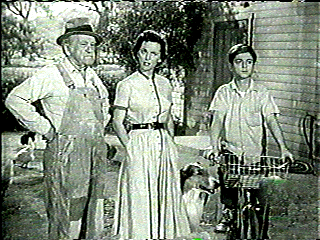 The Miller family included Gramps, Ellen, and Jeff.
This classic "boy and his dog" series went through many changes during its 17 year run. The one feature that remained the same was, of course, Lassie (although she was portrayed by many different collies over the years). For the first three years of the series, it was called Jeff's Collie, and the stories revolved around the Miller family, young Jeff (Tommy Rettig), his widowed mom Ellen (Jan Clayton), and his grandfather (George Cleveland). Jeff and his best friend "Porky" (Donald Keeler) were always seen wearing black high top sneakers, and Jeff's were Chuck Taylors. The stories were based on the adventures of Jeff and the remarkable heroics of Lassie in helping Jeff and others when there was danger or a problem needed to be solved.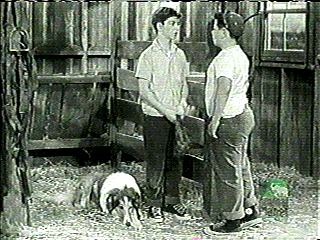 Jeff talks to his best friend Porky.
Because the Millers lived on a farm, many of the stories involved Lassie's interaction with other animals. In one early episode, Jeff and Porky find some abandoned duck eggs and persuade Lassie to lie on them until they can find a surrogate mother to incubate the eggs. In another episode, Lassie rescues three sheep from a flock that have been stolen by neighbor who resents the fact that an immigrant family own them.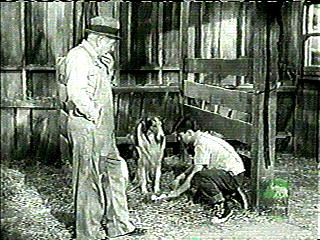 Jeff instructs Lassie to lie on some duck eggs while Gramps looks on.
In the spring of 1957, Lassie brought home Timmy (Jon Provost), a runaway orphan who eventually joined the Miller household. Timmy was usually seen wearing black high tops as were most of his friends or acquaintances appearing on the episodes. Sometimes they were chucks and sometimes they were PF flyers or other brands. In the fall of that year, Gramps Miller passed away, and Ellen realized that she and Jeff could no longer work the farm by themselves.
Timmy and Lassie go to get the mail.
The Millers sold the farm to the Martins, a childless couple who adopted Timmy, and so the stories now revolved around the adventures of Timmy and Lassie, the title of the show for the next few years. Ruth and Paul Martin were played by Cloris Leachman and Jon Shepodd for one season, and then they were replaced by June Lockhart and Hugh Reilly. Some of the original episodes of Lassie are now available on DVD.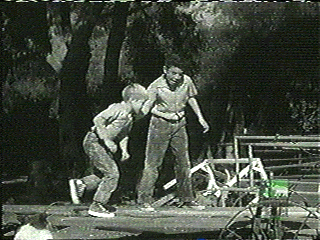 Timmy and his friend play at the abandoned saw mill.
In 1964, the Martins decided to emigrate to Australia. Lassie couldn't go with them, due to animal control regulations, so Lassie was left in the care of neighbor Cully Wilson (Andy Clyde) and then with forest ranger Corey Stuart, after Cully suffered a heart attack. At this point, the boy and his dog premise of the series was finished, and eventually Lassie (the third title of the series) began having adventures on her own.
Cory Sevier and Lassie.
In 1997, a Canadian television series called Lassie was broadcast, starring Cory Sevier as Timmy Cabot. His mother, Dr. Karen Cabot (Susan Almgren), has recently moved back to Hudson Falls, Vermont, her old home town, and opened a veterinary clinic. Timmy finds a collie, who he names Lassie, and the show focuses around the adventures and trouble that they get into. Cory in his role as Timmy, continued the tradition of wearing chucks in many of the episodes. In the first year, you see him wearing black low cut look-alikes, then in a later episode, when he was older, he sports red high tops.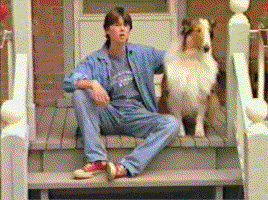 An older Cory Sevier wearing red high tops.
In 1994, a feature film Lassie was produced and the lead character Matt, played by Tom Guiry, wore black or maroon high top chucks throughout the film.

Do you know of other television shows or series where a main character wears Converse All Star Chuck Taylors? Can you describe a favorite episode or two from the series, or do you have additional information about the shows described here already? Do you have videotapes, DVDs or shot captures of episodes from any of the series that haven't been given an in depth article on this site? If you do, email us at chucksphotos@chucksconnection.com and we will add the information to the television pages.