A ChucksConnection Film Review
Spencer Daniels wears black low cut Converse "Chuck Taylor" All Stars in the film.
Last Kind Words
by Taylor Bathel
Eli becomes totally smitten with the ghostly Amanda.

Last Kind Words tells the paranormal love story of 17-year-old Eli (Spencer Daniels), who is begrudgingly uprooted to a reclusive farm in Kentucky. Landlocked and trapped with only his mother and alcoholic father (Clay Wilcox), Eli wanders to the eerie surrounding woods and stumbles on something unexpectedly beautiful—Amanda (Alexia Fast). Soon, Kentucky isn't so bad after all for the love-stricken Eli. The film channels a strange feeling from the get-go with imagery of runaway slaves and murder, automatically hinting at something peculiar in Amanda. We learn that Amanda is a ghost, wandering the enchanted woods for decades, but that fact can't stop Eli's blinding love for her. The film unearths old feuds and portrays the teens' battle to keep their love alive in Amanda's death.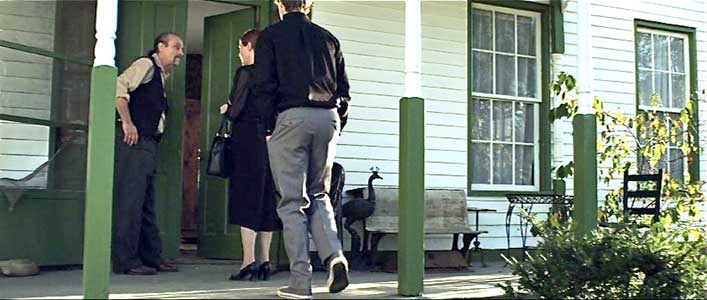 Eli and his mother visiting Waylon.
Eli's family is staying with his father's childhood friend, Waylon (Brad Dourif), who simultaneously with Eli's unfolding love, reveals a haunting back-story to the forest. Waylon urges Eli to stay away from Amanda, labeling her a murderer, though Eli's love is too adamant to ever consider his advice. But there's a twist—and the murderer is not Amanda. We're taken down a path of Waylon and Amanda's family history that turns deadly and the truth is revealed about Amanda's story and the magic of the woods.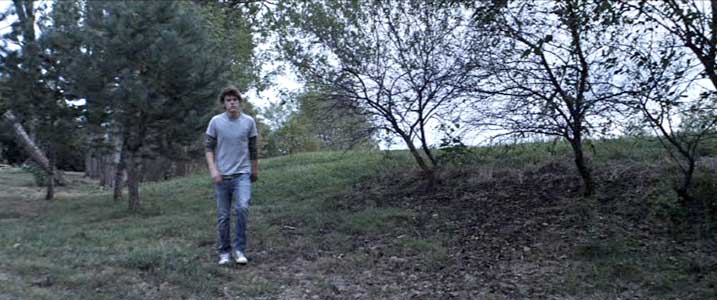 Eli wandering through the backwoods.
Last Kind Words builds on the recently booming theme of supernatural romance. Despite it being labeled as a horror film, it actually is a gothic romance mixed with a touch of terror in the imagery and storyline. The story builds leisurely, reflecting the southern backdrop, and displaying the growing romance with only a few moments that quicken viewer's heartbeat. This takes patience to watch, as the performances of the actors are vapid at times. The plot of teen romance certainly calls for a defined audience, though the quirkiness works given the trend of "unstoppable" love that crosses our ordinary world boundaries.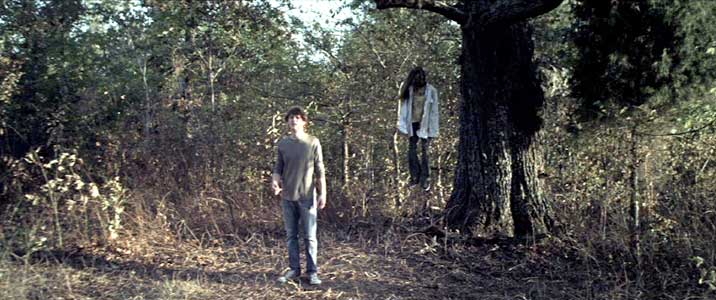 Eli discovers the place where Amanda died.
The filming of Last Kind Words is artistic, and something to appreciate throughout the film and focus on during scenes of little action. The camera movement is set at a consistently slow pace, urging a viewer to focus, while soft music plays repeatedly during moments of transcendence. To add to the music's depth and meaning, it's constantly the same folk song played in these moments: "Last Kind Words Blues," hence the title, another artistic element to appreciate. The folk tune intensifies a lethargic, creepy feeling, and truly transports the viewer to old-time southern culture, subtly hinting that Amanda is from an earlier time period. Even moments of fear and action are presently slowly and with soft music, a unique take on horror, and something to experience for any viewer interested in the supernatural genre.
Katie wants to develop a relationship with Eli but he is too smitten with Amanda.
Best Chucks Scene
Eli stumbles on some remains in the woods.
Spencer Daniels in his role as Eli wears well worn black low cut chucks in many of the scenes in the film. They are filmed in a way that emphasizes the artistic look of the cinematography. The camera work often focuses on Eli's chucks when there is some pivotal action in the storyline. They serve as a visual reminder of Eli's youth.
Eli is about to change his life.
Last Kind Words. (2012) Brad Dourif, Spencer Daniels, Marianne Hagan, Sarah Steele, Clay Wilcox, Alexia Fast.
Categories: Horror, Drama, Romance.
ChucksConnection Rating:

MPAA Rating: PG-13
Support the film industry by purchasing genuine DVD, Blue Ray, or streaming copies of these films. Illegal copies only help profiteers. Make sure your money goes to the producers and artists who actually create these films. Still images from the film are used here as teasers to get you to view an authorized copy. If you have information about a film where a main character wears chucks, contact us at films@chucksconnection.com.