A ChucksConnection Film Review
Jadon Sand wears black low top Converse "Chuck Taylor" All Stars in the film.
The Lego Movie 2: The Second Part
by Marcus Angulo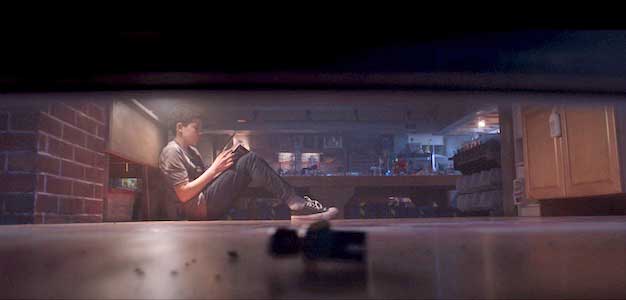 Finn has grown up and is wearing black chucks in this film.
When the first Lego Movie was announced the immediate reaction was that it would be a terrible marketing ploy that was just made to sell new Lego sets. However, upon release the film was a critically acclaimed success that had hilarious jokes and a lot of heart. It soon became inevitable that a sequel would follow, and many wondered if it could capture the same magic from the first film. The Lego Movie 2: The Second Part is the 2019 sequel to The Lego Movie and follows the immediate aftermath of the first movie. The film stars Chris Pratt, Elizabeth Banks, Will Arnett, Charlie Day, Alison Brie, Nick Offerman, and Will Ferrell reprising their roles from the previous film, and includes new cast members Tiffany Haddish, Stephanie Beatriz, and Maya Rudolph.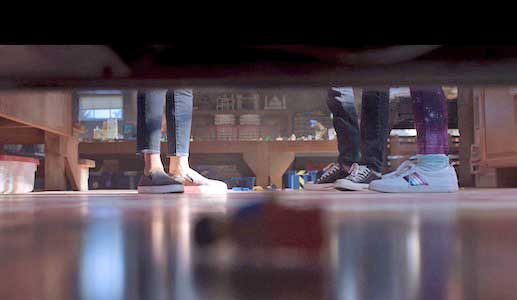 This shot of everyone's shoes easily tells you the personalities of all 3 characters.
The film begins right after the ending of the first movie, with the Duplo aliens invading Bricksburg after Emmet defeated President Business. Emmet builds the aliens a heart as a token of friendship, but they eat it and demand more. A war breaks out and Bricksburg is destroyed. Five years later, the once vibrant city is now a "Mad Max" style, post-apocalyptic wasteland known as "Apocalypseburg". Everyone is now a hardened warrior except for Emmet, who despite the hellscape he now finds himself in, remains upbeat and carefree. Lucy worries that if Emmet doesn't grow up, he won't survive the new world they live in. Emmet tells her about this vision he's been having, in which something called "Armamageddon" occurs and destroys everyone and everything. Soon after, General Sweet Mayhem arrives looking for Apocalypseburg's leader, and captures Batman, Lucy, Benny, MetalBeard, and Unikitty, taking them to the "Systar System". Emmet resolves to go after them, but the other Master Builders refuse to go with him because they too feel that he isn't tough enough to save them. Emmet converts his and Lucy's house into a spaceship and embarks on a journey to rescue his friends.
Finn destroys Bianca's set of Legos, bringing forth "Armamageddon".
While attempting to make his way through the "Stairgate", Emmet is saved by Rex Dangervest, a rugged adventurer who is everything that Emmet thinks he should be. Emmet takes to learning how to be tough from him, and they venture on to the Systar System together. Meanwhile, Lucy and friends are being held prisoner by Queen Watevra Wa'Nabi, a shape shifting queen who swears she is not evil. While the other Master Builders fall for her story, Lucy is not convinced and escapes to bring help. Throughout all of this we get shots of Finn (the young boy from the first movie) and his younger sister Bianca, revealing the forces at play that has pitted these two sides against each other. Finn has grown up a lot since the last movie, which explains why everyone is far more serious and "adult". Bianca has also grown up and shares her brothers love for creating worlds, but she fails to be able to convince Finn to play with her. This has all lead to "Armamageddon", and possibly the end of the Lego worlds that these two siblings have created, unless Emmet and friends can prove that everything can still be awesome.
In the end, everything CAN be awesome.
The Lego Movie 2: The Second Part somehow replicates the heart and humor of the first. The storyline between the two real world siblings will hit close to home for anyone who grew up with a brother or sister. The dynamic this creates between the Lego worlds creates some incredibly funny jokes and scenes. There's also an amazing meta commentary on Chris Pratt's career that will become evident once Rex enters the film. Overall, while it's impossible to recreate the feeling the first Lego Movie created, The Lego Movie 2 stands out on it's own and continues to use amazing animation to tell a heartfelt story.
Playing is better together!
Best Chucks Scene
"Armamageddon" is the only scene in the film that is entirely in the real world, and gives the best looks at Finn's chucks.
The best chucks scene comes towards the end of the movie after Emmet has caused "Armamageddon". The story shifts to the real world and we see Finn and Bianca fighting again. He's destroyed the Wedding Ceremony and now their Mom has come to solve everything. She says this is the last straw and that they both have to put their Legos into storage bin because she can't take their constant fighting anymore. Here we see the age and personality differences of Finn and Bianca just through what they're wearing. Finn is wearing dark colors and a pair of black chucks, while Bianca is dressed in white and pink with rainbow sneakers. These outfits show how different they are mentally by demonstrating their different styles, and this theme is prevalent throughout the whole movie.
The worst pain imaginable is the final nail in the coffin for Finn and Bianca's Lego worlds.
The Lego Movie 2: The Second Part. (2019) Chris Pratt, Elizabeth Banks, Will Arnett, Jadon Sand, Maya Rudolph, Will Ferrell, Brooklyn Prince.
Directed by Mike Mitchell. Categories: Comedy, Family.
ChucksConnection Rating:

MPAA Rating: PG
Support the film industry by purchasing genuine DVD, Blue Ray, or streaming copies of these films. Illegal copies only help profiteers. Make sure your money goes to the producers and artists who actually create these films. Still images from the film are used here as teasers to get you to view an authorized copy. If you have information about a film where a main character wears chucks, contact us at films@chucksconnection.com.