A ChucksConnection Film Review
Leighton Meester wears black high top Converse "Chuck Taylor" All Stars in the film.
Billy Joe Armstrong wears black low cut Converse "Chuck Taylor" All Stars in the film.
Like Sunday, Like Rain

by Jack Hunter
Eleanor becomes an au pair for Reggie in Like Sunday, Like Rain.

Most everyone looked forward to summers as a kid. School was out, vacations were planned, the weather was nice, and there wasn't a care in the world. This magical time has been the backdrop for many a coming of age drama. Films such as The Wackness and Adventureland have captured the transformative powers of summer and its lasting impact on our childhood. Like Sunday, Like Rain takes a more melancholy approach to this mold and delivers a well done, and touching film sure to connect with slightly older audiences.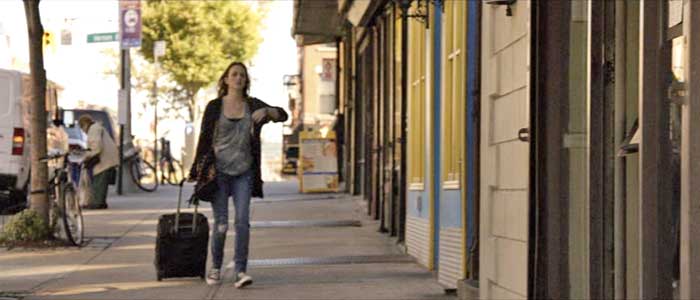 Eleanor is on the streets of New York after breaking up with her boyfriend.
Taking place during a summer in New York, both Manhattan and Upstate, Like Sunday, Like Rain follows two characters from opposite sides of life. Eleanor (Gossip Girl's Leighton Meester) is a twenty-something waitress with a loser, musician boyfriend and a crappy waitressing job in Brooklyn. After breaking up with said boyfriend Dennis (Green Day's Billie Joe Armstrong, who apparently acts now), Eleanor is at work when he shows up and throws a tantrum, which ultimately costs her a job. With no help from her parents, she's forced to crash with a friend while looking for a job. She eventually is hired as a nanny for 12-year old Reggie, a child genius and cello player. A rich kid on the Upper West side, Reggie's mother is aloof and is leaving for China with her new husband. Reggie and Eleanor begin to form a bond as the two learn more about each other and life. Their journey culminates in a trip upstate where the two form a life-long bond.
Eleanor finds herself living in a luxurious mansion.
While the film's premise may seem simple, the complexity and troubles of the two main character's lives mesh well and are quite compelling. Eleanor's struggle is easily relatable to anyone in their early or late twenties, where life for many today may be uncertain and seeming like a winding road with no end. While some may find no fault with Reggie's situation, the lack of love and understanding in his home life is certainly relatable. The two find solace in each other, and director Frank Whaley does a great job of portraying that. The film is both touching and funny at the right moments, which helps to keep the pace sharp.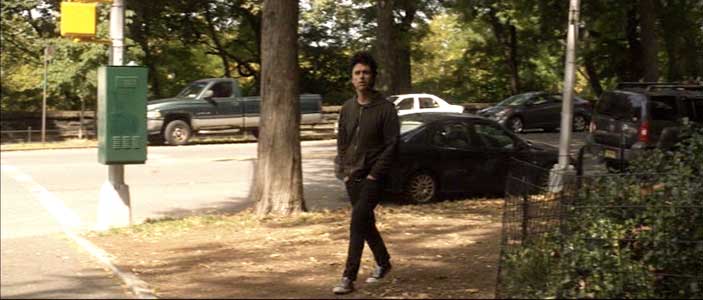 Bill Joe Armstrong of Green Day plays Eleanor's estranged boyfriend.
Meester and newcomer Julian Shatkin are great in their respective roles as the Eleanor and Julian. Julian's wit and advanced maturity are on full display, and Meester's performance is well done, making Eleanor an extremely relatable character who the audience can truly empathize with.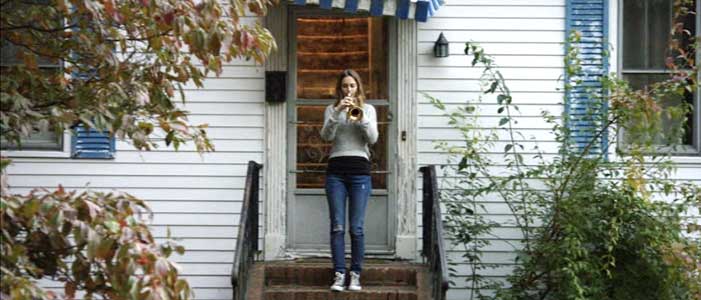 After her experiences with Reggie, Eleanor rediscovers her love for playing the cornet.
Best Chucks Scene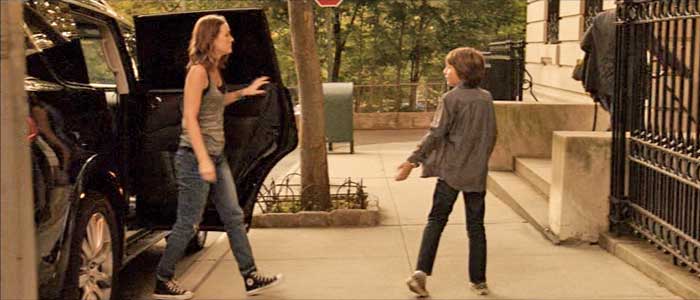 Eleanor and Reggie arriving at the mansion.
Chucks are featured briefly in the film. Eleanor sports a pair of black high tops, a film favorite pair, in a few outings with Reggie. Billy Joe Armstrong is seen in a pair of black chucks as he often wears in real life.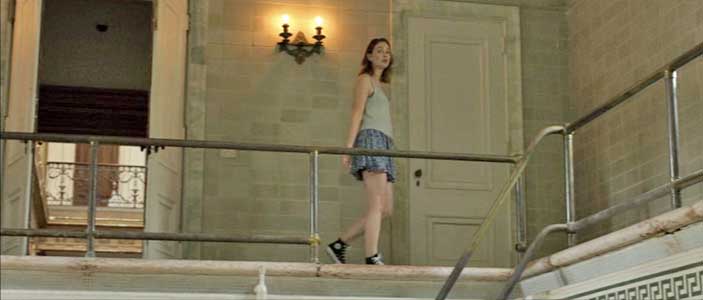 Eleanor is walking around a huge empty indoor swimming pool where Reggie is playing his cello.
Like Sunday, Like Rain. (2015) Leighton Meester, Julian Slatkin, Debra Messing, Billy Joe Armstrong, Olga Merediz, Sammy Pignalosa.
Written and directed by Ralph Whaley. Categories: Drama, Coming of Age.
ChucksConnection Rating:

MPAA Rating: R (for language)
Support the film industry by purchasing genuine DVD, Blue Ray, or streaming copies of these films. Illegal copies only help profiteers. Make sure your money goes to the producers and artists who actually create these films. Still images from the film are used here as teasers to get you to view an authorized copy. If you have information about a film where a main character wears chucks, contact us at films@chucksconnection.com.