A ChucksConnection Film Review
John Stockwell wears black high top Converse "Chuck Taylor" All Stars in the film.
Losin' It
by Hal Peterson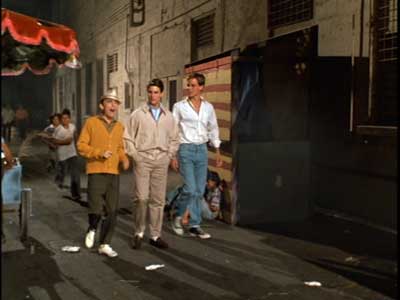 Dave, Woody, and Spider cruise Tijuana looking for action.
Losin' It is a raunchy comedy set in the sixties about four high school boys going to school in southern California who plan an overnight adventure in the brothels of Tijuana. Dave (Jackie Earle Haley) has a flashy red '57 Chevy convertible, and has been planning this escapade for a long time. Woody (Tom Cruise) is his shy friend who longs for acceptance as a man, and is anticipating his first sexual encounter. Spider (John Stockwell) is Woody's more worldly pal, and has some experience, but his in-your-face attitude can antagonize others, and wherever he goes, he seems to always be getting into fights. The fourth friend who was scheduled to go, backs out at the last minute. Desperate for money, Dave turns to Wendell (John P. Navin, Jr.), a freshman whom they consider a wimp, but who is always wheeling and dealing term papers and other items of value and has lots of cash. Wendell refuses to give Dave the money unless he can go too, so reluctantly he is brought along.
Spider gets out of Dave's '57 Chevy at the border convenience store.
On the way to the border, the boys stop at a convenience store to get some food. As they walk into the store, the owner Larry (Kale Brown) and his wife Kathy (Shelley Long) are having marriage-ending argument. So preoccupied are they with their fight, they don't notice the boys grabbing all kinds of stuff and stuffing it into their clothing. As the boys are leaving, she comes storming out saying that she is going to Mexico for a divorce. When she discovers that the boys are going to Tijuana, she insists on going along.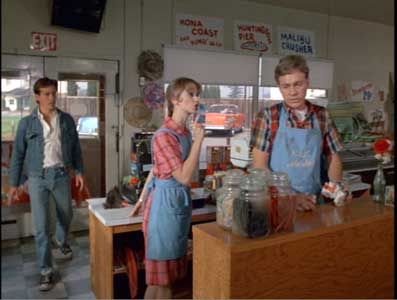 Spider looks on as Kathy and Larry get into a horrendous argument.
When they get to Tijuana, they let Kathy off at a lawyer's office, and begin their escapades. Immediately they get into trouble, and are pursued by a sheriff (Henry Darrow) who has his eye on Dave's car. They end up in an alley, but it is right next to an upholstery shop, and the owner is the sheriff's brother-in-law. Dave avoids a ticket by agreeing to let the shop do some work on his upholstery. Leaving Wendell to watch the work, the three older boys set off to find a brothel. They find a raunchy bar, and are soon joined by three beautiful hookers. The boys think they have it made, but when they go upstairs, the three beautiful hookers leave, and a huge bouncer tells them that they must choose from the less attractive women waiting upstairs. Although Dave and Spider are able to deal with the situation, when Woody gets in the room alone with the hooker he has picked, he discovers he can't go through with it. So he goes back down to the bar, where he is joined by Spider and later by Kathy, who having left the lawyer's office, sees them and joins them. When Spider makes fun of Woody for chickening out, Kathy says that Spider is being too hard on him, words are spoken, and they part company. Kathy and Woody head out, while Spider starts searching for more action alone. Meanwhile, Wendell has made friends with the upholstery shop owner, who tells him the best place in town to buy fireworks, one of Wendell's real interests in coming on the trip.
Spider gets into a fight at school and ends up with after school detention.
The story line of Losin' It continues along in much the same way. We find that Dave is real gullible and seems to fall for every scam set up for tourists in the town. Spider finds the infamous "Donkey Bar", and becoming more inebriated by the hour, ends up getting into a brawl with some Marines in the bar. When the sheriff shows up, he arrests Spider and ends up throwing him in the notorious Tijuana jail. Kathy and Woody hit it off, discovering that they share many of the same values, and soon Woody's dreams are fulfilled after all. But then they spot Spider in the back of the sheriff's car, and realize that they must do something to get him released. Meanwhile, Dave and Wendell hook up again, but get involved with a group of Tijuana kids who are offended when Dave brags that he has put Spanish fly into a girl's drink, who turns out to be the leader of the group's sister. The way that the five Americans react to and resolve these dangerous situations occupies most of the rest of the film.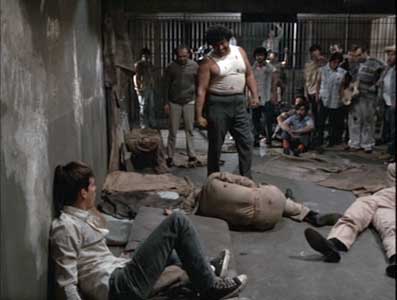 Spider's penchant for getting into fights lands him in the Tijuana jail.
This film definitely deserves its R rating, and the attitudes and morals expressed by many of the characters will offend some people. From an acting stand point, it is interesting to see both Tom Cruise and Shelley Long in early roles, John Stockwell projects a certain cool as the chucks-wearing Spider, and John Navin turns out to have a lot more courage and pluck than you would think from the way he is portrayed early in the film. Jackie Earle Hayley's portrayal of Dave does get on your nerves, as you begin to wonder how anyone could be so naive, gullible, or just plain stupid all the time when dealing with strangers. If you enjoy this type of tourist humor and "coming-of-age" sexual situations, then Losin' It is worth a look.
Best Chucks Scene


Spider must clean up campus litter for getting into the fight.
John Stockwell in his role as Spider wears black high top chucks throughout the movie, and you see a lot of shots of them when he is in the film. Because of the situations that he keeps getting into, you end up seeing such diverse shots as chucks in jail, chucks in a brothel, chucks in a bar besides the normal ones you would expect. The best chucks sequence is toward the beginning of the film, when Spider has been assigned after school campus cleanup on the football field. His friends are waiting for him in Dave's car, and when they yell at him to get in, you see him just drop everything and start walking to the car. When the coaches see what Spider is doing, they tell the entire football team to chase him down and get him. But Spider is able to outrun them, scale a tall Cyclone fence, vault over it and escape, to the cheers of his friends and the students watching football practice in the stands.
Spider vaults over a fence to freedom, escaping the football team.
Losin' It. (1982) Tom Cruise, Jackie Earle Haley, Shelley Long, John Stockwell, John P. Navin, Jr., Henry Darrow.
Directed by Curtis Hanson. Categories: Coming of Age, Teenagers, Sexually Explicit.
ChucksConnection Rating:

MPAA Rating: R
Support the film industry by purchasing genuine DVD, Blue Ray, or streaming copies of these films. Illegal copies only help profiteers. Make sure your money goes to the producers and artists who actually create these films. Still images from the film are used here as teasers to get you to view an authorized copy. If you have information about a film where a main character wears chucks, contact us at films@chucksconnection.com.