A ChucksConnection Film Review


Julian Ortiz, Rene Olivares, and Rene Gonzalez wear black low top Converse "Chuck Taylor" All Stars in the film.



Los Scavengers
by Marcus Angulo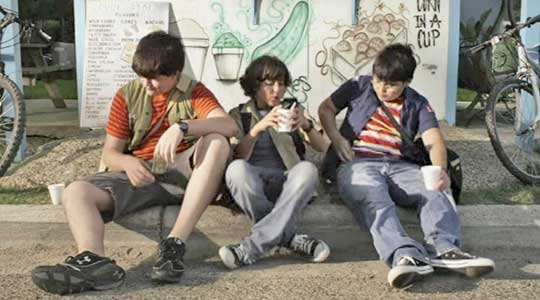 David, Alex, and Roger seated in front of the ice cream shop.
The coming of age story has been around since the beginning of storytelling. Usually focusing on teenagers, this genre of storytelling brings to light the ups and downs of finding one's self while going through the most emotional time of your life. In the 1980's, the genre saw it's formula perfected in film, with movies like Stand By Me, The Breakfast Club, and The Goonies creating that mold that countless after would try to follow. We see these tropes and story elements still used today in popular film and TV, with the biggest example being the Netflix hit series Stranger Things. This brings us to the 2014 film Los Scavengers, an independent production directed by George Lopez star Valente Rodriguez. It stars Ivonne Coll, Valente Rodriguez, Erlinda Navarro, Fernando Carrillo, Julian Ortiz, Rene Gonzales, Rene Olivarez, Edward Pequeno Jr., Ruben Garcia, Agustin Castañeda, and Martin Garcia. The film can also be found under the title Goonie-Boys: Curse of the Mayan Coin, which was its title upon wide release in what appears to be an attempt to link the movie to the popular Goonies franchise, in this case a Hispanic version set in a southwestern border town.
Alex and Roger unveil the bike they have for Camilo.
The film opens in a dream sequence of Alex (Julian Ortiz), a young Latino boy, winning a football game for his local high school team. When he snaps out of it he's being bullied at school by the actual quarterback of his team. We're then quickly introduced to his two friends, Roger (Rene Olivares) and David (Edward Joseph Pequeno). They have a group called "Los Scavengers", which is a business of finding lost items/dogs and collecting the reward. They're planning to spend the summer making money, but Alex wants to get ready for football tryouts. When Alex gets home he finds out that his cousin Camilo (Rene Gonzales) is going to be staying with them. These four form this film's "Losers Club", and they set off on an adventure after they are hired by Remedios (Ivonne Cole), a local witch, to find the Laughing Man, which is a long lost Mayan lucky charm. If they succeed she will break the mysterious curse that has plagued their town and its football team.
A displeased Camilo riding the girl's bike he has been given.
This movie is a rough watch. It was shot in the span of sixteen days with a low budget. The four child leads are all first time actors and it shows. There are plenty of moments where their line delivery and movements don't match the dialogue or mood of the scene. The directing doesn't help them much, as it definitely seems in some scenes that the actors are either improvising or working with only general directions. Where the actors do succeed is in bringing youthful authenticity to their roles, as they're actually young kids rather than 20-year-olds pretending to be kids.
Alex calls over Tio Lalo to help them locate the Laughing Man.
However, while the acting is what one would expect from first time child actors, the editing does them no favors and is the biggest flaw of this film. The film starts and there isn't much of an introduction to the characters, world, or story. The viewer is expected to quickly piece together who these kids are, what their motivations are, and what their standing is in the world they live in. As the film goes on the pacing issues continue as some scenes drag while others feel rushed through. There are also an exuberant amount of establishing shots of the kids riding bikes. Nearly every scene in the film begins with the kids riding to a location on their bikes as stock Mexican music plays. However, the film's biggest post production issue is the sound. The audio levels are all over the place, with some characters being barely audible while other's voices boom and blow out the microphones. There's also an ambient static that is present in every scene, and becomes very irritating after a while. Overall, this movie isn't an easy watch by any means, and while it has a good premise that may keep young kids entertained as they follow a silly adventure, the editing and acting will most likely keep many adults from sticking around past the first ten minutes.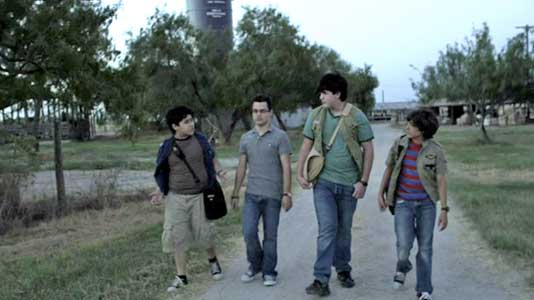 Roger, Camilo, David, and Alex walking together.
Best Chucks Scene


The boys have reached the bed of fire.
Julian Ortiz (Alex), Rene Olivares (Roger), and Rene Gonzales (Camilo) wear black low top chucks throughout the film, although it is possible that Camilo is wearing high top chucks. You can't tell because he always wears baggy jeans. This film reminds you that classic black and white chucks are a very popular footwear choice for Hispanic youth and young adults. The best scene is at the bed of fire, where the camera closes in as the boys discover fire ants beneath their feet.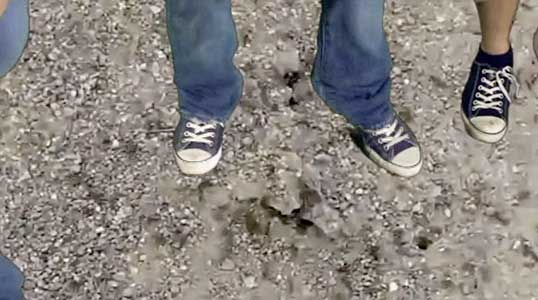 Much of the fire is caused by fire ants.
Los Scavengers (aka Goonie-Boys: Curse of the Mayan Coin). (2014) Julian Ortiz, Rene Olivares, Rene Gonzales, Edward Joseph Pequeno, Ivonne Coll, Martin Garcia, Fernando Carrillo, Agustin Castaneda, Erlinda Navarro. Directed by Valente Rodriguez.
Categories: Family, Action/Adventure.
ChucksConnection Rating:

MPAA Rating: NR, would be PG
Support the film industry by purchasing genuine DVD, Blue Ray, or streaming copies of these films. Illegal copies only help profiteers. Make sure your money goes to the producers and artists who actually create these films. Still images from the film are used here as teasers to get you to view an authorized copy. If you have information about a film where a main character wears chucks, contact us at films@chucksconnection.com.