A ChucksConnection Film Review
Xavier Samuel wears black high top Converse "Chuck Taylor" All Stars in the film.
The Loved Ones
by Hal Peterson
Brent and Holly are looking forward to their high schol prom.
High school senior Brent Mitchell (Xavier Samuel) has been having a very rough year. Six months earlier he accidentally killed his father by smashing their car into a tree when he swerved to avoid a nearly naked, bloodied person who suddenly appeared in the road. He is still depressed and feeling guilty about the accident, afraid of driving, smoking a lot of marijuana to forget what happened, and cutting himself with a razor blade he wears on a chain around his neck. But things are starting to look up for Brent. He has a new girlfriend, Holly (Victoria Thaine); they are in love and planning to go to the senior prom that evening. Another girl, Lola Stone, (Robin McLeavy) asks him to go to the prom that afternoon, but is politely turned down. Luckily for the Brent, Holly has just received her driver's license, and after some necking in her car, drives him home, telling Brent that she will pick him up that evening. At home, Brent gets into an argument with his mother (Victoria Eagger) and jogs off with his dog, a joint, headphones blaring, and his hand bleeding from the razor blade necklace, to get away from home for a while. Brent impulsively decides to climb up a rocky hillside, and when he reaches the top, falls to the ground and smokes the joint. Oblivious to the outside world, he doesn't see or sense an ominous figure creeping up behind him with a chloroform-soaked rag. As the scene ends we see his unconscious body being dragged away by his mysterious assailant.
Brent lies unconscious on the ground after being chloroformed.
When we next see Brent, he is at Lola's house, tied to a chair that is bolted to the floor after being kidnapped by Lola's father, Eric (John Brumpton). His normal clothing has been removed, except for his black high top chucks, and replaced with a tuxedo, white shirt, and bow tie. Eric is dressed up in a suit, and Lola in a pink formal gown. Also in the picture is Lola's mother (Anne Scott-Pendlebury), who is mostly brain dead but treated like she is cognizant. There are balloons, a disco ball, and party decorations. Brent is at a prom but it is Lola's twisted prom and her plan is to get her revenge on Brent for rejecting her by treating him to a horrifying evening of torture. Meanwhile, Brent's mom is very concerned about him. She has tried calling him on his cell phone, but there is no answer. She goes out to search for him unsuccessfully. When Holly arrives to pick him, she wants to know is Holly has seen Brent recently or knows where he is. Eventually they get a neighbor (Andrew S. Gilbert) who is on the local police force involved in the search.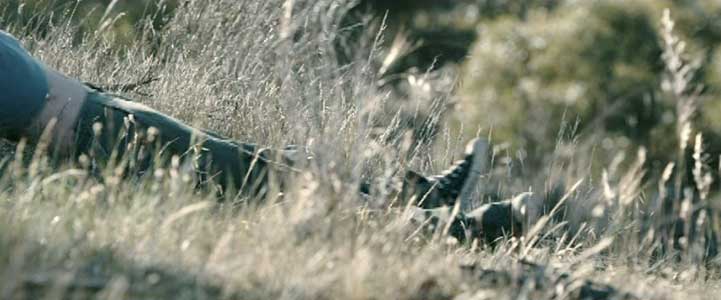 Brent is dragged away by his mysterious attacker.
Back at the Stone house, Lola and her father begin to torture poor Brent in earnest, starting with an injection to paralyze him. Lola and her complicit father are not just getting an undeserved revenge but reveal themselves to be true psychopaths as they work over Brent with a hammer, knives, a power drill, boiling water, and a dinner fork. These scenes are quite graphic and hard for the average person to watch. Mercifully, the film cuts away regularly to two subplots — Brent's best friend Jamie (Richard Wilson) and his date Mia (Jessica McNamee) at the prom, and the ongoing search by Holly and Brent's mother for Brent. The depths of the Stone's depravity is quite surprising, and without revealing any more specifics, scary because it is ongoing. You need to see the film to appreciate the totality of it.
Lola shows her book of horrors to Eric and captive Brent.
Despite its gory content, The Loved Ones is a well made film, with good performances, taut script and direction by Sean Byrne, and gratingly scary visuals that are like fingernails scratching a chalkboard. Robin McLeavy and John Brumpton are spot on as the psycho teen and her creepy, enabler father. Xavier Samuel quickly gains your empathy as the aggrieved and tortured young victim of the Stone family. This definitely is a horror movie, and if you like this genre, The Loved Ones is a film you would want to see. Luckily, if this story line seems too believable in today's world, there are a number of inconsistencies in the plot that you will recognize as you think about things. Here are just a few from the very beginning as examples. (1) What happened to the bloodied half naked guy at the beginning of the film? How did he just disappear again? (2) Isn't it customary for the boy to ask the girl to the prom? I suppose this would blow the whole story apart, but Lola is posing as a normal girl in the high school culture. (3) Why would Brent want to climb up the rock cliffs with his hand bleeding? (4) And how did Eric know where to find Brent to kidnap him, especially since Brent ran off to jog and climb the rocks on an impulse the same afternoon as he said no to Lola? Plenty more of these in the film, but it would spoil your horror film experience to describe more of them.
Eric removes Brent's chucks before inflicting great pain on his feet.
Best Chucks Scene
The camera focuses on Brent's chucks as he begins to climb the rocky hillside.
Xavier Samuel as Brent wears black high top chucks throughout the film. They fit his persona as an easygoing high school student who has finally found a loving girlfriend. And they provide a look of innocence as he facing the cruel revenge of Lola and her father, Eric. The best scene is when Brent is climbing up a hillside using just his hands and his chucks to propel him to the top.
Brent is nearing the top of the hillside.
The Loved Ones. (2009) Xavier Samuel, Robin McLeavy, John Brumpton, Jessica McNamee, Richard WIlson, Victoria Thaine. Written and directed by Sean Byrne.
Category: Horror.
ChucksConnection Rating:

MPAA Rating: R
Support the film industry by purchasing genuine DVD, Blue Ray, or streaming copies of these films. Illegal copies only help profiteers. Make sure your money goes to the producers and artists who actually create these films. Still images from the film are used here as teasers to get you to view an authorized copy. If you have information about a film where a main character wears chucks, contact us at films@chucksconnection.com.