A ChucksConnection TV Series Feature
Allan Kayser wears maroon high top Converse "Chuck Taylor" All Stars in the series.
Mama's Family
The cast of Mama's Family included Iola, Thelma, Naomi, Vinton, and Bubba.
This series was a spin-off from one of the classic sketches on the Carol Burnett variety show about a humorously dysfunctional extended family. Vickie Lawrence (Thelma Harper) was the only regular cast member who also appeared in the original show, but occasionally Betty White, Carol Burnett, and Harvey Korman would appear in their roles as Ellen, Eunice, and Ed. Besides the Harper family, the show featured Beverly Archer as Iola Boylen, Thelma's best friend and prim and proper next door neighbor. Iola still lived with her parents, but longed to get away, even if it was with Vinton (Ken Berry), Thelma's dimwitted son. The series took place in Raytown, a suburban midwestern town near Kansas City.
Everyone admires the goose given to them for Christmas dinner.
The episodes of Mama's Family were based on the constant arguments often brought on by the sharp tongue of Thelma (Mama), who usually had something critical to say about everyone and everything. Most of the characters were somewhat dimwitted, and their slowness and dumb reactions added to the humor. When the series opened, the widowed Mama was living with her sister Fran (Rue McClanahan), her son Vinton (Ken Berry) and his two troublesome teenaged children Buzz and Sonja. Vinton's wife had run off to become a Las Vegas showgirl, but Vinton soon recovered and began dating their neighbor Naomi (Dorothy Lyman). Eventually, they were married, and Naomi moved in with the rest of the clan. After a couple of seasons, Buzz and Sonja left the show, and Fran passed away.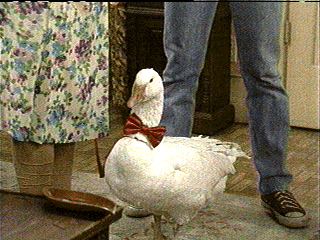 The goose soon becomes a family pet.
In the third year of the show, a new character was added, Bubba, played by Allan Kayser. Bubba was on the show to be the younger generation family member, in his late teens, and always chasing after new girl friends. Bubba, who was the son of Eunice and Ed, ended up at the Harper household because while he was in juvenile hall for joyriding, his parents left for Florida without telling him.
Bubba, Noami, and Vinton work on making a dessert while Mama looks on critically.
Bubba soon settled in as a regular character on the show, began attending classes at the local college, and was usually somehow involved in the weekly plots. No matter what the occasion was, Bubba always wore maroon Chuck Taylor high tops throughout the run of the series.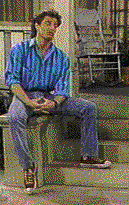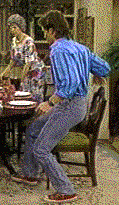 Bubba could always be seen wearing maroon Chuck Taylor high tops.
Do you know of other television shows or series where a main character wears Converse All Star Chuck Taylors? Can you describe a favorite episode or two from the series, or do you have additional information about the shows described here already? Do you have videotapes, DVDs or shot captures of episodes from any of the series that haven't been given an in depth article on this site? If you do, email us at chucksphotos@chucksconnection.com and we will add the information to the television pages.