A ChucksConnection Film Review
Tommy Ragen wears yellow high top and low Converse "Chuck Taylor" All Stars in the film.
Gianna Harris wears yellow low top Converse "Chuck Taylor" All Stars in the film.

Carlos PenaVega wears black high top Converse "Chuck Taylor" All Stars in the film.
Mighty Oak
by Hal Peterson
Best friends Emma and Oak scooter through the streets of San Diego.
Mighty Oak is the latest film about a young musical prodigy and his road to success. One would think that the struggles of ten-year-old Oak Scoggins (Tommy Ragen) to succeed in the music business and its world of adults would be the focus of the film, but instead the storyline is made up of a rather unbelievable and distracting soap opera of events. These plot lines include the idea that Oak is the reincarnation of dead Army of Love lead singer and guitarist Vaughn Jackson (Levi Dylan), the disappearance of Oak's guitar the very day of his first big concert performance, an on-and-off love relationship between the other two leads in the film, Army of Love band promoter Gina (Janel Parrish) and guitarist Pedro (Carlos PenaVega), the fact that Oak is the main caregiver to his drug-addicted mother (his father is deceased), and flashbacks to a head-on car crash at night on I-5 that keeps reappearing in the story with ever greater implications on its characters.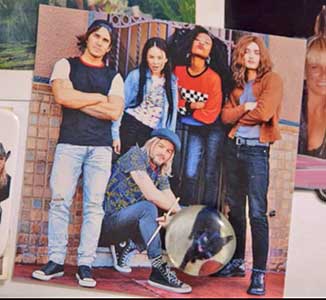 A snapshot of the old Army of Love band (l) and a photographer shooting the new band with Oak.
Before you decide to turn away, Mighty Oak is worth watching just for the performance of Tommy Ragen. He is the real deal, and his talent as a singer, songwriter, and guitarist makes the film worth watching, just to see his first recorded work as an actor and musician. It is a little strange to hear a full-throated boy soprano belting out rock songs instead of the usual falsettos male singers use to sing those high notes. More impressive when you realize that Tommy wrote the songs and accompanies himself with quality guitar playing. Seeing a true prodigy in his or her early years is a real treat; every time after that you can see additional development. Some critics of the film have pointed out that it isn't logical that the adult band members of Army of Love would want to perform with a ten-year-old kid. This reviewer actually had the opportunity to see another prodigy, jazz pianist Taylor Eigsti, perform in public at the same age as Tommy, and the opposite was true. His concert was sponsored by jazz pianist David Benoit. It was quite mind boggling to watch twelve-year-old Taylor performing with much older adult musicians and not only keep up with them but lead the way during the performance. Not only did the adult players enjoy the opportunity, but they continued to play with Taylor through his teenaged years. And that brings up another point about the storyline of this film that is missing. Who was Oak's mentor as he was getting started? The film states that he was completely self-taught. Even if that were true or possible, there still had to be someone there to help facilitate things for a young kid, like getting him an instrument, showing him how to tune and take care of it, giving him a few basic lessons, and providing him with encouragement to develop his musical skills. It could be a music teacher, other professional player, or his parents. But in the story, Oak never knew his father and his mother is barely functional; he spends much of his time caring for her. No one else is mentioned. Another annoying thing about the story was Oak's guitar. In one of the early scenes, Oak's best friend Emma (Gianna Harris) is able to lend him Vaughn Jackson's guitar, an expensive $3000 custom hollow body that had been stored at her father's (club owner Dwayne Biggs) place. But they just carry it unprotected around San Diego, instead of putting it inside a case, the least you could do for such an expensive instrument. What serious guitar player would take that risk?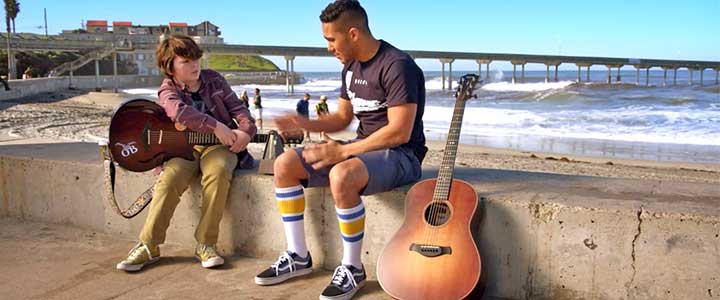 Oak and Pedro discussing how to obtain musical growth.
To sum up the story, Gina Jackson, who was the sister of Vaughn Jackson, has been in a state of depression ever since his fatal accident ten years ago. As the film opens we see she is behind in her bills, gambled away $3000 in saving on a single blackjack hand at a casino, and is lacking in a motivation for her life. When she hears that Vaughn's guitar has been lent out to a young kid, she is determined to find out why. But after she hears Oak play, she is taken aback, and very impressed to the point that she believes him to be the reincarnation of her brother Vaughn. She decides to restart the band, calling back the other three members, guitarist Pedro, drummer Darby (Ben Milliken), and bassist Alex (Nana Ghana). Like Pedro and Gina, they are first surprised to see a young kid at their band reunion, but are won over when they hear him play. Besides they are genuinely bored with their day jobs in local stores and restaurants. Pedro takes the most convincing, but Gina assures him that he will be the leader, and persuades him to take over the mentoring of Oak to help him fit in and master their songs. Things begin to move along successfully except that Oak's mom is somewhat opposed because all of that rehearsal time takes away from her time with Oak; she depends on him more and more to be the adult in their household while her drug addiction worsens. Some of the saddest scenes in the film are when Oak goes up to her when she is passed out on her bed and must check to see if she is still breathing. And it is even sadder when we find out that she was in the military at one time. San Diego is a big military town but somehow she is not getting any help for her debilitating drug addiction issues. The word of mouth is starting to build again for Army of Love, but will they be able to have a successful restart to the band's career with the addition of Oak Scoggins?
Oak getting down during a performance of the new Army of Love band.
Mighty Oak had the potential to be much better than it turned out because the story kept turning away from a sense of reality to a lot of contrived plot events that just didn't ring true. The blame for this has to fall on Matt Allen who wrote the story and the screenplay. It really would have helped him to research the lives of musical prodigies more thoroughly, and worked harder to make the adult characters and story line less clichéd. (Wait until you see Oak's grandparents from Minnesota toward the end of the film!) Director Sean McNamara keeps the pace of the film moving along, and there are credible performances by Janel Parrish, Carlos PenaVega, and Gianna Harris. But most of the credit must go to Tommy Ragen who continues to impress us throughout the film with his sincerity and talent. One of the most noteworthy scenes is when he is brought to perform solo in front of his entire elementary school at an assembly, and you see him wow an entire audience of his peers. This totally makes up for the silly and unnecessary bullying scene at the beginning of the film. See the film to see Tommy perform his music; those scenes make Mighty Oak a worthwhile view.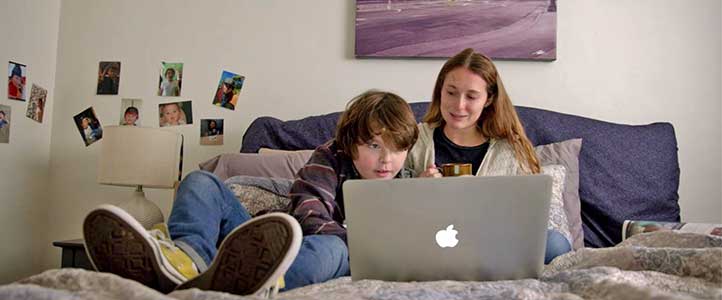 Oak and his mom are looking at band videos.
Best Chucks Scene
Oak is startled when two classmates grab his songwriting notebook.
Like all good rockers, Tommy Ragen in his role of Oak Scoggins wears a pair of high top chucks. Instead of the usual black, Oak wears a mustard yellow pair, the same color as his friend Emma's (Gianna Harris) low top pair. The mustard color doesn't stick out like a black pair, but there are a couple of good close ups. Carlos PenaVega (Pedro) does wear black high tops in a few scenes, and British drummer Darby (Brad Milliken) is shown wearing black high tops in a publicity photo of the original Army of Love band.
Oak about to leave San Diego is waiting unhappily on the stairs for his friends.
Mighty Oak. (2020) Tommy Ragen, Janel Parrish, Carlos PenaVega, Alexa PenaVega, Levi Dylan, Gianna Harris, Rodney Hicks, Ben Milliken, Nana Ghana. Directed by Sean McNamara.
Categories: Drama, Musical.
ChucksConnection Rating:

Rating: PG
Support the film industry by purchasing genuine DVD, Blue Ray, or streaming copies of these films. Illegal copies only help profiteers. Make sure your money goes to the producers and artists who actually create these films. Still images from the film are used here as teasers to get you to view an authorized copy. If you have information about a film where a main character wears chucks, contact us at films@chucksconnection.com.