A ChucksConnection TV Series Feature
Mindy Kaling wears black and navy blue low cut Converse "Chuck Taylor" All Stars in the series.
The Mindy Project
Mindy wears navy chucks and she sweeps up Peter's apartment after a party.
Created by and starring Mindy Kaling, The Mindy Project is a witty and light-hearted romantic comedy series that follows Dr. Mindy Lahiri as she navigates through her personal and professional life. Mindy is an OB/GYN at a small medical practice in New York City. Danny Castellano works at the hospital with Mindy. Danny is her primary love interest, but his pious intuitions cause he and Mindy to butt heads. Although their on-again off-again relationship is unconventional in many regards, they help each other get through the ups and downs of the life's rollercoaster.
Mindy's neighbor watches as Mindy hops up onto the ledge of her New York City apartment balcony.
Peter Prentice, a former frat jock, also works at the hospital. Being Mindy's OB/GYN, the circumstances of their friendship is theoretically awkward, but they work well together, always having each other's best interests at heart. Peter's advice is always well intentioned but sometimes far from sound, which lands Mindy in some sticky situations.
On the threshold between her neighbor's balcony and her own, Mindy fears that she won't be able to make the two-foot-long balcony jump.
Mindy's luckless supervisor, Jeremy Reed, is the "ladies man." Caring more about possessions than relationships, his detached tendencies cause tension. He and Mindy have a brief relationship following a profoundly emotional breakup. From then on, the universe seems to conspire against Jeremy. Naturally, his personal misfortunes carry over into his professional life, which unnecessarily complicates the dynamics between himself, Mindy, Peter, and Danny.
Close up of Mindy's firm stance between her neighbor's balcony and her own, wearing black low cut chucks.
In the episode "What About Peter?" Mindy witnesses Peter's living situation for the first time—one that she thinks would only be appropriate if Peter were still a frat boy at Dartmouth. Mindy's efforts to help Peter escape his living situation end up causing friction between her and Danny. She eventually comes to terms with the fact that she doesn't have much to show for her efforts, and she and Danny reconcile their relationship.
Mindy's infant son, Leo, watches from the couch as his mother tries and fails to build him a playpen.
In the episode "Leo Castellano Is My Son" Mindy accidentally locks herself out of the apartment, leaving her newborn son on the other side of the door. Danny is on his way back to the apartment and does not have his own copy of the apartment key yet. Mindy comes up with a dangerous yet foolproof solution to get back into her apartment before Danny gets home. She decides to jump from her neighbor's balcony to her own.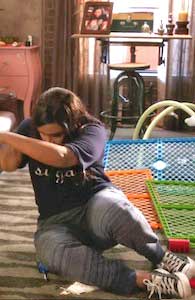 After the playpen collapses on her, Mindy is reassured that she will never be equipped to be a single parent.
In the season 4 episode "Later, Baby," Mindy is has a hard time playing "single mother" because her fiancé is in California caring for his sick father. To make matters worse, Mindy finds out that her fertility clinic, Lahiri Fertility, is facing crippling financial troubles.
Do you know of other television shows or series where a main character wears Converse All Star Chuck Taylors? Can you describe a favorite episode or two from the series, or do you have additional information about the shows described here already? Do you have videotapes, DVDs or shot captures of episodes from any of the series that haven't been given an in depth article on this site? If you do, email us at chucksphotos@chucksconnection.com and we will add the information to the television pages.