A ChucksConnection TV Series Feature
Ariel Winter wears black low cut Converse "Chuck Taylor" All Stars in the series.
Modern Family
Alex wears chucks as she and the rest of the Dunphy clan reminisce about old memories in the station wagon.
Modern Family is a mockumentary on ABC that follows the hectic lives of Jay Pritchett and his family. Jay Pritchett's is in his mid-60s and has two children from his first marriage: Claire and Mitchell. Jay's second wife, Gloria, is much younger than he is and she has a son named Manny. Gloria is a stunning and passionate woman from Columbia, and she sometimes perceived as a "gold digger." Other than the age gap, Jay and Gloria's, marriage is relatively normal and healthy. In season 4, Jay and Gloria have a son of their own, Joe Pritchett. Jay Pritchett's gay son, Mitchell, is a successful lawyer. He is married to Cam and the two of them have an adopted daughter named Lily. Mitchell and Cam are polar opposites in terms of how they express their homosexuality. Mitchell has a more stoic and reserved disposition (as many lawyers do), while Cam boasts a more flamboyant and loud personality.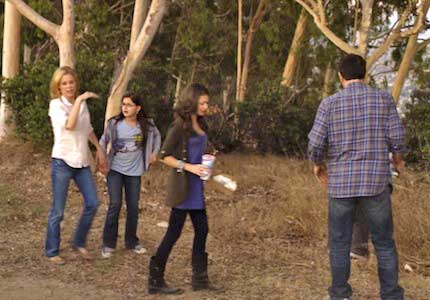 Alex is wearing chucks as she and the family stand at the top of the hill before the station wagon rolls down the hill and off a cliff.
Claire and Phil have three kids: Haley, Alex, and Luke. Haley is the oldest of the three and she is the quintessential difficult teenage daughter. Moderately self-absorbed and quite ditzy, she cares more about popularity and looks than she does about getting good grades or getting into college. Haley gets her wit, stubbornness and sarcasm from her mother, while she gets her childishness from her father. As Haley matures throughout the series, her more motivated and sincere side comes out. Luke, the youngest of the Dunphy kids, is clumsy and immature. Luke and Phil are partners in crime; Phil is like the brother that Luke never had and Luke happily brings out Phil's inner child. Once Phil steps into his role as "the brother that Luke never had," he relinquishes the responsibilities associated with being a parent, which undermines Claire and Phil's united front. The second Dunphy daughter, Alex, is the "middle child." She is extremely intelligent and self-sufficient. She spends most of her time studying and has a low tolerance for stupidity. She usually feels like the outlier because neither of her siblings share her drive and ambition. Alex is academically competitive and she is intrinsically motivated to spend hours upon hours studying. Alex is just as witty as her older sister, but her sense of humor is more dry and condescending. Her mind is reasonable and accurate, and she sometimes seems to be the only one in the family who is capable of exercising good judgment. Alex doesn't care too much for fashion; she would rather be comfortable than stylish. Being the most practical of the three, she wears chucks on many occasions throughout the series.
Haley and Alex Dunphy decide to walk home after having a "near death experience" in the minivan.
During the episode "The Old Wagon," Claire is determined to clean out and organize their garage. Claire wants to get rid of everything that they no longer use, including the old station wagon that has been occupying precious real estate. With hesitation, Phil finally agrees to sell the station wagon. Claire can't wait to get rid of it, but Phil is reluctant to say his goodbyes because of all the memories. Phil convinces Claire and the kids to go on one last drive down memory lane. They pile into the station wagon and drive to the hill where they use to go to for their family outings. A series of unfortunate events occurs, and the station wagon rolls down the hill and falls off a cliff. Despite the mishap, the Dunphy family has a good time. Ultimately, Phil realizes that he doesn't need the station wagon anymore because he will always have the memories. During the eventful episode, "The Day We Almost Died," the Dunphy family almost gets into a car accident when a dump truck runs a stop sign in their neighborhood. Luckily, Phil slams on the brakes and no one gets hurt. However, each family member experiences mild PTSD, which ends up helping them show more appreciation for the things they take for granted, including each other.
Do you know of other television shows or series where a main character wears Converse All Star Chuck Taylors? Can you describe a favorite episode or two from the series, or do you have additional information about the shows described here already? Do you have videotapes, DVDs or shot captures of episodes from any of the series that haven't been given an in depth article on this site? If you do, email us at chucksphotos@chucksconnection.com and we will add the information to the television pages.