A ChucksConnection TV Series Feature
Anna Faris wears black and navy blue low top Converse All Star "Chuck Taylor" sneakers in the series.

Mom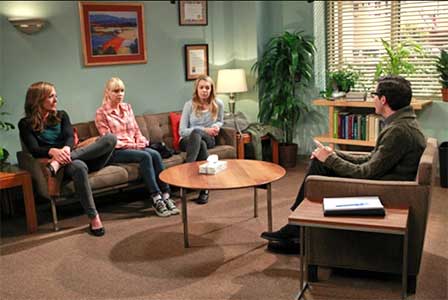 Bonnie, Christy, and Violet go to therapy together.
The world is a big place with over seven and a half billion people running around on it, and we as human beings can be so varied in our backgrounds that it can often be hard to find any common ground. However, there is one thing that unites across all races, creeds, shapes and sizes: we all owe our lives to our moms. Now since we all came from a woman, got our name from a woman, and our game from a woman, isn't it time there be a show celebrating that woman? That's where the NBC sitcom Mom comes in, but with a twist. Premiering in late 2013, the show follows the lives of a mother and her daughter as they try navigate life together, and learn what it means to really be a mom.
Christy has a romantic moment with Nick (guest star Chris Pratt).
The show stars Anna Faris and Allison Janney in the lead roles of dysfunctional mother/daughter duo Christy and Bonnie Plunkett. These two are incredible together, and they really nail the mother/daughter dynamic exceptionally well. Their banter is natural but hilarious, and it fits in with other sitcoms of this day and age. The show also stars Sadie Calvano as Christy's daughter Violet, Matt L. Jones as her ex-husband Baxter, and Spencer Daniels as Violet's boyfriend/baby daddy Luke. Nate Corddry, French Stewart, William Fichtner, Beth Hall, Jaime Pressly and Mimi Kennedy also appear in supporting roles, while stars like Octavia Spencer, Kevin Pollack, and Mary Pat Gleason have appeared in recurring roles..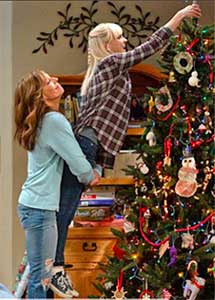 Bonnie and Christy put up their Christmas tree.
Mom is centered around Christy Plunkett, a single mother who has a troubled past of battling alcoholism and drug abuse. After getting clean, she decides to hit the reset button on her life by moving to Napa, California (known as "Wine Country", which may not be the best place for a recovering alcoholic). She gets a job working as a waitress and attending Alcoholics Anonymous meetings. Her mother, Bonnie Plunkett, is also a recovering addict and has has a strained relationship with Christy because of it. Violet is Christy's teenage daughter who was born when Christy was only 16. As fate would have it, she has now become a teen mother just like her mom and grandma, after her boyfriend, Luke, knocks her up. Christy also has a younger son, Roscoe from her ex-husband, Baxter. The show explores themes of many real-life issues such as alcoholism, teen pregnancy, cancer, homelessness, gambling addiction, domestic violence, death, obesity, rape, stroke, drug abuse, relapse and overdose, all very serious topics for a network sitcom to cover in primetime.
Nick holds Christy in his arms after going horseback riding.
The show really revolves around what addiction does to not only a person, but those around them as well. Christy hasn't had a drink of alcohol in four years, but is still dealing with her addiction to gambling and her fear that her addiction to alcohol may come back. She also struggles with her relationship with her mom, as she was a bad influence on her and her actions led her down the path to being an alcoholic. She looks at their relationship as the blueprint of what not to do, and attempts to do better by Violet because of it. Violet is determined to break her family's cycle of addiction and bad parenting, which make her untimely teen pregnancy and drinking problem all the more heartbreaking. The comedy is top notch throughout the show, but it's these real world struggles that really help this show and its characters shine.
The DVD cover for Mom features Anna Faris wearing chucks.
Mom doesn't put a happy bow on the problems we face like most sitcoms do, and it allows the choices the characters make to matter. It has exceptional comedy centered around real world problems and relatable strife. Comedy is always bolstered when the laughs come from a place or problem that everyone struggles with, and the problems faced by the characters on Mom are ones that many people struggle with. Hopefully, the laughs that this show provides will help those who struggle with addiction get through their own journey, and allow them to laugh even harder once they've won their battle.
Do you know of other television shows or series where a main character wears Converse All Star Chuck Taylors? Can you describe a favorite episode or two from the series, or do you have additional information about the shows described here already? Do you have videotapes, DVDs or shot captures of episodes from any of the series that haven't been given an in depth article on this site? If you do, email us at chucksphotos@chucksconnection.com and we will add the information to the television pages.