A ChucksConnection Film Review
Max Thieriot wears black Converse "Chuck Taylor" All Stars in the film.
My Soul To Take
By Brandon L. Summers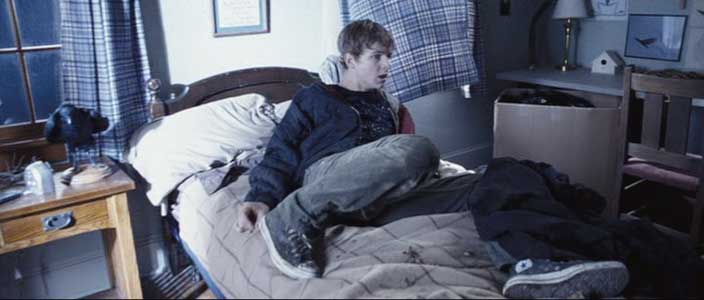 Bug must deal with the Riverton Ripper as he reaches his sixteenth birthday.
My Soul To Take, written and directed by Wes Craven, is such an incomprehensible mess that it can't be described, only explained. The plot of the film involves souls. When a person is killed, their soul can go into another person, inhabiting that person with their knowledge and personality. There are also bad souls that leap around. It's a mystical version of schizophrenia. The film opens with one of the worst written, most bombastic openings I've ever seen. Abel Plenkov is freaking out, hearing voices in his head. The news reports that The Ripper is on a killing spree. Abel calls his doctor (Harris Yulin, wasted), who arrives with cops too late. Abel, revealed to be the Ripper, kills his pregnant wife but spares his daughter. The baby, cut out of the wife, miraculously survives. There are also six other babies born that night. Head detective Peterson (Frank Grillo) survives getting shot, while The Ripper is killed at least three times over. In the ambulance, Peterson is told the nonsense about evil souls. Could the evil soul that plagued Abel escaped into one of those newborn infants? Abel lunges up and is killed again, as the ambulance crashes.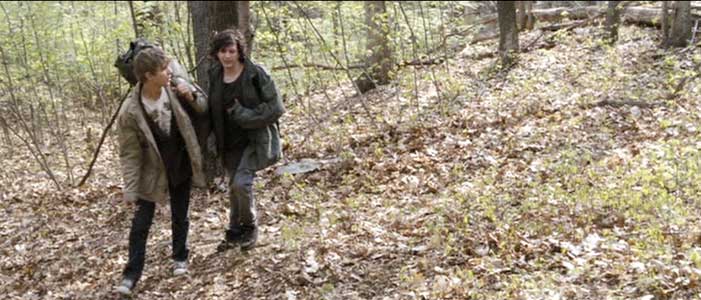 Bug walks through the woods with his friend Alex where all kinds of strange things have been happening.
Sixteen years later, the group of seven teens who were all born that night celebrate Ripper Day at the site of the ambulance crash, which has been left as a memorial (which wouldn't happen in real life). That night, one of them is killed by the same The Ripper, who has a big pale forehead, looks listless and is wearing what looks like a heavy tattered coat make of feathers. (And yet is quite unmemorable.) Our hero, Bug/Adam (Max Theriot, Nancy Drew) has nightmares about it. His abused outcast buddy Alex (John Magaro) has his ear, though, as does their blind friend Jerome (Denzel Whitaker), who is a useless character. Both Bug and Alex are bullied by jock Brandon (Nick Lashaway) who is dating Brittany (Paulina Olszynski). They're all judged by Christian girl Penelope (Zena Grey). That's the gang. There's also older classmate Fang/Leah (Emily Meade), who runs things.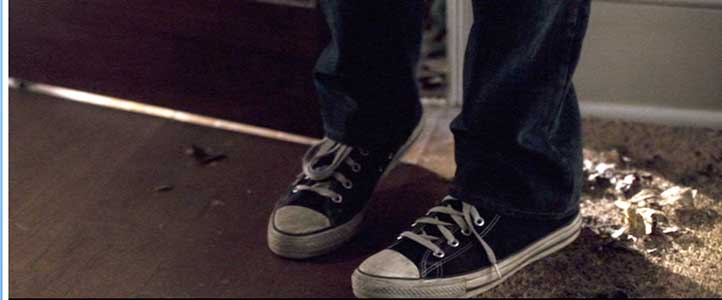 The camera shows a closeup of Bug's chucks.
Time is filled with Bug and Alex getting revenge on Brandon with their elaborate California condor costume, and Bug pining for Brittany. Both Brittany and Brandon are killed in the woods. Penelope has also been killed. The kills are okay, mostly gut stabbings with gushes of fakey digital blood. Brittany has the most interesting death. She gets swept into the trees and is stabbed there. Meanwhile, Bug is seemingly channeling everyone who dies, and there are suggestions he may have been in an institution, may have killed before, may be crazy. This all comes from Fang, who is not only revealed to be Bug's sister (SHOCK!), but is also - spoiler - Abel Plenkov's daughter! And yes, Bug is the Ripper's son.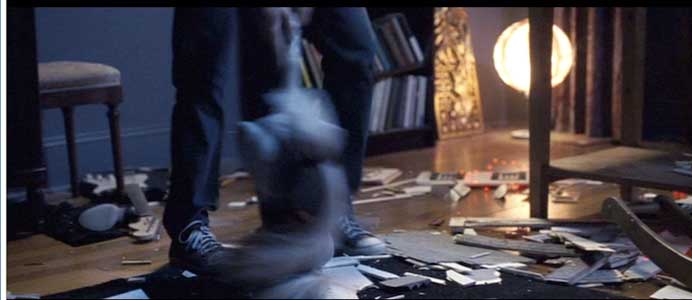 Bug smashes a toy sized merry-go-round horse after a fight with his sister, Fang.
There was some chatter between Bug and Alex about whether they could kill, if they have that evil inside them. One night, during one of Bug's hallucinations (which make use of the digital 3D), he gets the Ripper's distinctive knife from Penelope's ghost. The Ripper also attacks Bug's home, slasher movie style, and there's a showdown between friends. They both know about soul-leaping and soul-absorbing now, and it is revealed in whom the evil killer spirit rests. The very last scene lifts from The Dark Knight unsuccessfully.
After being attacked by the Ripper, Bug kicks back with his feet.
This film is a disaster. It was filmed in 2008, with re-shoots in 2009 and finally given a pity release in 2010. Clearly, over those two years, the film was monkeyed with by everyone who had a spoon. Dialogue was added, scenes were cut and recut and recut and recut, I have reason to believe whole scenes were shuffled around, and then it was post-converted to 3-D. Even before all that laboring, I can't imagine the film being any good. It's structured as a slasher film when really it should be a super-natural mystery. Or maybe vice versa. There's nothing really to like about the film. Badly written, not aesthetically pleasing, laughable lines, actors who only have two modes: robotic and confused. It only takes five minutes for this film to plunge into so-awful-its-utterly-hilarious territory. I will concede a few good scenes. Bug and Alex have some nice moments, and the scene where Fang unloads on Bug is very good. Just two scenes, and neither can undo the damage done alone by the ludicrous, insanely overdone opening. The problem is, you have no idea what is happening. You might be guessing who the Ripper is, but it's not the same as solidly knowing what the film is about or where it's going or what the tone is supposed to be. If this film is anything it's a "turn off your brain" film for imbeciles. Who needs this when there are so many actually well-crafted, rewarding horror/suspense films out there? Some of them even directed by Wes Craven himself!
The camera shows Bug's muddy chucks after he tramples through the woods in a storm.
Best Chucks Scene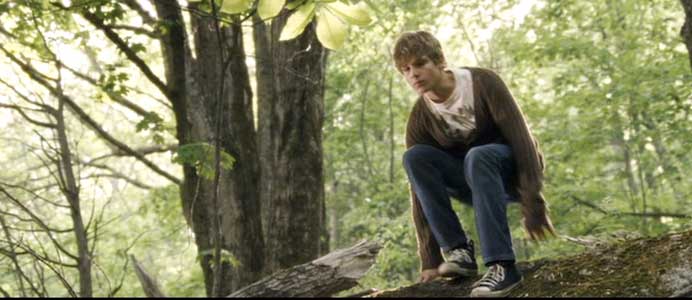 Bug is squatting in the woods.
There's a scene I liked where Bug is squatting in the woods somewhere channeling Christian girl Penelope, who was just killed. It looks like he's owling, which is the new teen Tumblr thing. It's as disjointed as anything else, but it is enjoyably weird.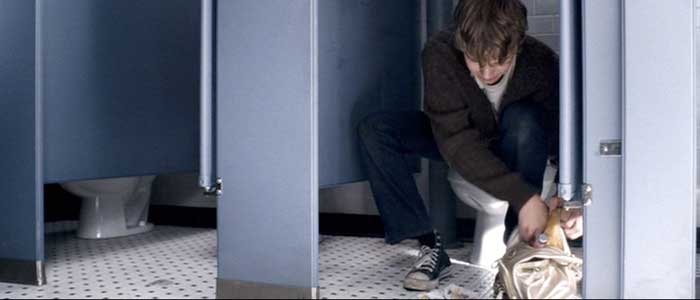 Bug gets trapped in the girls' bathroom trying to retrive his cell phone.
Earlier, Bug gets caught in the bathroom. This scene is funny, because it's juvenile antics going wrong with comedic results, always fun. It's a nice isolated moment, with a good view of his chucks.
My Soul To Take. (2010) Max Thieriot, John Magaro, Denzel Whitaker, Zena Grey, Nick Lashaway, Paulina Olszynski, Jeremy Chu, Emily Meade, Raul Esparza, Jessica Hecht.
Written and directed by Wes Craven. Categories: Horror, Action/Adventure.
ChucksConnection Rating:

MPAA Rating: R
Support the film industry by purchasing genuine DVD, Blue Ray, or streaming copies of these films. Illegal copies only help profiteers. Make sure your money goes to the producers and artists who actually create these films. Still images from the film are used here as teasers to get you to view an authorized copy. If you have information about a film where a main character wears chucks, contact us at films@chucksconnection.com.