A ChucksConnection Film Review
Brighton Hertford wears black high top Converse "Chuck Taylor" All Stars in the film.
Mystery Kids
by Hal Peterson
Geneva and Tommy try to figure out what to do for the summer.
Originally released as Finding Kelly, Mystery Kids is the story of two rather sophisticated twelve-year-olds living in an upscale California suburb who are looking for ways to make the summer more interesting. Geneva Johnson (Brighton Hertford) is an aspiring mystery writer and the narrator of the film. She practices her writing skills as a mystery book reviewer, and one of the delightful features of the film are the samples of her reviews that we hear her narrate as she composes them: "This time our amateur sleuths take a walk on the morbid side as as their noses lead them to, eek!, a severed hand. Three screams on the shock-o-meter." Her best friend Tommy Cavanaugh (Jameson Baltes) basically just likes to hang out and listen to his CD player. But Geneva thinks that they need to look for summer jobs, so she can support herself as a writer and Tommy can afford to visit his mom, who is now working as a marine biologist in Hawaii. As Tommy and Geneva are bicycling around town looking for opportunities, they stumble over a lost wallet belonging to a wealthy older woman, Dorothy Hollings (Eve Brenner). When Tommy and Geneva call her to return the wallet, she rewards them each with twenty dollar bills for their honesty and suddenly a new career option appears — looking for lost things. They consult some flyers at the local supermarket, and start by looking for missing pets or finding rare books at a flea market.
After their success with finding a lost cat, Geneva and Tommy decide to become detectives.
Although somewhat successful with these minor investigations, Geneva realizes that they will never earn enough money for Tommy to buy his plane ticket unless they take on a case with more substantial earnings potential. So they decide to look for a missing local girl named Kelly Harrington, whose parents have offered a $5,000 reward for locating her. The balance of the story deals with how the two pursue the investigation through networking among the local community, some footwork, and following hunches.
Geneva discusses the latest developments with Tommy.
Mystery Kids is an enjoyable film because it deals with modern kids in an interesting and unusual way. Geneva and Tommy are not ashamed of their intelligence, and one of the best features of the screenplay is their witty dialogue and commentary about the people they meet throughout the film. The chemistry between actors Brighton Hertford and Jameson Baltes is delightful without being pretentious and the two resemble normal kids, not Hollywood models. This whole film reminds you of a Generation Y version of The Thin Man, with Hertford and Baltes starring as a young Nick and Nora Charles. Another great thing about this film is its realistic depiction of Geneva and Tommy's families, and adults in general, including the police. Geneva's parents (Christopher Allport and Jeanetta Arnetta) are just normal working parents, supportive and realistic in the way that they talk to Geneva. Geneva's older sister Miranda (Mariam Parris) is attending a culinary school, and one of the running bits throughout the film are the different recipes that she tries out on the Johnson family. Tommy's parents are separated, but for career reasons apparently, and their relationship clearly has been discussed openly and without rancor. Tommy's dad (Sean Moran) even offers to rearrange his finances to buy Tommy an airplane ticket (he is involved in a startup business) when Tommy mentions that he misses his mother. But Tommy reminds him that their family agreement was that his mom would pay for the next ticket. (This also gives him additional incentive to work with Geneva on the investigation.) Director Lynn Hamrick and screenwriter Monty Mickelson are to be commended for putting together an entertaining family film that truly can be enjoyed by all age groups. Of course Hollywood didn't know how to market an intelligent film about kids with no violence or special effects. At the DVD release, the name was changed to Mystery Kids, with a cover subtitle "Diggin' up clues!" and a picture showing Tommy wearing a backwards hat and the kids with gaping open mouths. I guess this was to appeal to a more general audience (?), but this dumbing down is a total antithesis to what the movie is like. Nowhere in the film would you see either Geneva or Tommy act, talk, or look like their cover portrayal. On the back of the cover you see another of the characters posed with a shovel and a Frankenstein look, again something untrue to the spirit of the movie. Too bad that the people who market entertainment can't let a film like this stand on its own merits. Any fan of the mystery genre will enjoy Mystery Kids, and this film has the added benefit of being suitable for the entire family.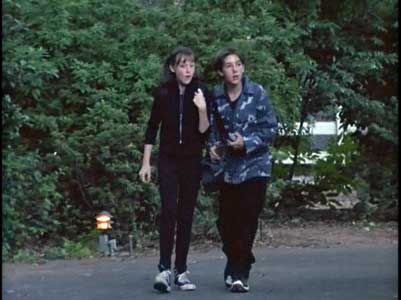 Geneva and Tommy set out to find Kelly.
Best Chucks Scene
The game is a-foot, Watson.
Brighton Hertford in her role as Geneva, the aspiring mystery writer, wears black high top chucks in about a third of her scenes. As the investigation into the disappearance of Kelly Harrington gets more serious, she wears them more often. The best chucks scene occurs when you see her choosing her wardrobe prior to the pivotal discovery sequence near the end of the film.
Geneva chooses her black high tops to wear for the crucial investigative sequence of the film.
Mystery Kids. (1999) Brighton Hertford, Jameson Baltes, Christopher Allport, Jeanetta Arnette, Derk Cheetwood, Mariam Parris, Eve Brenner.
Directed by Lynn Hamrick. Categories: Family, Mystery
ChucksConnection Rating:

MPAA Rating: PG
Support the film industry by purchasing genuine DVD, Blue Ray, or streaming copies of these films. Illegal copies only help profiteers. Make sure your money goes to the producers and artists who actually create these films. Still images from the film are used here as teasers to get you to view an authorized copy. If you have information about a film where a main character wears chucks, contact us at films@chucksconnection.com.