A ChucksConnection Film Review
Kevin Dillon wears black high top Converse "Chuck Taylor" All Stars in the film.
No Big Deal
by Hal Peterson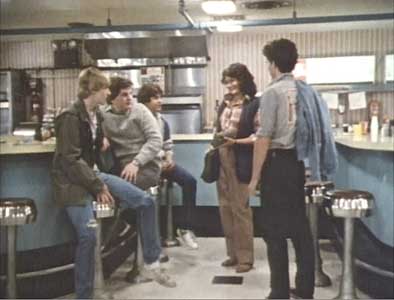 Miss Karnisian introduces Arnold to Harry, Warren, and Michael.
No Big Deal is a drama about the conflicts and problems that result from an attempt by a middle school teacher to mainstream an alienated, streetwise adolescent just out of juvenile hall with three normal teens also in her class. Miss Karnisian (Mary Joan Negro) is the teacher, and she persuades three students, Michael Parker (Christopher Gartin), Warren (Daniel Hess), and Harry (Wayne Daniels) to befriend Arnold Norberry (Kevin Dillon) and help him make the adjustment back into polite society. The transition is difficult, because Arnold has an attitude about life that emphasizes conflict, lying, and walking away from responsibilities when reality becomes too difficult. He also projects a negative attitude about the straight and narrow lifestyles of the three teens. But they make the attempt, with Michael taking the leadership role. Soon Michael is able to see different sides of Arnold. He has a vulnerable side which is shown by the fact that he has never learned to ride a bike and that he tries to hide his address and alcoholic mom (Tammy Grimes) from the others. He has a reckless side which is shown by the way he tries to immediately confront the school bullies and when he takes responsibility with the principal for a prank played by the other boys who have disconnected their classroom loudspeaker. He also expresses his resentment for society by trying to steal Michael's calculator even after he has been invited over for dinner and later by other delinquent behavior.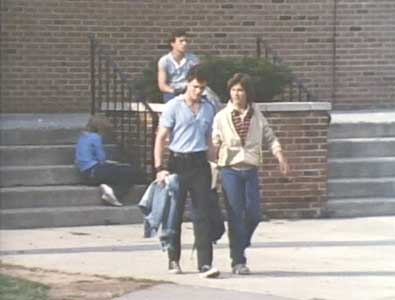 Michael and Arnold develop a somewhat uneasy friendship.
In general Arnold's behavior tends to alientate people, and even the people who support him get burned by his actions. Harry and Warren are soon turned off by Arnold's attitude, leaving Michael pretty much on his own to deal with Arnold. Jennifer Kirkpatrick (Stacy Lauren) is a girl in their class who develops a crush on Arnold, but her father becomes opposed to their relationship when he meets Arnold. Arnold's resentment of her father results in serious vandalism of Mr. Kirkpatrick's car. When Arnold is entrusted with the money raised by his classmates to buy Miss Karnisian a new tire as a graduation gift (her car has continual flat tire problems), he ends up stealing a car and getting put back in juvenile hall. In a final climatic scene, Michael confronts Arnold about his actions and his attempts to explain them to his classmates.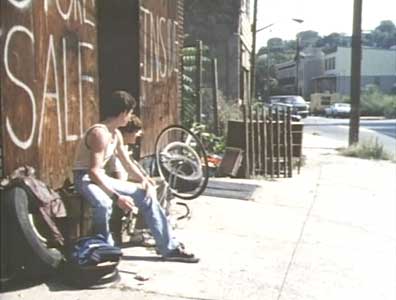 Michael finds out the truth about Arnold's background when he goes to help him repair his bike.
No Big Deal is different in its approach to the problems of adolescent behavior because it doesn't try to make Arnold into a hero. Arnold is given chances to succeed in society and although sometimes he is successful, he doesn't have the maturity yet to take responsibility for his actions. "No big deal" is his standard response when confronted with his failures. The film has an interesting twist to things, because its coming of age message is reflected in the growth of Michael, who eventually discovers that Arnold has been conning everyone. Michael finally figures out that Arnold's streetwise, cocksure demeanor is only a coverup for his delinquent behavior and failure to treat other people with respect, and that the truly hip way to behave is not with attitude but with honesty and reliability.
Jennifer develops a crush on Arnold, but he is resentful of her protective father's wealth.
Best Chucks Scene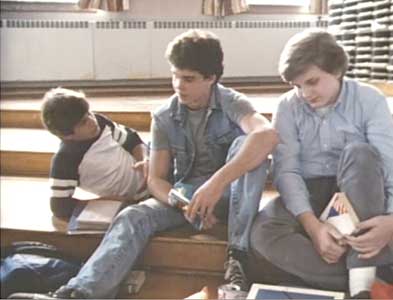 Michael and Warren tell Arnold about the constitution test required for graduation.
Arnold wears black high top chucks throughout the film. There aren't many closeups in the film. The best scene is when Michael, Harry, and Warren are discussing how to pass the constitution test that is required for graduation from ninth grade into senior high school with Arnold in the school hallway.
Warren tells Arnold what it will take for him to pass the examination.
No Big Deal. (1983) Kevin Dillon, Christopher Gartin, Tammy Grimes, Sylvia Miles.
Directed by Robert Charlton.
Categories: Drama, Coming of Age.
ChucksConnection Rating:

MPAA Rating: [NR, would be PG]
Support the film industry by purchasing genuine DVD, Blue Ray, or streaming copies of these films. Illegal copies only help profiteers. Make sure your money goes to the producers and artists who actually create these films. Still images from the film are used here as teasers to get you to view an authorized copy. If you have information about a film where a main character wears chucks, contact us at films@chucksconnection.com.