A ChucksConnection Film Review
Clayton Taylor wears red high top Converse "Chuck Taylor" All Stars in the film.
No Place Like Home
by Hal Peterson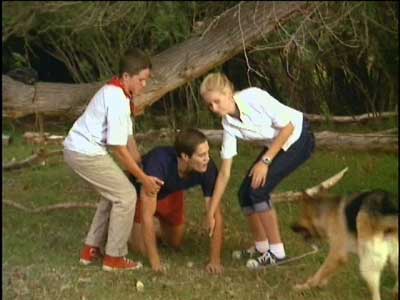 Mac and Mel McGregor help the stranger they find in the mountains.
No Place Like Home is an independently made film that had limited distribution until it was released on DVD in 2007. The film, which liberally borrows from science fiction predecessors like E.T. The Extraterrestrial, Roswell, and Starman, focuses on two teenaged kids, Mac McGregor (Clayton Thomas) and his older sister Mel [short for Mary Ellen] (Alana Austin) who live in a small southwestern desert town with their recently divorced father, Jack (Judge Reinhold). Mac and Mel are out on a desert knoll early one morning because they are trying to observe the stars for Mac's science project at school. Suddenly they witness a meteoric explosion, followed by a rolling earthquake. When they go to check it out in a nearby river valley, they discover a nude man (Geoff Stults) hiding in the bushes. The man seems totally uninhibited, and he can't speak a word of English. Mac and Mel think he must be crazy, or unbalanced in some way, but his demeanor seems pleasant and non-threatening. They decide to call him Moses, and the man seems able to learn his name. Mac goes to their jeep to get him an extra t-shirt and pair of shorts to wear, and they decide to take him in town to the sheriff's office. On the way into town, Mel accidentally runs over a jack rabbit. When they stop, Moses sees what has happened and touches the rabbit. He is able to pass over some sort of healing force, and the rabbit is revived and runs away. Taken aback, the two kids aren't sure that they understand or believe what they just saw happen. Back in the jeep, they sense that the man is hungry and stop to get him a breakfast burrito. Inside the restaurant Moses acts very curious about everything, even grabbing a man's sandwich and taking a bite out of it. Eventually they arrive at the sheriff's office, but instead of the regular sheriff, the only person on duty is bumbling deputy 'Dead Ned' Nussbaun (Richard Moll). They report Moses as a missing person and he is locked up. The kids are upset that he is locked up, but they don't have any other recourse and leave for their home, a trailer park that they and their father manage.
Mac talks to Mr. Dalrymple.
At the trailer park, we meet some of the other characters like Mr. Dalrymple (Bruce Weitz), a dotty old man who is working on a photo journal, and chatty Becky Sue (Pamela Nielsen) who works at the sheriff's office with Ned. We also learn the story of Jack's breakup with his ex-wife, that Mel was adopted and why they are hurting for money. After Jack leaves with the jeep to run errands, Moses suddenly shows up in their back yard, having escaped from the holding room by tricking Ned. The kids decide to take responsibility for Moses, and get him a complete set of clothes. Meanwhile, Ned comes over to the McGregor place to see if Moses has returned there. He is quickly followed by no-nonsense federal agent Gretchen Klein (Joanna Pacula) who thinks that Moses is a fugitive and possibly an illegal alien. When the two authorities search the place, Moses has changed his shape to mimic that of the McGregor's dog Gizmo, so they leave to go back to the sheriff's office. Later, while Mac and Mel are sitting around their kitchen table trying to figure out what to do next, Moses sees a word in a newsaper article that he recognizes and can actually read and say. The word is "Navaho". Mel and Mac take him on their bicycles to the only Navaho person they know — Evie (Adrienne Barbeau). Evie is able to communicate with Moses, saying that the language he speaks is the mother tongue of Navaho. She tells the kids that he is one of the "Others", someone from another world who occasionally visit and have done so since the beginning of Navaho recorded history. Through a diary that she has from her son who was a code speaker in the great war, she has a "Rosetta Stone" for Moses, who can now quickly learn their language. She also tells them that he is in great danger, because adults of his species can only survive in this world for about twelve hours. It is imperative that they return Moses to the place where he came from before dark. The remainder of the story is the struggle of Mac and Mel to get him back to the place where his ship crashed so that he can be rescued in time before his life force runs out or he is detained by the authorities.
Everyone gathers around to help the exhausted Moses.
No Place Like Home is the second film (see Heaven Sent) that we have reviewed from writer-director Craig Clyde. The films are meant for the family market and have an underlying moral message. Although it covers a lot of familiar ground, No Place Like Home has some very interesting ideas, plot twists, and clever clues about the ending in it, and people who like the science fiction genre will enjoy the film. This film could have truly hit a cinematic home run if it didn't include the typical bumbling and stereotypical adult characters like Richard Moll's deadhead cop, and Bruce Weitz's absent-minded professor. Having them act like normal people would not have changed anything in the film, and made it a lot more suspenseful and interesting. More could have been made of the relationship that started to develop between Jack and Agent Klein, but they have very little camera time. Also the behavior of Moses didn't make a lot of sense either. For example, why would a highly intelligent being from another planet act so childish and foolish in the restaurant scene when he is capable of shape-shifting, and healing other beings with his life force? Or why rely on just a couple of kids if his life was at stake? But films like this are meant to focus on the kids, and to its credit, Mac and Mel are portrayed in No Place Like Home as typical teen siblings who constantly bicker at each other and are uncomfortable making important or logical decisions. When the chips are down, the message of the film is that they are there for each other, their instincts are good and they go all out to help the alien man. The unrealistic element about the kids is why they didn't network with their friends for help or at least to talk about things, especially after seeing a big explosion and finding a strange alien man. But if you can get by the flaws, the film will provide you with some pleasant entertainment.
Moses insists on helping Mac when he is injured falling to the ground.
Best Chucks Scene
Mac is lifted up by the power emanating from Moses' special tool.
Clayton Taylor in his role as young teenager Mac McGregor wears red high top chucks throughout the film along with a white "Starbux" t-shirt, khaki pants, and red bandana. This gives him quite a distinctive look in comparison to the other characters who are blandly or conservatively dressed. His red chucks tend to stand out in the cinematography, although they are not shot in closeup very often. The best chucks scene is when Mac has located Moses' special wand, and he is summoned to him by air. The camera shows his chucks rising off the ground as he is lifted into the air, and then follows behind him as he is flown over the canyons.
Mac flies through the canyons.
No Place Like Home. (2001) Clayton Taylor, Alana Austin, Adrienne Barbeau, Richard Moll, Pam Nielsen, Joanna Pacula, Judge Reinhold, Geoff Stults. Written and directed by Craig Clyde.
Categories: Science Fiction/Fantasy, Family.
ChucksConnection Rating:

2 1/2 chucks for the film, plus an extra 1/2 chuck for the cinemaphotography. MPAA Rating: NR, would be PG
Support the film industry by purchasing genuine DVD, Blue Ray, or streaming copies of these films. Illegal copies only help profiteers. Make sure your money goes to the producers and artists who actually create these films. Still images from the film are used here as teasers to get you to view an authorized copy. If you have information about a film where a main character wears chucks, contact us at films@chucksconnection.com.